MUSIC
Two of our music writers comb through the misses and point out the hits of 2016.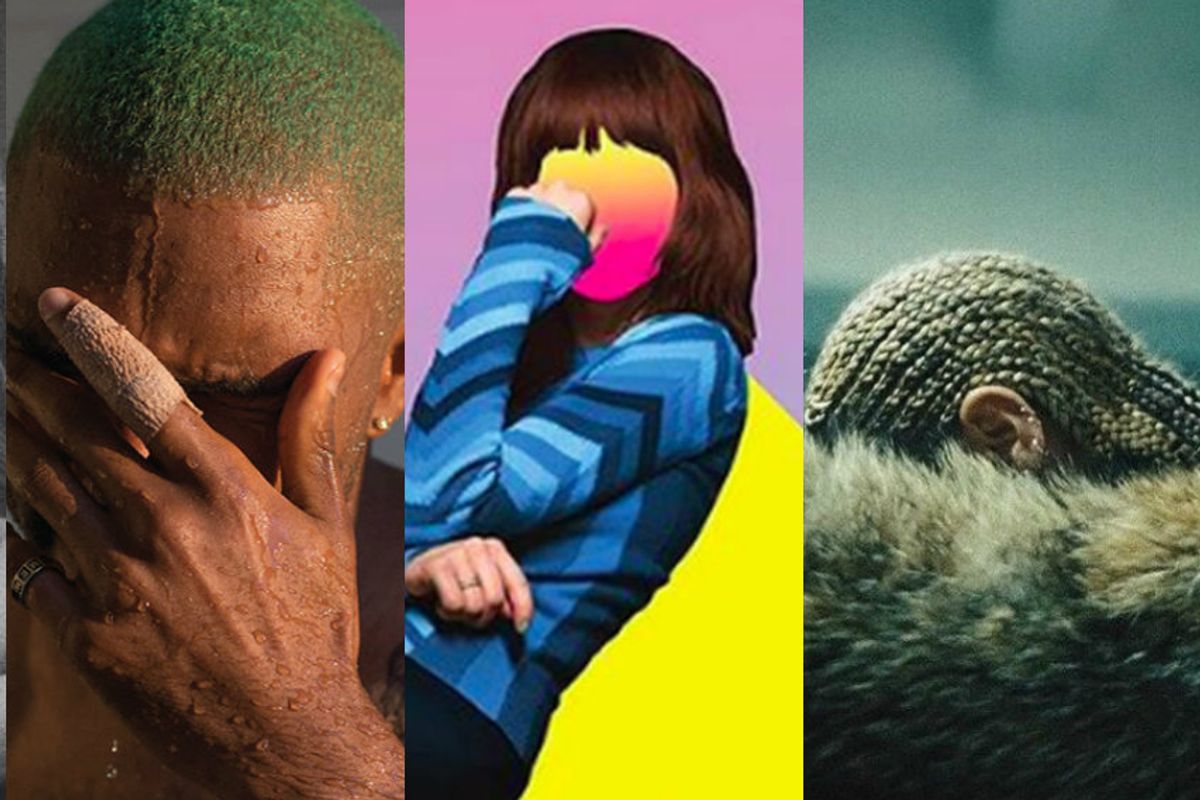 Artists tend to create well under stress, and it would seem that 2016 has proven a gold-mine. From the most effervescent Top 20 pop hits to the more obscure indie rockers to the great legends, this year proved to be a great one for music. Popdust music writers E.R. Pulgar and Jason Scott have compiled their top 20 from this year, scavenging through the good, the bad, and the heartbreaking to bring you a comprehensive list.
Did your picks make the cut?
---
10. "Work (feat. Drake)," Rihanna
Rihanna's Anti marketed itself as straying far from the singer's pop roots, but since when has Rihanna ever given a f*ck? This masterful piece of modern dancehall showcases the pop princess's power and puts her reggae-pop chops front and center, something she hasn't achieved as poignantly since 2010's "Man Down." If you can get over the infectious beat long enough to actually listen to the lyrics, this is a song about abandonment. The best pop music gets us to forget our worries on the dance floor while also bringing them out, and Rihanna achieves that here while never losing her swagger.
9. "Flight Mode," Mr. Sanka
Mr. Sanka's catchy debut features a turntable and a video that shows you how to make a cocktail. This indie pop hurricane of a track from a band that's sure to blow up in 2017 showed up on music junkie's radars near the end of summer. As we approach winter, it's good to have music like this veritable sunshine-in-a-bottle to keep us going. Lose yourself in Mr. Sanka's guitar-tinged late-summer jam, and keep an eye out for these talented newcomers.
8. "Grand Hotel," Regina Spektor
Regina Spektor's excellent new record remains as literary and descriptive as all of her other work, and the show-stopping "Grand Hotel" holds all the power of a story well-told. "Somewhere below the grand hotel / There is a tunnel that leads down to hell," Spektor sings over strings and grand piano. Equal parts Dante's Inferno and Wes Anderson short, this sensitive, adventurous romp is Spektor at the peak of her uplifting, fantastical ability as a songwriter.
7. "Meteorite," Years and Years

If Years & Years' star has been on the rise since last year, it shoots across the sky in fast-paced, effervescent "Meteorite." The energetic track is backed by a disco-beat, and a sexy pre-chorus refrain: "Let me feel your devotion / Let me feel your emotion / Love me like it's the last night." This is a sleeper pop hit of astronomical proportions, and one of 2016's best bangers.
6. "You Want It Darker," Leonard Cohen
Backed by a gospel choir and a muted drum beat, the title track of The Godfather of Gloom's last album was a farewell to this life in the way only Leonard Cohen could say goodbye. The somber rhapsody includes the refrain "I'm ready, my lord," which only makes it all the more spine-chilling. Of the legends 2016 took, Cohen's absence will leave a particularly gaping hole as he leaves behind a masterpiece on his own terms, and no track on the record better represents that feeling than "You Want It Darker."
5. "715 - CRΣΣKS," Bon Iver

Justin Vernon's particular brand of sensitive robo-folk came alive on 22, A Million, but this simple track is the jaw-dropper amidst every new trick Vernon pulls. Opting to only use his voice, the lyrics are given spotlight, and the cadence of the song itself allows for every word's meaning to resonate. "Love, a second glance / It is not something that we'll need." The song is steeped in nature, so Vernon's choice to further mask his voice in an Autotuned glaze points the song, and the listener, in a jarring direction. To say this is a pleasure to listen to is an understatement, just make sure you have a box of tissues nearby.
4. "Jon Lends a Hand," Devendra Banhart

Devendra Banhart's mournful, soulful new record holds "Jon Lends a Hand" at it's epicenter. The subdued guitar and drumbeat that vibrate through this intimate track are emotive on their own, but Banhart's lyrics, as raw and honest as ever, significantly raise the bar: "There's no one I ever knew / Quite as beautiful as you." The quiet, doleful space created by this song is as much comfort as it is strife, and Banhart should be commended for stuffing so much into a song that clocks in under three minutes.
3. "Hold Up," Beyoncé
Lemonade showed Beyoncé in top form, as creative and woke as ever. "Hold Up," outside of the excellent call-to-arms "Formation," is the highlight of the album. Queen Bey, who flexed genre-bending muscles and broke every rule in the book throughout the record, meshes her influences on the minimalistic, bass-thumping track, working with everyone from Vampire Weekend's Ezra Koenig to Father John Misty. She even references Soulja Boy's "Get My Swag On." In the video, all of this happens while she channels Oshun, a Yoruba goddess of fertility, and gleefully razes a city block to the ground. It's all anyone could ever want, and so much more.

2. "Ivy," Frank Ocean
The crown jewel of 2016's most anticipated album further entrenches Frank Ocean as a master of heartbreak and honesty, and it's made all the more poignant after following "Nikes" on the track list. In "Ivy," Ocean weaves a tale of love lost, hotels, cars, and personal growth. Ocean sings, "I ain't a kid no more / We'll never be those kids again," and the pain sticks with you in the most delicious way. Whether he topped channel ORANGE is up for debate, but nobody can deny the power of this song.
1. "OBLIVIUS," The Strokes
It's only appropriate that the band that was hailed as saving rock n' roll bless what will go down in history as a tumultuous and atrocious year with a lesson on why they are who they are. Most would turn to Julian Casablancas' vocals as the superstar of the track—with the way he howls, "What are you standing on?" it's hard not to—but The Strokes have always been known for having a cohesive, undeniable sound. Nick Valensi's guitar is particularly sexy here, stringing itself through the track with polished sleekness while playing off Nikolai Fraiture's masterful bass. Of course, Albert Hammond Jr.'s rhythm guitar and Fab Moretti's drumming, beating hearts of the band, imbue this song with their vigor. More than any other song this year, "OBLIVIUS" is alive, and that's why it takes the top spot on my list. Blast this down the highway, and, for a moment, breathe.
---
10. "First Time," Carly Rae Jepsen
Low-key the Queen of Pop, Jepsen gave us a mighty collection of EMOTION B-sides this summer—and they are remarkably just as good (if not better) than the real thing (except maybe for the hackneyed "Store"). On the rest of the EP, she hits it out of the park, including on the opener, "First Time" which reminds us exactly how damn good she is.
9. "Reaper," Sia
Co-written with Kanye West, this thumping bop sees Sia at her best. The deep cut on her new This is Acting LP crafts a rather dark narrative of escaping death and pleading with the Grim Reaper to give her more time. "You came to take me away. So close I was to heaven's gates, but no baby, no baby, not today," she chides. The jolly melody is a rather chilling juxtaposition against such sinister lyrics.
8. "We Still Run," Gonzalla
The electro-pop newcomer dedicated his self-penned ditty to a dear friend in the hospital. The plucky arrangement unfurls like the ocean licking at the craggy rock. "I don't mind climbing mountains and falling off the peaks, as long as I fell with you," he prays before the heavy rock arrangement falls away and all he's left with is tinkling piano.
7. "Burn the Bed," Candi Carpenter
The country upstart is not one you wanna cross. Her debut single is a smoldering firestorm, as he reflects on a cheating lover who soiled not only their bed but their whole house. She's not sorrowful, but rather, she displays her strength and resilience. "I don't want to wash the sheets. I want to burn the bed," she bites.
6. "Love on the Brain," Rihanna

Don't let the slurry "Work" fool you. Anti is filled with some serious tuneage, the most prominent of all is this simmering waltz. While the production is thick with palpitating drums, RiRi's vocal is no match for the honeyed polish—it is perhaps her finest moment on the new record. It's sexy and bold and enthralling. "It beats me black and blue but it fucks me so good, and I can't get enough," she wails on the '60s throwback soul track. Indeed.
5. "Into You," Ariana Grande

Grande turned up the heat on her new studio album, Dangerous Woman, delighting in slinky R&B and Play Boy bunny romp. Her racy "Into You" jam showcased her blustering vocal and willingness to push the envelope in a way she never had previously. She lit up more than a few computer screens with her provocative music video, too.
4. "Brother, What Happened?," Muddy Magnolias

The blues duo are a little bit country and a whole lotta soul. Their debut album, Broken People, is entrenched on addressing the important socio-political issues currently plaguing our world. Kallie North and Jessy Wilson ask the hard question, "what happened to this world?" In the process, they also examine their own personal journeys—"my mama told me 'don't throw hate around because there's room for us all in this world.'"
3. "Music.," JoJo
After a treacherous battle with her former record label, the singer reemerged with one of the year's most passionate projects. JoJo opens the album with a gutting and powerful piano ballad, a tribute to music and her father, Joel Levesque, who passed away last summer. At the time of his death, she was just repairing their relationship after his long struggle with substance abuse. "My only hope is that he's looking down, thinking 'oh my god, my daughter's doing it now...'"
2. "Since You've Gone to Heaven," Brandy Clark

2016 has been a year of unimaginable loss. Tragedy struck all over the world, and the entertainment industry lost countless pillars, ranging from country outlaw Merle Haggard to Prince to actress Doris Roberts. Clark's stunning album closer sums up our feelings on this entire devastating year. "Since you've gone to heaven the whole world's gone to hell..." the Grammy nominee weeps.
1. "Band Aid," Halo Circus
"I couldn't save the world today, it's not that I don't care," Allison Iraheta professes over a rock-soaked production feature piano and other strings. "But there's no time." The song, lifted from one of the best albums of the year, is a revelatory piece, speaking to not only a troubling time in history but a person's compulsory commitment to somehow change the world around them. But, she says, it is just not that easy. Love songs can be a short-sighted remedy when "what we really need is a cure...," she advises.
From Your Site Articles
Related Articles Around the Web