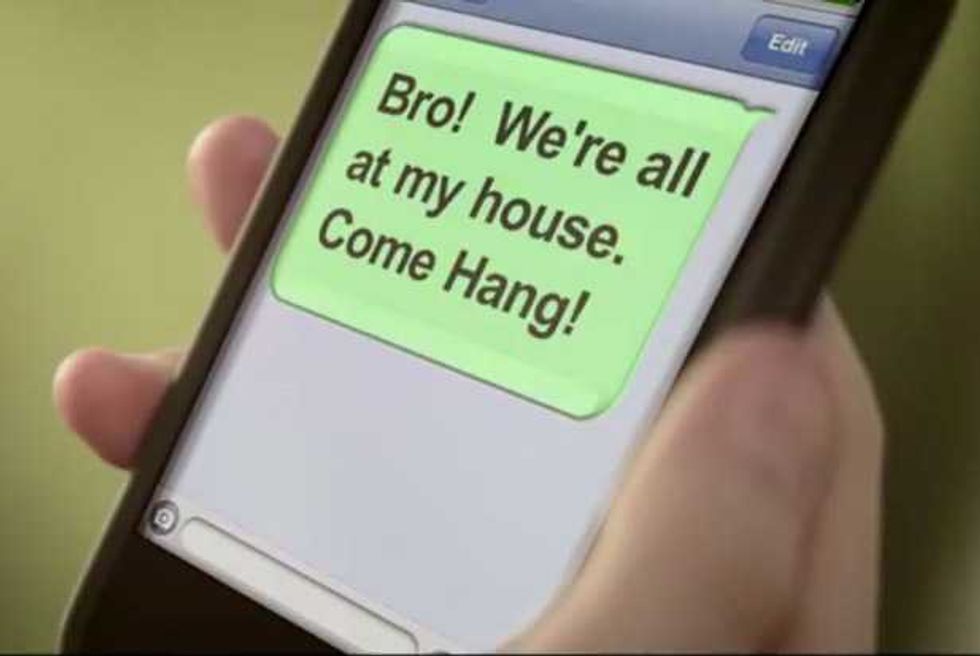 It's part of the arrogance of man to assume that whichever eon of human history they happen to occupy, it will, invariably, represent the pinnacle of all technological achievement, never again to be advanced upon. This is especially true in pop music, where artists will willingly sacrifice the timelessness of their music to contain up-to-the-minute cultural and technological references, perhaps earning them a sort of cachet in the short-term but greatly hurting their song's chances of enduring in the long-term. It's why now you listen to a song like Destiny's Child's "Bug-a-Boo," recorded a mere 12 years ago, and think to yourself "AOL? MCI? Beepers? When is this song from, 1974?" It's just not a good look.
Nevertheless, we are in a time period where technology—particularly inter-personal communication and social media—has become such an inextricable part of the culture, that certain musicians have been simply unable to resist the urge to put such timestamping references into their lyrics. It's understandable, but it's unfortunate, and as you look at our list of the top ten songs from this century bound to suffer a fate of "Bug-a-Boo"-like datedness—some of which are already well on their way there—you might find yourself shaking your head like a 45-year-old parent of two who just doesn't get what's the matter with kids today.
10. KANYE WEST, "RUNAWAY"
Easily the most history-immune song on this list—the great majority of the lyrics are about technology-free self-loathing, which is translatable to just about any era of pop music. Still, the unforgettable couplet that opens the song's first verse—"She find pictures in my e-mail / I sent this girl a picture of my diii-iiiick"—will forever stand out as one of the most weirdly specific references to scummy low-culture trends ever to appear in a Top Five Single of the Year finisher in the Village Voice Pazz & Jop poll. Sexting may or may not exist in perpetuity in some technological form—and we'll deal with that more further down on the list—but as "Runaway" ages, that line is only going to be more and more of a sore thumb.
9. LIL' KIM FEAT. T-PAIN & CHARLIE WILSON, "DOWNLOAD"
"Shawty I been lookin' at these pictures of you / Cybersurfing." That's about all you need to hear from Lil' Kim, T-Pain and Charlie Wilson's 2009 single "Download" to convince you that this song is barely going to make it into the 2010s, much less beyond that. (When was the last time you actually heard anyone say the word "cybersurfing"?)But of course, Lil Kim goes on to brag about her social-networking status ("I'm on MySpace and it's type late / My baby got me number one on his top eight") and plays hard to get with her internet affections ("Others send friend requests but they get denied"). This song would probably be higher on the list if it didn't sound like it was already five years past its sell-by date the second it dropped (and accordingly, the song stiffed on the charts, only making it to #109.)
#8. LUDACRIS, "SEXTING"
Recused a few spots on this list due to the song being arguably excusable as satire, given that it's a clear parody of the Tiger Woods sexting controversy from late 2009, complete with phone-message intro of Ludacris asking his mistress to delete her name from her answering machine mesasage. Still, the sheer amount of text lingo involved with "Sexting" necessitates its placement on this list—one line in the chorus consists of "Ha ha OMG / LOL, KIT / Smiley faces X and O's / LMFAO," for serious—as well as the song's title, which we can only assume/hope/pray becomes so unrecognizable 20 years from now that it will necessitate some very awkward conversations between 12-year-old kids and their mortified parents. (Still, if one rapper had to tackle this subject matter, we're at least glad it was Luda.)
7. BRAD PAISLEY, "ONLINE"
Another satire, but one much less called for that Luda's Tiger send-up. Country pretty boy Brad Paisley felt it incumbent upon himself to write "Online," a self-mocking anthem from the perspective of a grown-up nerd that spends his life pretending to be a rock star on the internet—a weighty subject matter already tackled by 'Weird Al' Yankovic on "It's All About the Pentiums"—including such timely lyrics as "I've never been to second base / But there's a whole new me that you need to see / Go check out MySpace." You know, Brad, we're glad that one of your interns filled you in about the particulars of internet loser culture or whatever, but this condemnation was beyond unnecessary, and we can't wait until it becomes too badly dated for you to even think about playing it in concert. (Are we bitter because we take it personally? Of course not!)
6. KANYE WEST, LUDACRIS & THE GAME, "WHERE YOU AT?"
Probably shouldn't count, because it wasn't a real song—rather just a one-minute trading of mini-verses commissioned for Boost Mobile's walkie-talkie service, known colloquially as "The Chirp," for the sound effect that accompanies a new message, which appears throughout the song. Still, the commercial captured such a moment in technology—and was replayed so very ceaselessly during its heyday—that it felt wrong not to include it. We're not sure if anyone actually uses Boost Mobile anymore, but now that they're apparently selling phones without the Chirp feature (so what's even the point, then?), we're feeling that they're probably closer to the end of their run than the beginning. In the meantime, this commercial now comes off about as dates as the "two-way alert" hook from Fabolous' "Young'n."
For lots more horrifically-dated-to-be pop songs, including lots of smiley faces and dropped phone calls, click NEXT.
5. MINDLESS BEHAVIOR, "MY GIRL"
We find Mindless Behavior endlessly adorable, and "My Girl" is too cute for us to hate on for any extended period of time. Still, it's unfortunate that the lyrics to what might go down as the group's definitive single are so reliant not only on text lingo, but in the incredibly detailed explaining of text lingo—including references to "the less than symbol number three" (as in <3) and "1-4-3 a smiley with a wink" (as in one letter in "I," four letters in "love" and three in "you"—also the subject of Bobby Brackins' "143," incredibly). If that's not vague enough, there's also the line "A hundred forty characters is more than enough," which is going to make absolutely no sense when future generations will be able to send essay-length texts just by thinking them really loudly. Poor Mindless Behavior, bound to be hopelessly dated by the time they get to college.
4. SEAN KINGSTON, "FOLLOW ME"
No, not a cover of the Uncle Kracker song, but rather a tossed-off song from Sean Kingston cashing in on the bluebird's incredible popularity and social influence. "Girl you the baddest / Hit me on my Twitter page / Online status / Log on and follow me," Kingston sings on the chorus, going on to brag about his "verified" status and dismiss his beloved's current dude for only having five followers. (Hey man, it's hard to build a following. Not all of us have #1 hits to boast about in our bios.) It's all well and good, but in a post-Anthony Weiner world, I don't think any of us really want to be advertising our proclivity for using Twitter to hook up. Let's keep that shit on Facebook and MySpace, huh? \
3. BACKSTREET BOYS - "THE CALL"
Elevated several spots due to the song's hilariously dramatic nature, easily the most over-the-top song ever written about a dropped cell-phone conversation. Basically, the entire content of the song is summarized by a quick phone conversation held between one of the Boys and his girlfriend at the song's beginning, but then the group spends another three-and-a-half minutes trying to explain to you why the dialogue was such a fateful one, complete with a chorus that basically repeats the initial conversation verbatim, with a lot more vocal melisma and a ridiculously histrionic cry of "My battery is LOOWWWWW!!!!
#2. TREY SONGZ FEAT. GUCCI MANE & SOULJA BOY, "LOL :)"
The title alone would be more than enough to justify the song's #2 position—and yes, the chorus really does go "L O L, smiley face / L O L, smiley face"—but the technology-specific lyrics are littered all over this one. iPods, iPhones, Blackberries, Twitter, Twitpic, MySpace—they do everything on "LOL :)" minus playing the "Countries of the World" quiz on Sporcle. It's one thing coming from the kids—of course Soulja Boy was gonna be on a song like this eventually—but Trey was already 25 when he did this song, and considering he'd be moving on to such legitimately heavy, mature fare as "Can't Be Friends" and "Neighbors Know My Name" (erm) a year later, we really feel like he should've known better. Hope you got it all out of your system, Tremaine, because after the quarter-life, there's no going back.
#1. GREYSON CHANCE, "UNFRIEND YOU"
Yes, the song that inspired this article, Greyson Chance's recently released second single "Unfriend You." It's be one thing to have a song called "Facebook Lover" or something, but to have your single titled after a function that the Facebook service provides, without explanation—the song never even mentions the word "Facebook"—is really some next-level shit from young Greyson. The song assumes that everyone, including future generations, will understand just what an existence-negating move it is to "unfriend" someone, so that when Greyson sings "You're the best liar I ever knew, so I will unfriend you," it packs the same kind of OHHHHH SHIT NO HE DIDN'T smack that Beyoncé's "to the left, to the left / everything you own in a box to the left" did in "Irreplaceable." (Yes, it all comes back to Beyoncé. Hey, it is her week.) Maybe it does in 2011—and we're not even sure of that—but come 2021, when Facebook is about as relevant as Friendster or HotOrNot.com, it probably won't.