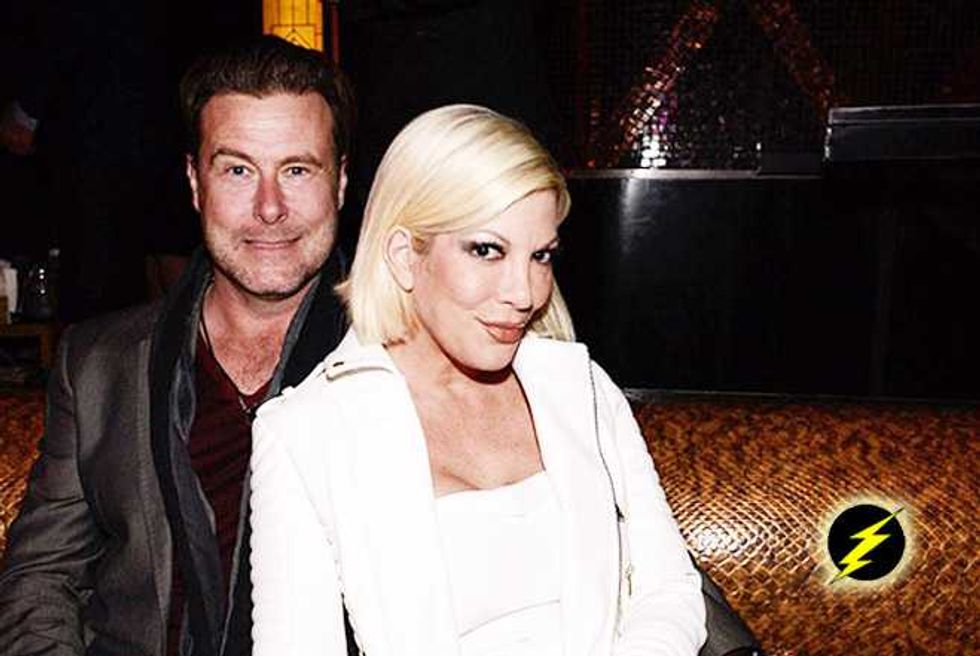 As anyone who watched True Tori is only too aware, Tori Spelling and Dean McDermott have been going through a tough patch recently when it comes to their nearly 9-year long marriage.
However, according to an eyewitness, who spotted the reality TV couple last night at the OK Magazine Pre-Oscar Event at The Argyle, Hollywood, things look to be firmly back on the right track for the two—well, at least for now....
"Tori and Dean were all over each other, they looked like newlyweds rather than a struggling couple," the partygoer tells Popdust exclusively.
"If they were faking it then they are both better at acting than I ever imagined. Dean was super attentive to Tori all night and they were being affectionate with each other, with lots of hand holding, kissing and cuddling.
"There were a bunch of hot chicks at the party but Dean's eyes were firmly on Tori, and only Tori, he had his arm around her all night and appeared to be completely focused on her, and she looked really, really happy and relaxed—it was sweet!"
As Popdust previously reported, Spelling and McDermott's marriage appeared to be at breaking point when cameras stopped rolling at the end of their reality show last season.
The couple was fighting non-stop, attempting to (unsuccessfully) battle it out during marriage therapy sessions, and were even throwing the D word around.
So, were the marriage woes faked for the sake of ratings—or, were they faking love for the public last night—or, are they truly back on track and in love once again?
Who knows really? This is Tori and Dean for Christ's sake!!!!
Meanwhile, whatever happens to the couple, it's likely we won't see it play out in front of the cameras—not on their reality show anyway.
McDermott announced late last year that he would not be returning for another season of True Tori—even though Spelling insists the show WILL go on, even without her husband!
"For me, you know, it's True Tori. I have a lot more to tell," Spelling told Meredith Viera in November. "I have four children, I'm a mom, I'm a woman, and I want to go on."
Check out Popdust's gallery of photos of the other celebrities partying it up at the OK Magazine Pre-Oscar Event at The Argyle Hollywood, below: