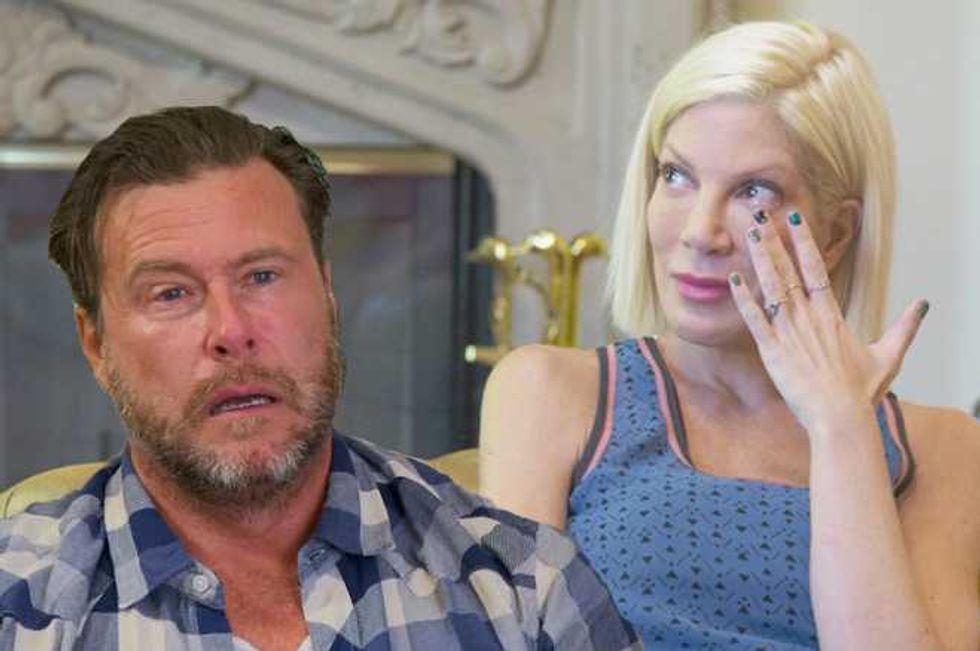 Tori Spelling thinks her husband Dean McDermott has been unfaithful yet again, and it's finally pushed her passed her limit.
As Popdust covered in our True Tori recap, Dean had reached his breaking point about being publicly humiliated.
"Sorry, I won't talk about things on-camera anymore," she dramatically told her 48 year-old husband. "I'm not trying to make you look bad to the viewers."
The 41-year-old reality star suddenly decided to call it quits on her cheating spouse on an episode airing Nov 25.
"When she was in the hospital [in late October], she heard about the pictures of Dean exiting a sex shop," an insider told In Touch. "She was mortified. She couldn't believe he was back to his old games —while she was sick, no less — and thought he was cheating. She wants out."
The publication is reporting Tori "filled out the divorce papers" and "Dean has no idea."
The decision has the support of Tori's friends and family, many of whom are encouraging her to start dating again and telling her "it's time to turn her life around and realize there are other men in the world that would treat her well."
Dean, however, is not ready to throw in the towel. "Their lives have turned into a circus," the insider says. "He's well aware he's partly responsible, but now he wants things to change."
Yeah, good luck with that.