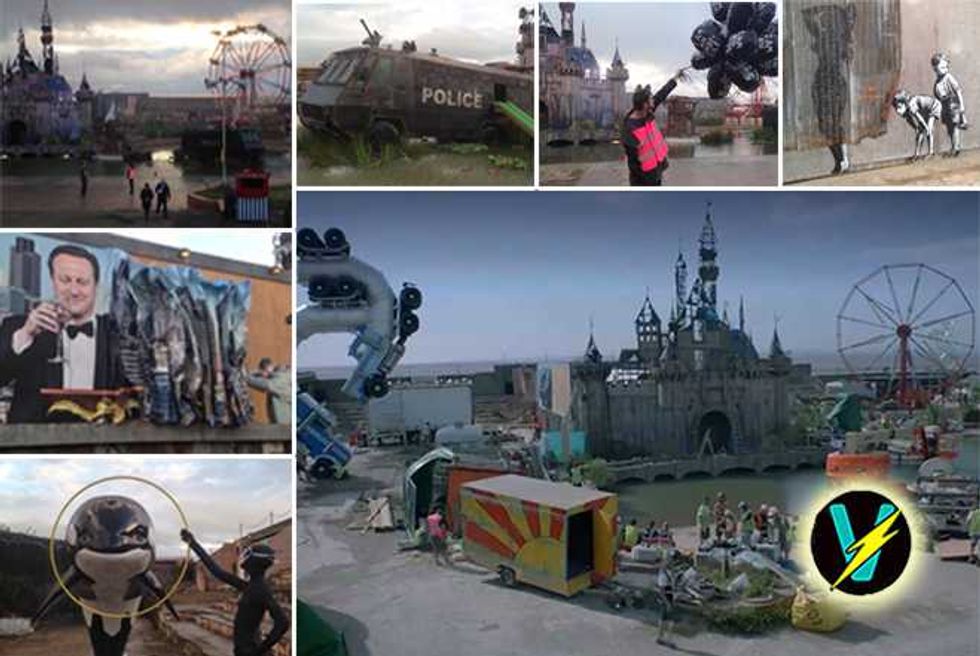 Banksy, the pseudonymous British graffiti artist, activist, painter and movie maker, has created an absolutely amazing "bemusement park" named Dismaland—tag line, "far from the happiest place on earth" and billed as, "the UK's most disappointing new visitor attraction."
Unhappiest place on earth maybe, but, it's without doubt, one of the most awesome man made creations on earth for a very, very long time—and you can take a video tour right here on Popdust.
George Zimmerman Explains Latest Artistic Travesty—Confederate Flag Painting
"Is there something missing in your life? Do you need to get out more? Then stop what you're doing and come to the happiest place on earth. This is a theme park like no other," a voice over says in the trailer. "Dismaland. A place where all your dreams come true. So, what are you waiting for?"
The installation, which is housed in the southwest English seaside town of Weston-super-Mare, has been a sell-out success right from its opening date of August 22—so successful in fact, that the demand for tickets made the online purchasing system repeatedly crash during the first few days, something that may, or may not, have been an intentional part of Banksy's artistic vision.
The Performance Art Of DJ Khaled
Eventually, the website stabilized and a whole week's worth of tickets were snatched up in less than an hour—leading to hundreds of visitors flocking to Dismaland, despite the rainy, windy, all round shitty weather that's been plaguing the UK pretty much all summer.
It's almost as if Banksy predicted the gloomy, grey rain though, as it creates the perfect background for touring his genius "family theme park unsuitable for children" —which is built on the 2.5 acre site of a former lido, and incorporates works by 60 artists.
Mom Outraged That Daughter Asked To Stand Naked In Front Of Class
Inside the gates of Dismaland, visitors will find attractions such as sullen Mickey Mouse-eared attendants briefed to respond to all visitor requests or questions with an indifferent shrug or "wanker" gesture; a grim looking employee selling bunches of black helium-filled balloons bearing the slogan "I'm an Imbecile"; a weird and distorted Little Mermaid, deformed by radioactive pollution, situated in front of a decrepit and broken down version of Sleeping Beauty's castle; Cinderella's magical carriage as you've never seen it before—mangled and smashed to pieces, surrounded by eager paparazzi snapping away as its occupant hangs limply from a window; a sculpture of a killer whale being forced to jump through a hula hoop; bored and pissed off employees using cavity search gloves at security; model-size boats packed full of desperate looking migrants floating hopelessly in a pond; a brightly painted carousel that has some its horses replaced by boxes marked "lasagne"; a "pocket money loans" shop offering money to children at an interest rate of 5,000%; a scale model of a city on police lockdown after a riot; and the Grim Reaper whooping it up on the dodgems.
Performance Artist Tries To Find Needle In Haystack—How Long Did It Take?!
Dismaland pokes fun at the hypocrisies and ironies of modern society, and is a scathing caricature of the crumbling, sad, British seaside resort—as well as a brilliantly on-point observation of the out-of-whack priorities and xenophobia that seems to be growing each and every day throughout the world at a frightening rate.
"I hope everyone from Weston will take the opportunity to once more stand in a puddle of water eating cold chips to the sound of crying children," Banksy told local newspaper, The Weston Mercury.
Naked Russian Artist Who Once Nailed His Scrotum To The Floor, Cuts Off Ear Lobe
"I guess you'd say it's a theme park whose big theme is—theme parks should have bigger themes," he went on to explain of his creation.
Dismaland is scheduled to run until September 27—tickets are available to buy online at dismaland.co.uk.
Modern Art Installation Removed By Cleaners —They Thought It Was Trash!