MUSIC
Tkay Maidza joins the Swedish star at Irving Plaza before hitting Gov Ball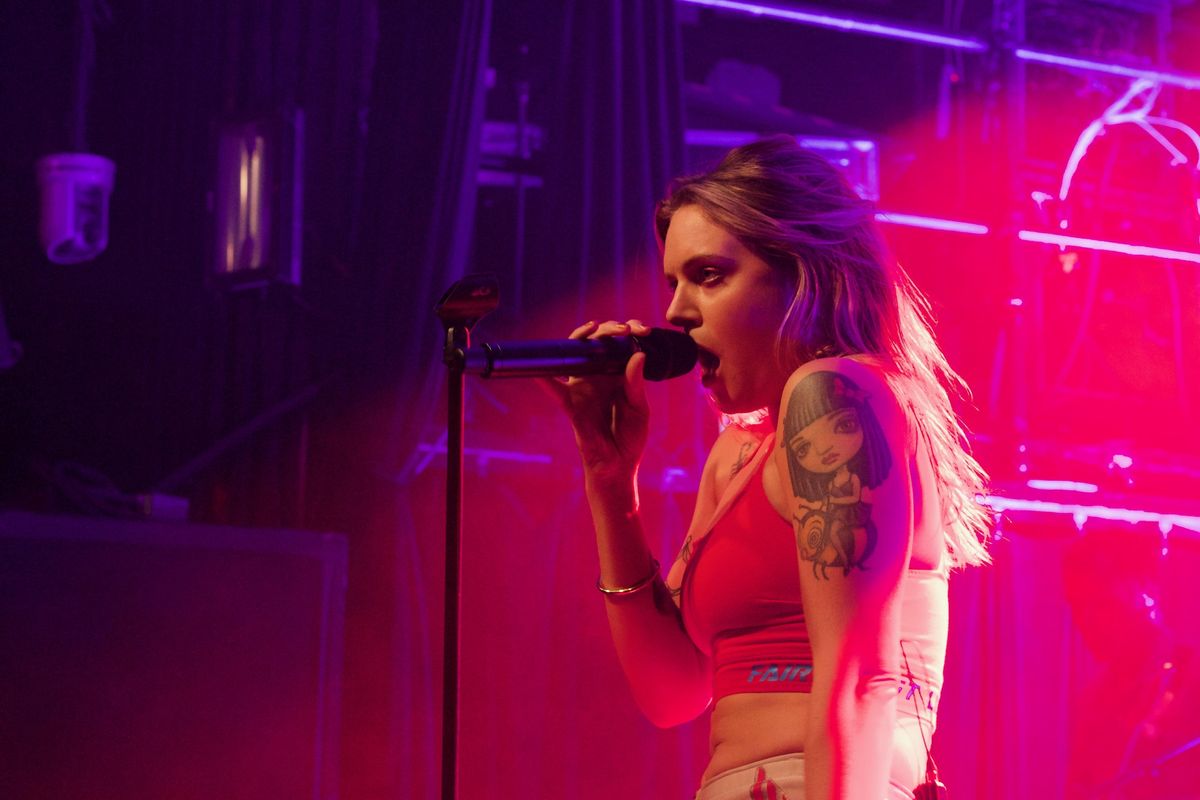 Andrew Karpan
On cue, I was drowned in a chorus of "I love You"s as soon at the lights dimmed. It wasn't quite Beatles at Washington Coliseum but it also wasn't not that. In front of both of us was a three- piece band of very Swedish-looking people, also in wait. We were waiting for Ebba Tove Elsa Nilsson, of the great city of Stockholm, who had yet to appear. The crowd at the front of the show that I was obstructing were somewhat underage, somewhat bespectacled and gleamed toward me with row upon row of ivory-colored teeth. They urgently needed me to get out of their way.
Tove Lo's songs feel like things a good friend would actually tell you and not things you would read on Upworthy.
It is not uncommon for people to say that Tove Lo occupies a strange spot in our idea of the pop star. Her work is built of the trained Swedish stuff that rules the charts but is written in the savvily hip voice of Lana Del Rey and in the ironized cadence of Kanye West's faux apologetics. Where 'Ye targets the racism on the fashion runway, Tove Lo made a name for herself by taking aim at more relatable territory. Binging on food, sex and drugs (Her number-three hit, "Habits (Stay High)"), flipping the script on what kind of guys to date ("Like Em Young"). Unlike her higher-rung peers, forced by the markets to awkwardly gesture toward a rough idea of body politics feminism, Tove Lo has always been there. Her minute-pop masterpiece, "Moments," from Queen of the Clouds, her debut, takes the expression 'that so-and-so has their moments' and, like Kanye on "Runaway," turns self-deprecation into bragging rights. The clincher: "I can't be the perfect one/But I'll make you cum."
In this way, Tove Lo's songs feel like things a good friend would tell you and not things you would read on Upworthy. And like a good friend, she arrived at her pre-Gov Ball show wearing sweatpants and a crop top, as if ready to take a serious look at some of our shared squadgoals. While her biggest pop smashes were on her debut--she had instead, penned a smash for Ellie Goulding ("Love Me like You Do")-- the crowd last night was wild to hear the electropop friendship soliloquy/doomed lesbian romance that thematically populated her latest release, last year's Lady Wood, an album that features Wiz Khalifa, who is headlining the final day of the festival. Her band's insignia, throughout the tour, has been a vagina repurposed as a symbol of religious devotion, complete with spire and a small cross, hanging below.
This outwardly sexual aesthetics bear some superficial resemblance to the work of "Tik-Tock"-era Ke$ha or "BB Talk"-era Miley, but there are no balloons or "wall of dicks" on the tourbus. Tove Lo wants to connect to a generation now interested in reevaluating yesterday's sexual revolution and dictating it on their own terms; a few days ago, she wrote an op-ed for Teen Vogue titled "Why You Should Love Your Vagina." "Being open and free about the body and self-love (the way I am) can be provocative," she wrote in the magazine now billed as an essential totem of the Resistance. Last night, I saw her grab a pair of outstretched hands and hold them like a politician would, as if delivering the two-second assurance that she, too, could feel their pain.
It is interacting with a moment, sure; centering the drama on female friendship and self-love, wink wink come after Taylor Swift debuted her girlfriends like fashion models and a dance anthem about masturbation became an actual dance anthem. What makes Tove Lo's music so different can be felt in the chills of an audience chanting along to the self-conscious irony of "No, let's not put a label on it/Let's keep it fun," from Lady Wood's "Cool Girl," named after the infamous monologue in Gillian Flynn's Gone Girl. A constriction is captured: we want to be fun, to most importantly feel fun, but we also don't want to get hurt.
The genius of Tove Lo's songwriting talent is her capacity to write songs that admit life is not a tedious dichotomy between sitting at home in your braces and banging the jock, but, instead, is full of the resignation and disappointment that exist between the celebrated climaxes of sex and partying. Many a pop star has used the mechanics of pop music in order to tell their fans to love themselves; after all, its a popular message. But Tove Lo might just be one of the few singers who actually, in some sense, means it, who finds something valuable in our least best selves.

Tove Lo played Gov Ball this weekend and will be hitting Bonnaroo next, check out her tour dates here.
---
Andrew Karpan has, too, faced his share of disappointments. Namely, that he isn't Tove Lo. Tove Lo is great. Follow him on Twitter.
---
Stay tuned for more Gov Ball coverage as things develop:

GOV BALL | MICHAEL BLUME is loud, proud & ready to freak you out
GOV BALL | Looking for the next "Loveless"?