MUSIC
Tove Lo's latest dance floor anthem is a must listen!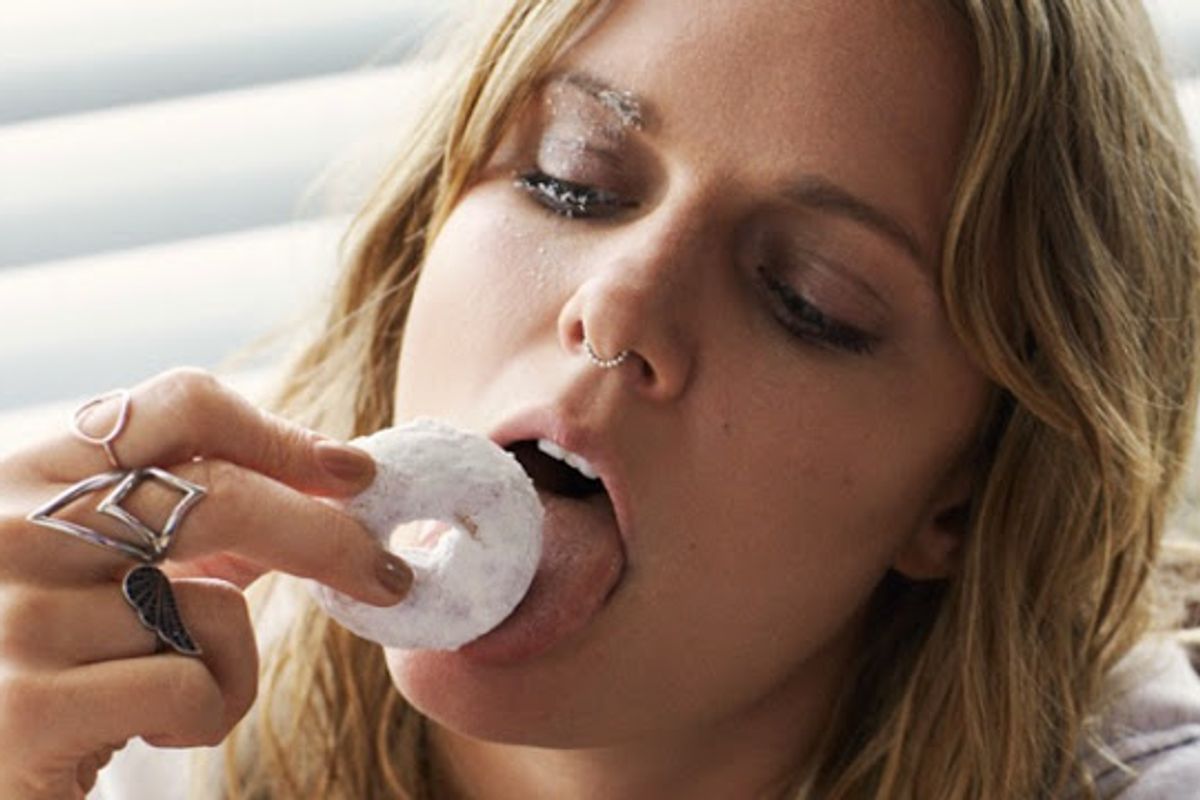 TGIF! Today, the pure pop goddesses gifted our grateful ears with Tove Lo's slinky and synth-y track, "True Disaster", the latest offering from her buzzed-about sophomore album, Lady Wood, out October 28th via Island Records. The Swedish singer and perpetual smash hit maker's latest Top 10-ready bop comes replete with fantastic… everything. Which isn't so shocking because Tove Lo perpetually proves that she is inarguably, for a lack of a better word, every fucking thing.

"True Disaster" kicks off with haunting, sort of dead girl-ish, vacant vocals over a dreamy, Robyn-esque beat. Then comes the sassy finger snapping pre-chorus, which finds the 28-year-old cooing about giving zero fucks re: inevitably getting hurt because of her penchant for bad boys. Oh! And the explosive chorus does NOT disappoint: "Keep playing my heart strings faster and faster / You can be just what I want, my true disaster," she sings over a thumping beat. In other words, hi Rihanna, there's another Bad Gal in town.
The "Cool Girl" singer's unapologetic lyrics are very #FBF AIM away message-friendly for Tove Lo's fellow bad gals/bois. Proof: "Pretty girls like it fancy but we don't keep it clean" and "We get dirty and we go hard, some things we don't mean." She also shouts out her inability to hide her "feels". #Same. She is a badass, straightforward Scorpio, after all, and she knows what she wants, even if doom is around the corner. Still, there's a hint of fragility and sadness behind the pipes, the production, and her apparent affinity for hedonism and escapism. Like the aforementioned and incredible Robyn, Tove Lo is a deep, complex dance-floor diva whose tunes resonate with many a millennial. In other words, we totally feel you, (cool) girl.
Based on "True Disaster" and Tove Lo's first single, the summer smash, "Cool Girl," Lady Wood is giving us cohesive, crazy, sexy, cool thematic vibes. "When you want someone to be brave, you say 'grow some balls,'" she recently told Vogue about the album title. "'It's kind of like saying a chick with balls, but since we don't have balls, it's lady wood. Things that kind of terrify me and turn me on at the same time." Yas queen. If these tunes are any indication, then there's no sophomore slump in sight for our favorite Queen of the Clouds.
PS. Tove, pretty please release the Wiz Khalifa track ASAP. Stay true to your words, and continue to keep us high, all the time, with your kick ass and catchy as hell, losing-our-damn-minds-on-vodka-drenched-dancefloor-ready bangers.
Take a listen to the track below, which we highly suggest blasting during your Friday evening pre-game. You're welcome.