FILM
Sadly, nothing gold can stay.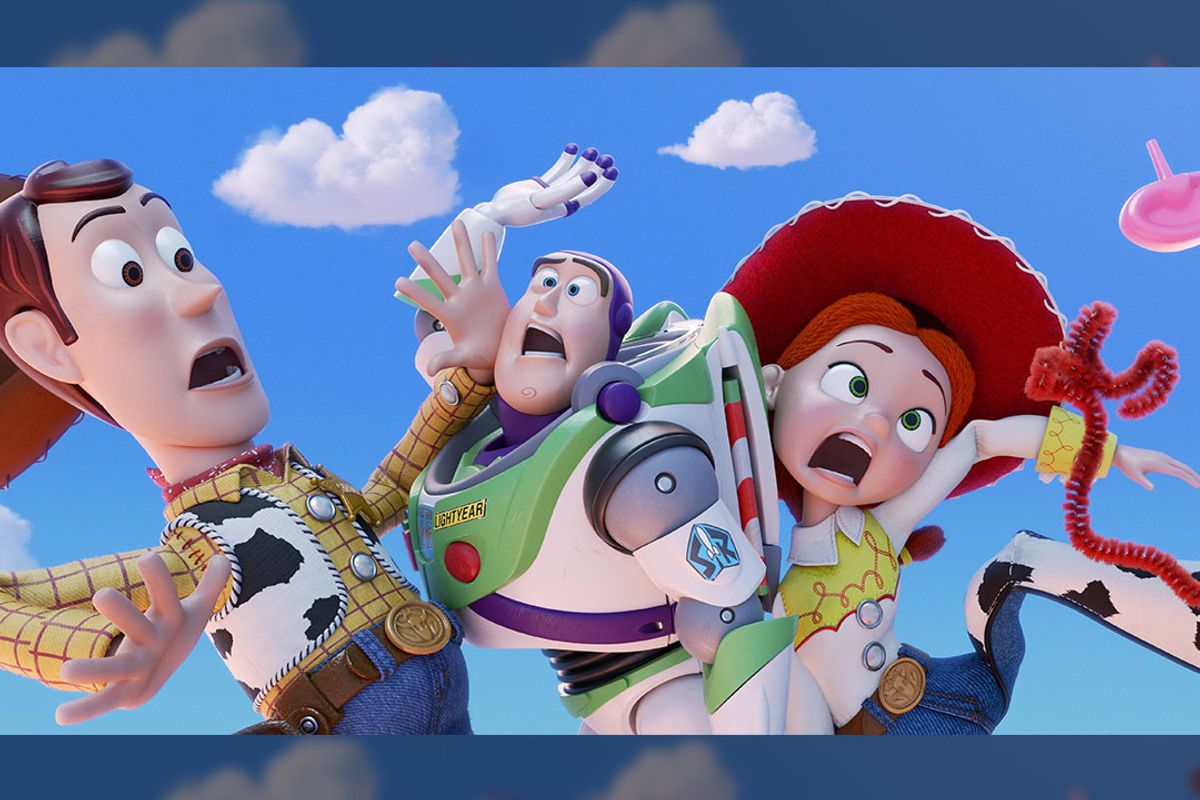 Disney/Pixar
The first teaser trailer for Disney and Pixar's upcoming Toy Story 4 hit the internet on Monday showing off the old crew—Woody, Buzz Lightyear, Rex, Slink, Hamm and Mr. and Mrs. Potato Head—along with a scared-out-of-his-mind new character named "Forky," who is apparently not a toy at all, but a plastic spork with pipe cleaners for arms.
With Joni Mitchell's "Both Sides Now" playing in the background, the teaser plays a bit like an LSD trip, with the characters we know and love spinning around in a circle and looking like they're feeling colors. We think we know how Forky feels— get me the fuck out of this mess.
Even eight years later, the final scene of Disney and Pixar's Toy Story 3 still makes us weep like our childhood puppy just died in a terrible accident. In the perfect send-off, Andy passes on his favorite toys Woody and Buzz Lightyear, along with Jessie, Bullseye, Rex, and the others, to an adorable little girl named Bonnie. It's a fitting end to a trilogy that paralleled the journey its target audience—millennials—were undertaking themselves, growing up and out of our childhood ways and attachments, and ultimately having to say goodbye to our favorite toys as we move on to adulthood.

But of course, nothing gold can stay. Disney announced their intention to release a fourth installment to the Toy Story franchise way back in 2014, and the movie has had a rocky life since, facing multiple release date delays and key staff changes amidst Pixar chief John Lasseter getting #MeToo'd. All we know by way of official synopsis is that the film will follow the intro of new toy Forky to Woody and the gang, and a road trip that "reveals how big the world can be for a toy." I guess three films didn't give any indication of the big, bad world outside of Andy's house.
Toy Story 4 | Teaser Trailer Reaction www.youtube.com
Throwing another strange wrench in the mix, we also have a second teaser/promo trailer that came out Tuesday featuring two new plushy amusement park-prize characters voiced by Keegan-Michael Key and Jordan Peele who are allegedly Toy Story fans themselves. Disney has been on the self-referential craze for a while now, starting first with Enchanted in 2007 and most recently taken to its zenith in Ralph Breaks the Internet. We see the trend emphasized here as new characters Ducky and Bunny rave about Woody and Buzz and continually misquote Buzz's famous line "To infinity and beyond." When Buzz and Woody come on screen to correct them, the furry duo exclaim the catchphrase is "the stupidest thing I've ever heard!" Gag me with Forky, please.

"Like most people, I assumed that Toy Story 3 was the end of the story," explains Toy Story 4 director Josh Cooley. "And it was the end of Woody's story with Andy. But just like in life, every ending is a new beginning."
Sadly, the reverse is also true: every beginning is an ending. The ending of good humor, good story, and good taste.
---
Joshua Smalley is a New York-based writer, editor, and playwright. Find Josh at his website and on Twitter: @smalleywrites.
---
POP⚡DUST | Read More…

Pete Davidson Criticized for SNL Skit: Unpatriotic or Just Bad Art?
Bow Down to your Season 4 Queens on "RuPaul's Drag Race All-Stars"