FILM
The latest Toy Story explores many different facets of what toys can be, and is the most visually ambitious yet.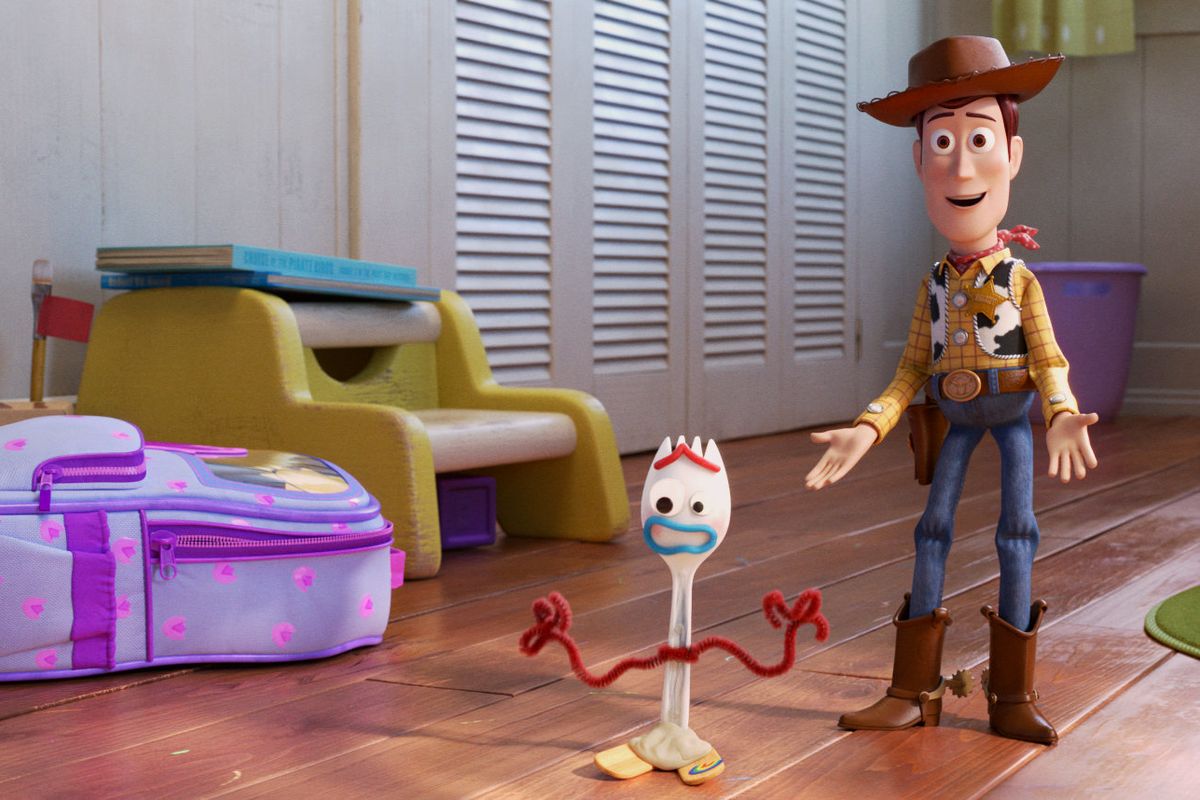 Disney
No matter where you are in your life, there's a Toy Story movie that can apply to you personally.
Maybe the first one is simply about making room for new friends and learning the value of playing. Toy Story 2 is the existential crisis: Do you want to be immortal but superficial or have meaning that will be fleeting? Toy Story 3 is about the time when you put your toys away, valid conflict whether you're a kid becoming an adult or a parent watching your own child grow up. But Toy Story 4 takes the franchise in exponential new thematic and artistic directions.
Nine years ago, Andy's (John Morris) sister gave away her Bo Peep (Annie Potts) toy when she outgrew her. Bo Peep says, "It's time for the next kid" which harks back to the end of Toy Story 3 when Andy gave his toys to Bonnie (Madeleine McGraw). Woody (Tom Hanks) had to say goodbye to Bo, but Andy was still playing with Woody so he felt comfortable in his decision to stay. What the toy's owner wants is more important than what the toy wants and Toy Story 4 gets that deep even before the opening credits.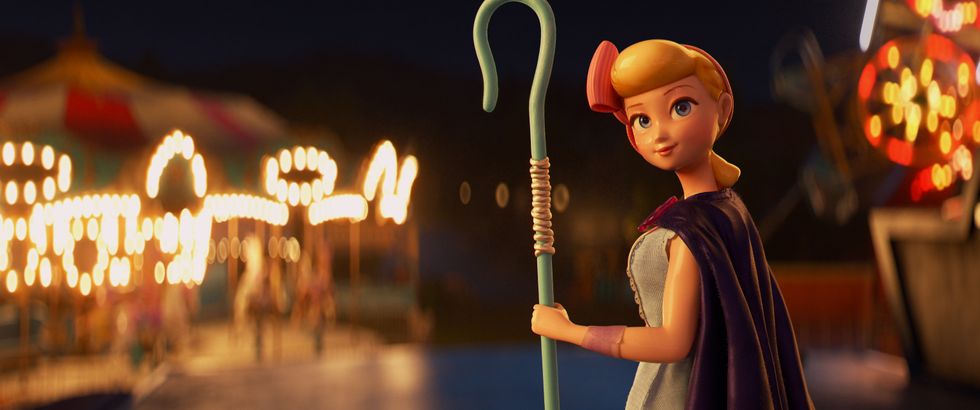 Bye-bye, Bo Peep Disney
Cut to present day: Woody is not the leader of Bonnie's toys like he was with Andy's. This becomes an important theme in the movie, too: On a basic level, it's empowering to see Bonnie favor Jessie (Joan Cusack). Male or female, it's just a new perspective. Don't just assume the male sheriff is always going to be the head toy.

Andy's impact still lingers. It's nice to see the series maintain that nine years after it literally waved goodbye to Andy. It reflects the natural cycle: Kids grow up and share their old toys with younger kids, but that shouldn't mean it's easy. I'm glad Toy Story is still making Woody work for his sense of purpose in its third sequel.
In kindergarten, Bonnie makes Forky (Tony Hale) out of a spork. Forky becomes sentient when the humans aren't looking. Forky just wants to be trash because that's what a disposable spork is meant to be. It's hilarious slapstick humor, as Forky keeps making a run for the garbage and Woody keeps trying to save him for Bonnie.
But the danger is real. Woody's anxiety is palpable because he's fighting nature. Yet, Bonnie sincerely loves Forky. As long as a child loves him, it doesn't matter that Forky's made out of trash. A child can love anything inanimate, and that capacity for love should be cherished.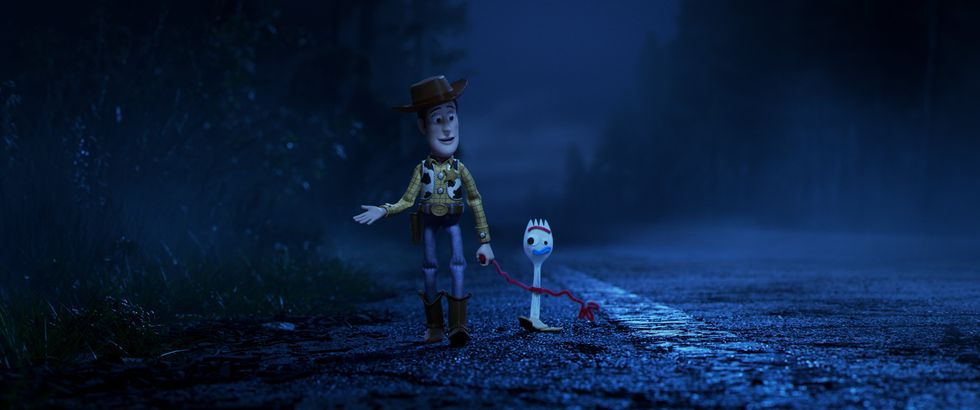 Woody tries to save Forky from his own nature, as roadside litter.Disney
Toy Story 4 gets vastly more complex when Bonnie's family takes a road trip and stops at a carnival near an antique store. Two movies after Woody considered becoming a museum exhibit, he winds up pretty close to that when he's trapped inside an antique shop. Gabby Gabby (Christina Hendricks) rules the shop with her creepy ventriloquist dummies. In a clever twist, the ventriloquist dolls are the only toys who can't talk (implying they need a human for that), serving as threatening henchmen who may creep out the parents in the audiences even more than their kids.
Lost toys are like scavengers in a Mad Max wasteland of no kids. Carnival toys like Ducky (Keegan-Michael Key) and Bunny (Jordan Peele) are just waiting to be won. Toy commercials mislead kids about what a toy can actually do, which leads to toys being discarded. Has anybody thought about how toy marketing shams impact a poor, innocent toy?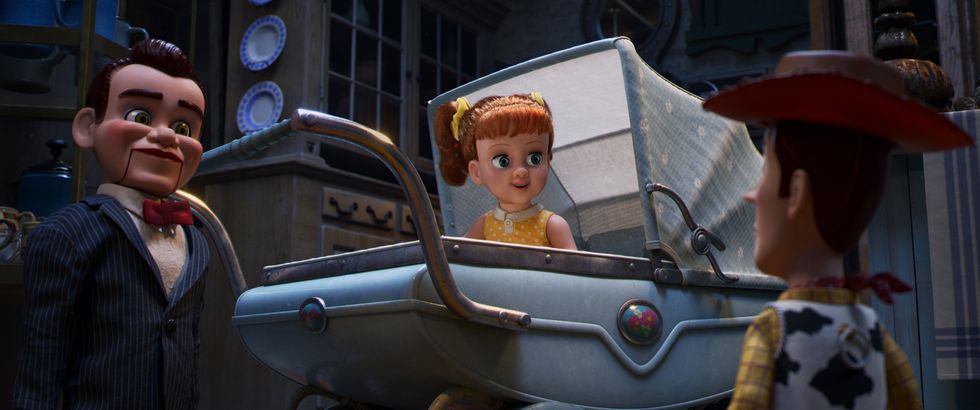 Sure, that's not the most terrifying thing I've ever seen. Disney
Throughout this complex, sophisticated adventure, Woody has to learn to let others lead. There are many other toys more capable than he is in these unfamiliar situations. This is bold and poignant, considering Woody has been the rock of Toy Story. Sure, he nearly got seduced by fame in Toy Story 2, but he's never lacked a compass as he does in Toy Story 4. That struggle makes the resolution all the more earned.
Visual and verbal jokes are so fast-paced, you'll end up missing many of them while you're laughing at the previous one. Toy Story 4 will be rewarding for multiple viewings just to take everything in. If one were being a stickler, the toys technically violate some of the rules about interacting with adults, but every time they do it's really funny so it's worth it.
Fans of Buzz Lightyear (Tim Allen) may feel he's sidelined in Toy Story 4 but his role in the story shows growth from Toy Story 1,2 and 3, thanks to what he's learned from Woody. Additionally, it's nice that they used some of Don Rickles outtakes to keep him as the voice of Mr. Potato Head.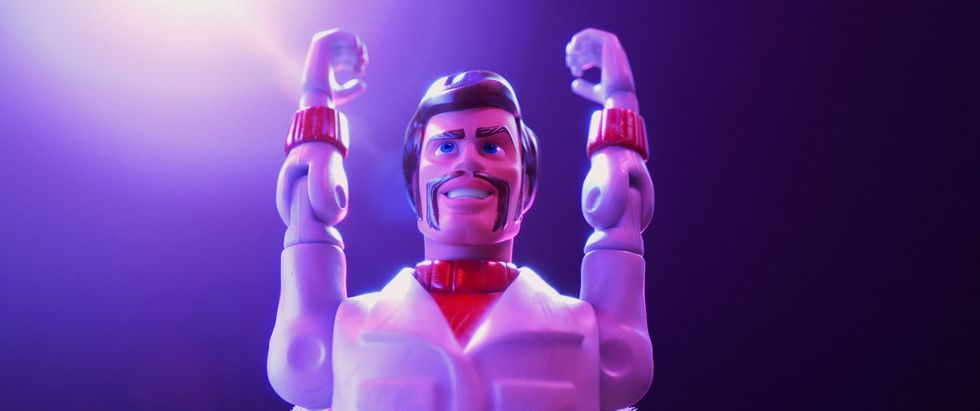 You're going to love Duke Caboom. Toy Story 4
The new characters from this edition of the franchise are destined to remain in the Toy Story legacy and become sought after Christmas presents. Gabby Gabby comes from a similar place as other Toy Story villains, but she approaches it in a healthier way. She's subject to debate, but she has more layers than Lotso Huggin' Bear or Stinky Pete. Duke Caboom (Keanu Reeves) is just pure joy.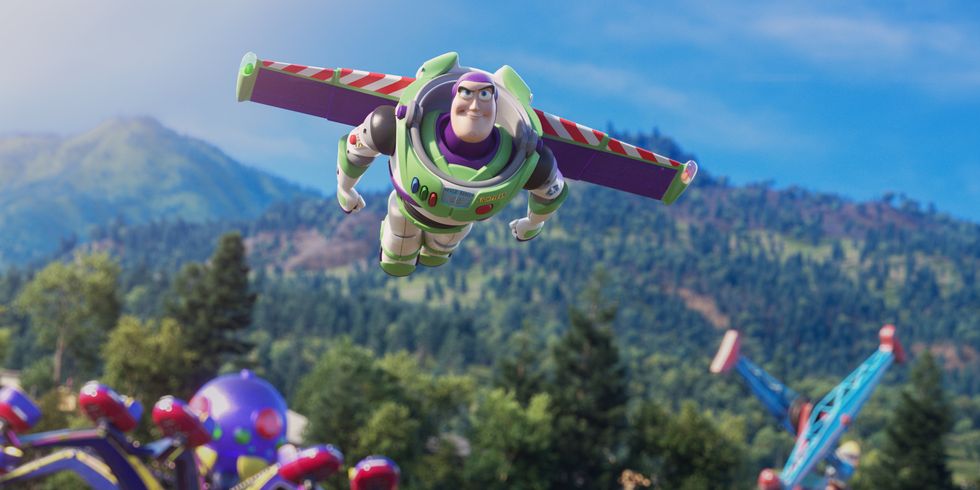 Unparalleled animation Disney
Toy Story 4 is the first Toy Story in the widescreen 2.35: 1 aspect ratio so there's literally more image on the screen than in previous films. The opening montage recaps Andy growing up and passing the toys to Bonnie in an ambitious animation flow that allows us to see these familiar toys in a bold new way. Scenes of toys on a fairground present unfathomable feats of animation from the toys and the theme park rides to the humans; as a viewer, you're just completely immersed in the scene. In the antique store, toys' intricate action flows with a palpable threat of breakage.
Pixar could always just make "Woody and Buzz on another adventure" sequels and do just fine, but they've never settled for that. Toy Story began as a clever joke about what toys do when we're not looking and grew to symbolize their owners' (and the viewers') attachments to material comforts for their sense of identity. We're four levels deep into Toy Story now, so we know all the fun comes with deep personal reflection, and that's why these films resonate well into adulthood.
From Your Site Articles
Related Articles Around the Web