Florida residents were outraged after learning of a sex scandal that occurred at South Fort Myers High School last week.

The scandal stems from a 15-year-old girl engaging in sex acts with multiple boys in one of the school restrooms.
According to reports, the unnamed girl arranged to meet a teen boy in the girls' bathroom to talk, after school was dismissed.
When they met, he told her he wanted to have sex—and she complied, without hesitation, as she "had a crush" on the boy.
News of the illicit rendezvous soon spread, and before long a group of boys from the school's football team arrived at the scene, in hopes of participating.
Which they did—with news outlets reporting the boys locked the bathroom door and then 25 of them proceeded to have sex with the girl.
And, apparently, it was all over and done within an hour from start to finish, as the students had somewhere else to go on campus.
Adding further to the furor, it was all caught on camera, and images have been posted online.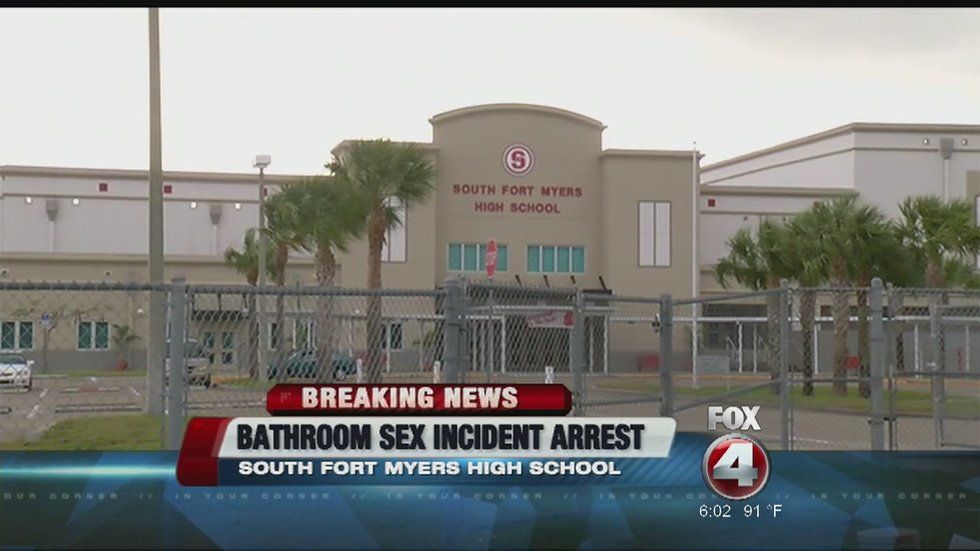 i.ytimg.com
In addition, several snapchat videos have been posted on social media, as well as distributed throughout the school.
The girl has since been pulled from the school, and 16 students have been disciplined over their participation.
There is also an ongoing police investigation, due to the videos and images being posted online.
There have been no reports—and no reason to believe— that the sex was non-consensual—and therefore, of course, all the outrage, judgement and condemnation has been aimed at the 15-year-old girl.
Because, that's what society does right?
Because, CLEARLY she's a slut/whore/tramp/tart…. take your pick of label.
Well, to anyone who has half a brain, and is able to think before just jumping straight to judgement and condemnation, this girl is troubled.
Something has happened to her somewhere along the line—something or someone has damaged her.
And, yep, sure enough.
An advocate, working on behalf of the girl's mother has come forward to tell the girl's story in hopes of setting the record straight.
And, it's even more tragic and heartbreaking than you could imagine.
Turns out the young girl was held captive by a human trafficker from the age of 13 and used as a sex slave for two years.
Megan Estrem, founder and CEO of Be the Light, an advocacy group that helps victims of sex slavery, has been working with the girl since her escape.
She says that the girl has been placed in various treatment programs—but that none of them have addressed the devastating and ongoing ramifications of sex slavery.
Sex trafficking is a very traumatizing experience. She was only 13 when she was trafficked. She did get some help, but it wasn't specific for what she needed.
She was not equipped to make a stable, rational decision [during the school bathroom incident]
She did not sleep with 25 boys in the bathroom.
There was only a handful that she did sleep with.
In this case, it was more of a spectator sport.
She has been in an environment where she has been told to behave a certain way, and there were severe consequences if she didn't.
Nicole Waid, ex-chief assistant U.S. attorney has a lot of experience when it comes to working with victims of sex trafficking.
She details what every day life is like for them in captivity:
You're talking these young girls having sex 30 to 40 times a day with different customers. [The easiest victims to lure and capture are] 14 to 16 of age because they feel isolated from school, isolated from parents, [and] that the world's against them.
It's truly one of the most horrific crimes, you are selling young girls, and young boys for sex.
[Their captors have] done it before, they know exactly what they are saying, the words to say, they know what this kid needs to feel like, 'Oh I'm on your side,' and then to lure them into some situation.
Meanwhile, Estrem continues to work with the girl to get her the help she needs to try and rebuild her life and her self esteem.
As for all the judgmental "slut shamers" out there, Estrem has some advice for them:
What happens is not to go straight to shaming and sharing this, but find out there all facts. What happened, why did she do this, who else was involved and what was their role?
She needs to be prayed for and encouraged, not degraded and discouraged.
So true.
Because, if there's one thing the South Fort Myers High School sex scandal teaches us—if nothing else—it is that you need to walk a mile in someone's shoes before you judge them
If you suspect human trafficking, are a victim yourself, call the National Human Trafficking Resource Center at 1(888) 373-7888 or visit their website.
For more entertainment, music and pop culture updates and news, follow Max Page on Twitter
---
Yazidi Teen Kidnapped Tortured Raped By ISIS Details Horrific Ordeal
Child Brides—Little Girls Forced To Wed Men Decades Older
The World Of Purity Balls—Where Little 'Brides' Pledge Virginity To Daddy
Inside The Tragic World Of The Dancing Boys Of Afghanistan
Heartbreaking Story Behind That Photo Of A Dead Syrian Boy On A Turkish Beach


Battle Against Ebola—Liberia Aid Worker Opens Up About Horror Ravaging Africa
Dutch Biker Gang Joins Fight Against ISIS In Syria
How LA's Fashion District Became A Mexican Drug Cartel Money Laundering Hub
In Defense Of Sweet Home Alabama—Why Its Racist Legacy Is Not Deserved
Wanna Bag Yourself A Dead Elephant? Inside African Hunting Safaris
The White Widow—How British Mom-Of-Four Became Face Of Global Terrorism
Meet The Indian Man Who Subsists On Diet Of Bricks Mud And Gravel
Woman With BIID Blinds Herself With Drain Cleaner To Fulfill Lifelong Disability Dream