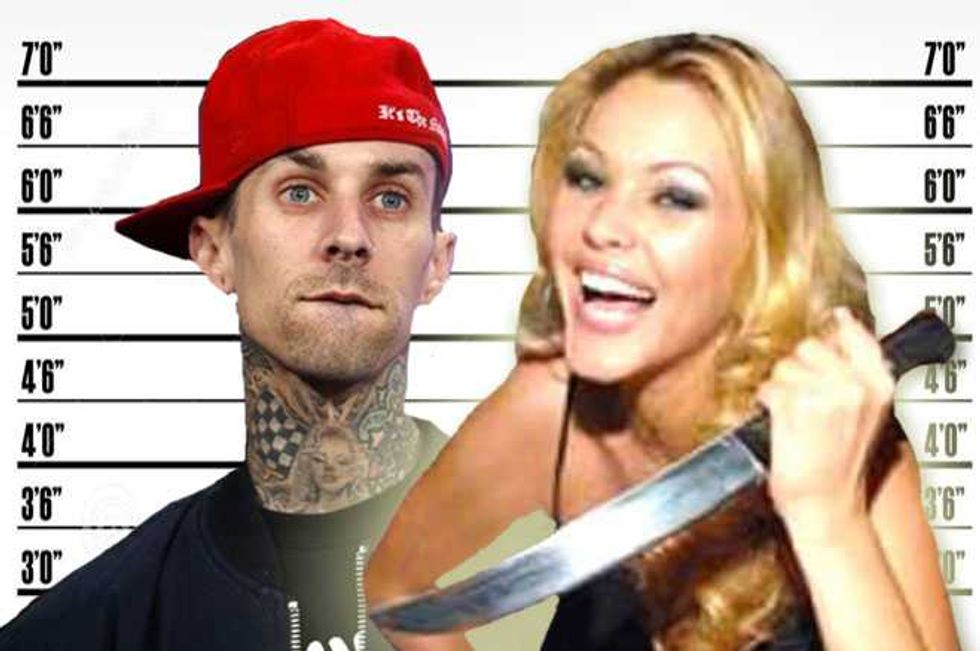 Someone cock-blocking you from starring in your own white-trash reality TV show? That's definitely a reason for a death threat!
Similarly, living with your ex-wife after you've divorced—that's probably another recipe for disaster.
"If I could, I'd put a bullet in your head," Travis Barker allegedly told his ex-wife, Shanna Moakler after she refused to allow their kids to do a reality show with their father.
The Blink-182 drummer, 39, and the Playboy Playmate were handcuffed and thrown in the back of a police car for threatening to kill each other.
The mayhem unraveled on December 7, when a verbal dispute reportedly turned so vicious that Shanna called the cops. When they arrived, Travis told them that Shanna threatened to have her boyfriend beat him up.
Scott Weiland Found Dead On His Tour Bus
At the police station, Moakler revealed just how nasty things had gotten between them.
"Fuck you bitch," she claimed Travis told her—allegedly going on to call her a fucking piece of garbage and "a cigarette smoking, coke-snorting bitch."
Moakler also alleges she has an email in which Barker said, "My poor kids have a whore for a mom."
The 39-year-old claims that things started going south between her and Travis following the horrific plane crash he was involved in back in 2008. Both Barker and his close pal, DJ AM, were prescribed pain meds for the extensive injuries they suffered—and Moakler says Travis later experienced harrowing depression while trying to wean off them.
Tragically, the pain meds sparked a drug relapse for DJ AM, and he died of an overdose just under a year later.
Charges will not be filed against either Moakler or Barker, but TMZ reports The L.A. County Dept. of Children and Family Services is investigating the incident..