Super Dark Times (dir. Kevin Phillips)
Hounds of Love (dir. Ben Young)
---
A few hours earlier, he was holding a samurai sword over the body of his best friend while suburban sprinklers drenched the bloody spectacle in mechanical mist. Now Charlie Tahan (Wayward Pines) was a few feet away from me, decked in a sleek trenchcoat and a bookbag that seemed too cute. "Now I didn't write the film," he was saying to someone in mock defense, though his haircut still vividly brought to mind the crazy-eyed wariness of the murdering psychopath he plays in Kevin Phillips' directorial debut, Super Dark Times. Nearby, courting a collection of older journalists, the broad shoulders of Max Talisman (Orange is the New Black) can be spotted. It's his neck that Tahan's character turns into a small fountain of blood early in Super Dark Times. The drinks in their hands are well-attended and I wonder how old these supposed teen boys are.
The territory covered in Super Dark Times is the coming of age tale, from the debut late-night party to the first doobie smoked. Attacking the terrain from the lens of fragile teenage masculinity, Phillip's camera opens on Zach (Tahan) and Josh (Owen Campbell, The Americans) leering at the pretty girls in the school yearbook. We later meet some friends, the kind you know because your cousin knows them. Small dostoevskian retorts about death are made as are homosexual slurs. Something of a period piece, Phillips attends to some Donnie Darko-ish surreal noise involving a television set, but maybe its better no one is stuck to their iPhones. Fucking around, they find Zach's cool-and-in-the-Marines brother stash and steal his weed and borrow from his collection of sabers that every manly man must have somewhere. The saber isn't like, a real historical artifact, Zach informs us, but it it also isn't fake or anything. True enough: "We need to bury the body" is the first thing one of them opines after Talisman's body becomes a geology of blood, oozing little rivers.
Super Dark Times captures gestures of early teenage life that I've long forgot: the petty rivalries that express themselves in facial ticks, the deeply particular ways a middle schooler can be annoying. Certain clichés are echewed as well; there's a crush, obviously named Allison (Elizabeth Cappuccino, Jessica Jones) but it is absent the melodrama of too many teen movies. Desire expresses itself in American Beauty-esque sex dreams. But the movie's gruesome trauma traps these growing-up experiences without a single false note, even mom (Amy Hargreaves) manages to be winningly cool.
---
"We need to bury the body" is the first thing one of them suggests after Talisman's body becomes a geology of blood, oozing little rivers.
---
To what end are these children gathered to the slaughter? Post-Columbine, we like to think teenage psychopathy involves stories that can elucidate why such random things bad things happen. Bullies are a common target, ditto online neo-Nazi communities. Neither Phillips nor his script—penned by Ben Collins and Luke Piotrowski, rising horror scribes— offer anything so illustrative. Trauma builds upon trauma and one dead body becomes three like the spread of an unseen illness. Phillips sketches these emotionally claustrophobic conditions with gory aplomb. The movie's publicity is running a comp to similarly mysterious retro teen dramas like Donnie Darko but Phillips' hand for emotional realism had me thinking of "In the Woods," the three-part episode of Louie that is ostensibly a moral tale with a flimsy target (marijuana) but ends up connecting succinctly with the moral trauma of growing up.
---
Is it just me or are a lot of Tribeca offerings this season rich with bloodshed?
Earlier in the morning, I managed to catch another gory number: Ben Young's Hounds of Love which contained zero Kate Bush but ended on a Joy Division song. Weird. Bloody as all hell too, Young takes on the genre of kidnapping women and trapping them in a room that Brie Larson used to make into her an Oscar-winning performance in Room a few years back. His device is showing us yelling next to bloodstains. By the time we see a body, we are already mildly invested. They say this is based on some real stuff. More interesting than all that is Emma Booth's turn as the wife who assists her hubby (Stephen Curry) with finding, raping and killing teenage girls. Mother to children she is no longer allowed to see, she telegraphs unease with strange sympathy, we wonder if she's trying to deal with a life that fucked her something awful. She drops that she's been married to the movie's central pervert since the age of thirteen and has tried to leave before. If she's still around, we assume pickings can't be good. Curry, for his part, bears an intensely uncanny resemblance to Robert Carlyle's run as the frightening Begbie in Danny Boyle's Trainspotting.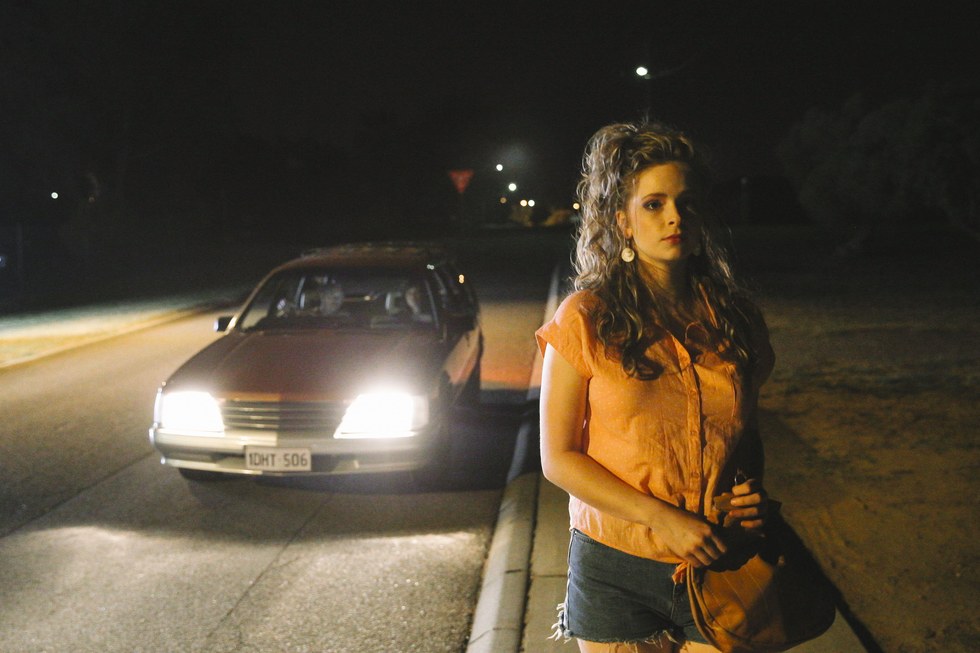 Ashleigh Cummings plays Nikki, who is bound, tortured but manages not to get killed in Ben Young's 'Hounds of Love'
Hounds of Love betrays a litter of superficial similarities to Jennifer Kent's Aussie horror flick Babadook that's gained a small cult following over here: the horrors of Australian suburbs, unhelpful police office and the underlined subtext of motherhood not-quite hiding under the What's-it-about? column. Like Phillips, Young has a more than a few retro obsessions: this is the early '80s, people use rotary phones and the title is set over neons. Young also shares Kent's lighting good control of horror pacing: no matter how many scares you've watched, the last twenty minutes will set you on pins.
Later in the festival, there are not one but two documentaries on the bloodshed in Syria. One of them, that I caught in the previews, features extensive shots of ISIS executions. Among the festival's VR offerings is a selection of narrative accounts of sexual abuse. Tom Hanks, beloved figure of a million childhoods, plays a villain in the festival's centerpiece release. Oh, joy.
---
Andrew Karpan is Popdust's notorious critic of cinema. His opinions are crafted only after intense thought. Follow him on Twitter.
More Film:
A Wack Boy's Guide To: Punisher Comics
What does Logan's success mean for future comic book films