CULTURE
The Epstein scandal is the most pristine horror story to come out of the #MeToo era.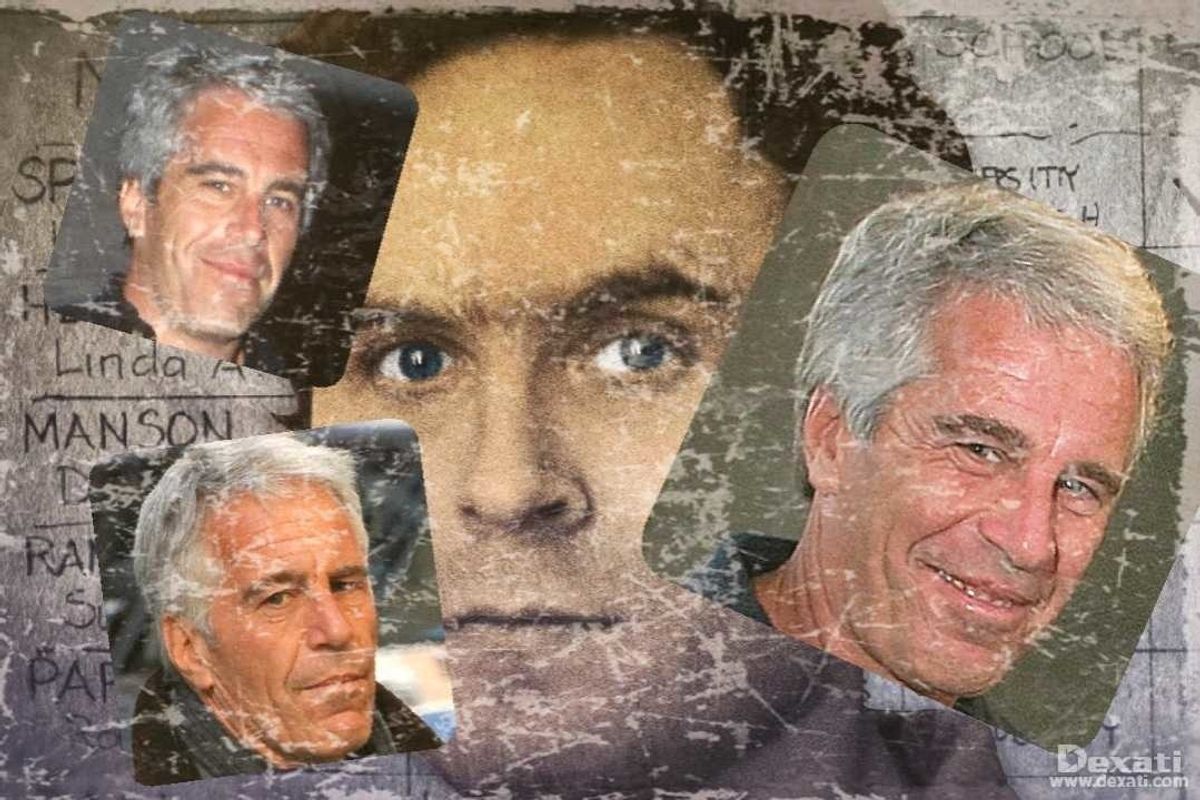 Scarlett Johansson still loves and believes in Woody Allen. Chris Brown's fans are still celebrating his music. Even Roman Polanski is still premiering films to applause.
But unlike other predatory men brought down by #MeToo, there's no (arguably) defensible art attached to Jeffrey Epstein's legacy—only horror, perversion, and the power of fame and fortune. In short, the Epstein scandal is the most pristine horror story to come out of the #MeToo era. It's a heavy, opaque drama about a multimillionaire financier who created a "cult-like network of underage girls—with the help of young female recruiters—to coerce into having sex acts behind the walls of his opulent waterfront mansion as often as three times a day." If the unfolding scandal were a film, it'd have a high production quality and an instrumental soundtrack.
Actually, never mind. Jeffrey Epstein is soon coming to your screens—all of them, apparently.
Barely a month after the 66-year-old was found dead in his Manhattan prison cell, society is already cannibalizing the late billionaire by retelling his story across various media platforms. As Vanity Fair recently reported, re-imaginings in the works include: a four-part docuseries from Radical Media in development by Netflix; a Lifetime project called Surviving Jeffrey Epstein; a scripted project and possible documentary by elite Hollywood producer Adam McKay (Vice, The Big Short); and whispers abound of major studios exploring their own scripted projects about Epstein.
Since Julie K. Brown's investigative report first exposed Epstein in 2018, every freshly uncovered detail has solidified him as our ideal modern boogeyman. Unlike other powerful men brought down by the #MeToo movement—high profile figures who've been publicly accused of wielding their positions of authority to prey upon others, from R. Kelly and Michael Jackson to Kevin Spacey and Harvey Weinstein—Epstein's perversions are concrete facts. No culture war army, no political party, no apologists exist for him. And that makes him the perfect, creeping enemy whose mythos includes all the preferred flavors in the American palate: corrupt power, obscene wealth, and unchecked perversion condoned by a network of famous friends and politicians, including world leaders like Donald Trump, Prince Andrew, and Bill Clinton. Even better, the story of this #MeToo boogeyman is unfolding in real time, with real consequences at stake for potentially "hundreds of other people," according to CNBC.
As high as we might be on our love for true crime, Epstein's crimes seem especially tailor-made for Hollywood. As one source told Vanity Fair, "It may be the most significant scandal in American history in many ways because of the level of the people involved, the currency of it, this vast criminal web almost certainly involving blackmail, and then the guy dies when prison guards just happen to be looking the other way? When you have a scandal of this magnitude, it is only inevitable that there would be a multitude of attempts to tell that story for a larger audience."
Now, Hollywood producers and podcasters are cashing in on the story:
Oscar-winning director Adam McKay recently released the podcast Broken: Jeffrey Epstein through Three Uncanny Four Productions. The podcast is hosted by The New Yorker's Ariel Levy and features Julie K. Brown herself. As McKay notes, "The Epstein story still has dozens and dozens of unanswered questions," and Broken endeavors to unravel his deep connections with the rich and powerful who allowed him to get away with his crimes. He's not the disease," producer Laura Mayer says. "He's a symptom of it."
Another podcast crafts a more narrative version of Epstein's crimes a la Serial. A new release titled Epstein: Devil in the Darkness features exclusive interviews with Epstein's former employees, including a New Mexico ranch hand who claims she was hired to recruit young girls to become Epstein's "massage therapists" and his former chauffeur, who's heard in the premiere episode telling the producers that Epstein was referred to as "the pedophile" by the staff: "It was a joke, it was, 'Yeah, we're going to pick up the Pedophile,' because we'd go and we'd pick up these young girls. But I don't think we really believed that's what was happening, but it comes to pass that that's the truth, that's what was happening. But we used to call—it was a big joke in the office all the time." Producers also feature an exclusive interview with Epstein's cellmate in Manhattan's Metropolitan Correctional Center, who witnessed the man's first suicide attempt.
While we'll have to wait and see if those podcasts will delve into the many conspiracy theories already surrounding Epstein's death by (reported) suicide on August 10, there's also a book in the works from Julie K. Brown. Her confirmed deal with HarperCollins will "expose the inner workings of the sexual pyramid scheme Jeffrey Epstein forced girls into, and will implicate powerful, wealthy and influential politicians, academics, businessmen and public figures," according to the publisher.
And of course, Netflix is getting in on the action. Radical Media has already optioned James Patterson and John Connolly's 2016 biography and true crime book, Filthy Rich: A Powerful Billionaire, the Sex Scandal that Undid Him, and All the Justice that Money Can Buy: The Shocking True Story of Jeffrey Epstein, and sold the rights to Netflix. The docuseries has already been in production for a year.
But why? Is there something, anything, to gain from replacing our resurgent fascination with serial killers like Ted Bundy with Jeffrey Epstein true crime features?
Well, for one, no one's arguing that Jeffrey Epstein was a nice guy. While popular serial killer narratives feature the paradox that the most profane sociopaths conduct themselves as upstanding citizens (yes, Ted Bundy worked at a suicide hotline and John Wayne Gacy was a tireless volunteer in his community), most people who knew Epstein described him as "creepy" (unless you're Trump, who found him to be a "terrific guy"). Secondly, Epstein's VIP status was solely based on his obscene wealth, and his millions were slowly acquired throughout a lifetime of being obscene, from beginning his career as an inappropriate prep school teacher in 1974 to becoming a swindling financial trader and consultant. He wasn't a musical icon like Michael Jackson, against whom sexual assault allegations continue to divide his fans, nor was he an actor, auteur, or major studio producer involved with classic pieces of cinema, like Woody Allen or Harvey Weinstein. There's no admiration of his art to stir conflicted feelings. As Americans, we're free to see Epstein as the embodiment of the evils of wealth in corrupt industries—which, perhaps, can bring home the message driving the #MeToo movement, that society's blind idolization of fame and fortune is so glaringly flawed and that classist unaccountability is too immoral to ignore.