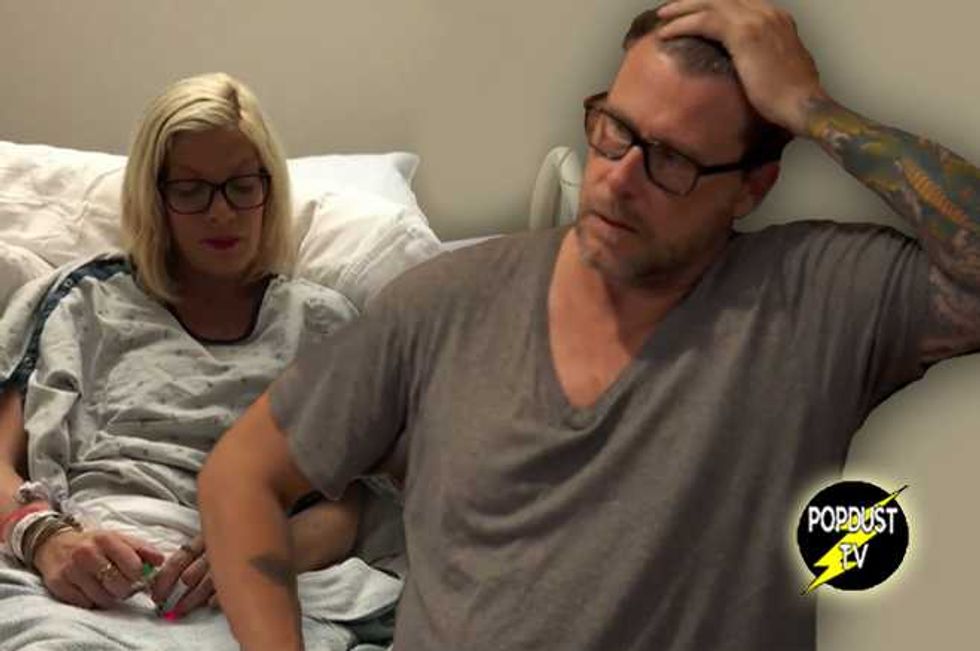 As we all get ready to settle in for in for a long winter's nap, Tori and Dean just settle deeper into their crappy marriage on True Tori.
Tori comes home from her girls weekend with a baby pig. Because naturally, when you get in a fight with your husband, you buy a 5 day old pig. The pig is a giant distraction from the real problem that happened the day before- Dean wanting to hire his female friend from rehab to babysit. She was royally pissed on the way home, and then the second she walks in with a pig, all their problems get put on hold.
After the pig excitement dies down, Tori brings up the issue with Dean's rehab friend coming over, but Dean wants none of it discussed on camera. He flips out and asks to talk to one of the producers.
"I'm sacrificing chunks of my f*cking soul," he laments. "I can't live like this anymore. There's clutter and blocked energy and dead ends." Dead ends? Like your career?
"When the kids are with me there's order and boundaries and when T's around there's this chaos."
In therapy they try to talk about it again, and Dean cannot for the life of him figure out why Tori is angry and hurt that he brought the rehab woman into their home.
He storms out of therapy and texts the producer that he might not come home. Tori knows that he doesn't have any friends or family and she's afraid he's going to drive off a cliff or something. Slightly melodramatic, but then again not. Later, off camera, she meets with him at a diner in Beverly Hills where he apologized for the rehab babysitter thing.
The next day Tori's baby pig dies. That's the final straw and Tori begins to do what she does best…become sicker than her dead pig because she can't process her emotions. Dean is forced to take her to urgent care. Production is brought to a screeching haul while Tori was treated for bronchitis and sinusitis.
While Tori is in the hospital for 13 days (for bronchitis?!), Dean has a very peaceful and relaxing time taking care of the kids, and he tells Tori that she doesn't bring peace to the home. Dean, you do a reeeeally good job at deflecting the blame off yourself. Don't think we don't notice that. Tori is forced to cancel a public appearance in Miami because she's still in the middle of a breakdown and can't handle the stress and responsibility.
She tells her therapist that she feels like she's not reliable anymore. She used to get booked for a lot of public appearances before the affair and True Tori, but now she's lost a lot of her ability to earn a living.
"I feel like I'm watching a trainwreck happening and it's my life," she cries.
Back at home, Tori confronts Dean about the rehab babysitter one final time. She asks how he didn't realize that the thought of him having a female friend in the house didn't make her uncomfortable. His response?
"Lower the bar and you'll be surprised at everything I do."
Did he seriously just f*cking say that? Dean then decides that he doesn't want to do the reality show anymore because it's no longer good for him to share his feelings with the public. Tori doesn't agree but there's not really anything she can do.
To be continued next season…if there is a next season.
What did you think of this week's True Tori? Sound off in the comments below!