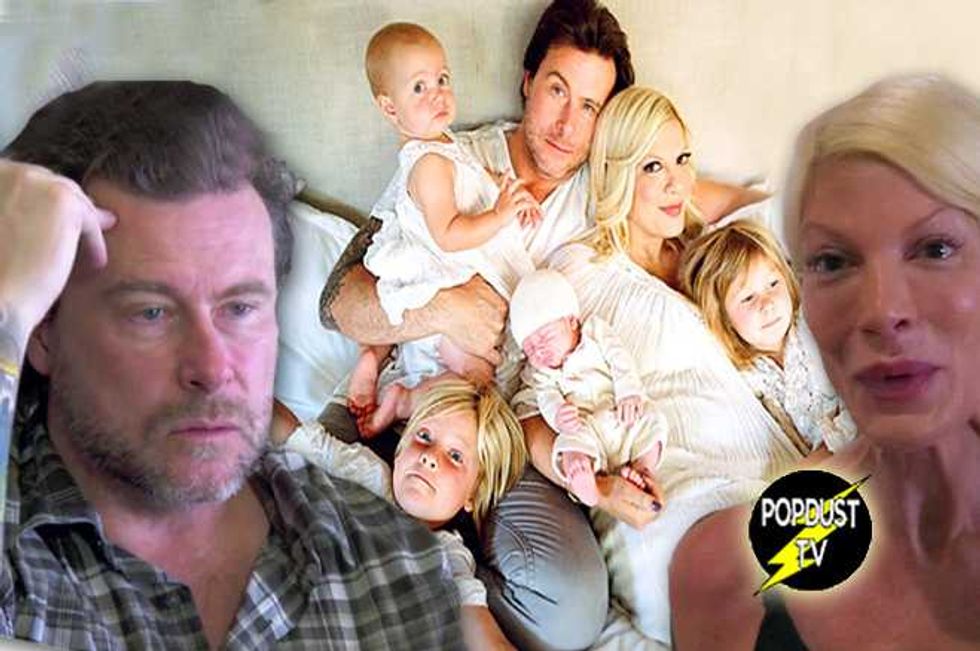 Are you having a bad day? Are you feeling sad about the direction your life has taken? Well just tune in to True Tori you'll feel much, much better about yourself.
It's no secret that Tori Spelling is dealing with some major issues involving her family life, but one issue that took a front seat in this week's episode is her insane storage problem. There's literally only one word for it – hoarding. Tori stores her "stuff" at a warehouse facility where she has 127 vaults (yes, vaults!) full of shit from Snoopy stuffed animals to furniture. Her friends take her to the storage facility to help her sort through her things in an effort to sell the majority of it and make her some money. Tori confesses that her storage fees are equal to a mortgage on a house…a Spelling sized house.
It comes as no surprise to her friends that Tori has an incredibly hard time getting rid of even the smallest things because of her emotional attachment to them. In particular, Tori has a hard time parting with several items she saved from her first marriage to Charlie Shanian, the guy she cheated on with Dean. In the end she decides to keep all of those things, then begins having guilt about the way she ended that marriage…in a therapy session.
When she gets home she tells Dean McDermott that she feels like she needs to reach out to Charlie to apologize for the way she ended things and to finally get closure. Dean is less than thrilled. In fact, he's scared shitless that Tori is going to meet with Charlie and fall back in love with him.
Tori emails Charlie and asks him to meet with her. He agrees, but when the day comes, Tori is sick and won't get out of bed. Her friend Mehran comes over and calls bullshit on the whole situation. There's probably a little bit of truth in her "illness." The woman clearly can't deal with any type of emotional stress and makes herself sick over it. Charlie texts her and agrees to reschedule their meeting.
In other news, Tori wants Dean to get a vasectomy. But then she doesn't. But then he wants to. But then he doesn't. AHHHHHH!!! Tori breaks the news to Dean in therapy that she wants him to get snipped because now that he's cheated, she for sure doesn't want to have any more babies with him. His reaction looked like he got kicked in the balls. Dean reluctantly schedules the vasectomy, but the morning of the procedure he gets cold feet. Shocking. Actually what really is shocking is that Tori has cold feet too! She knows that a 5th child would be an enormous amount of emotional and financial stress, but she confesses that she's afraid to lose their "baby-making connection." In the midst of their discussion Dean makes a bizarre comment about not wanting to be like Spencer Pratt in showing too much of their life on TV and he kicks the cameras out of their room. WHAT?!? Sooo, let's get this straight. You're just now worried that maybe you're airing a little too much dirty laundry on TV? Ridiculous.
What did you think of this week's True Tori? Sound off in the comments below!