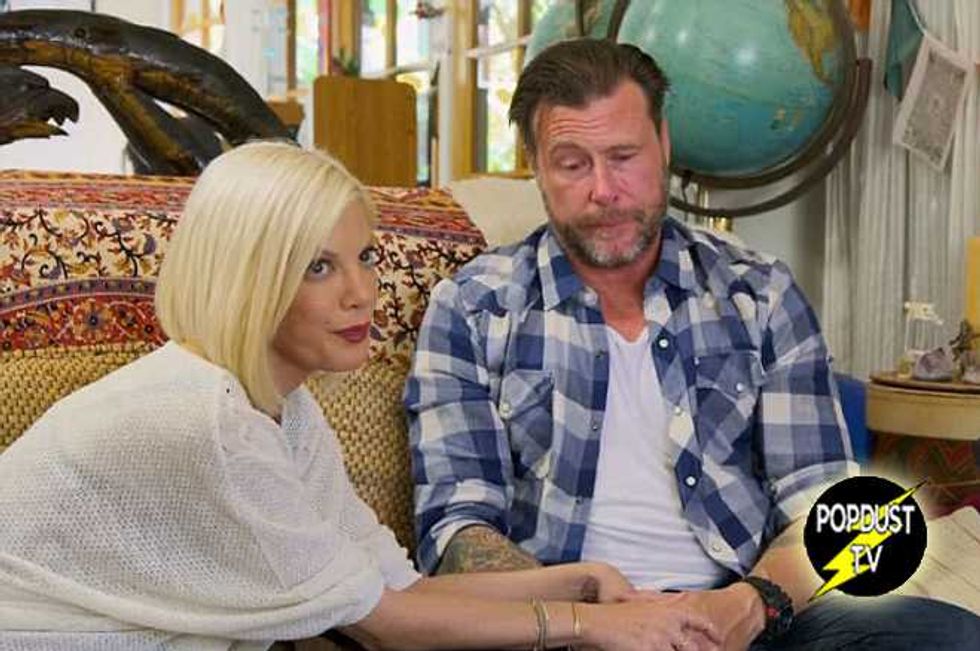 True Tori Tuesday came and went, and this show couldn't possibly get more ridiculous.
Tori Spelling is still at her lunch with Mary Jo, Dean's ex-wife. At one point, Mary Jo gives Tori a letter that Dean had written to her just a short time before he cheated with Tori. Apparently she wanted Tori to know that she and Dean really did have a happy marriage and that she was completely blind sighted by Dean's infidelity. Tori is in shock and disbelief at the letter because Dean had always maintained that he and Mary Jo had a terrible, loveless marriage.
She then begins to question other things that Dean had told her about his marriage to Mary Jo, like sleeping in separate bedrooms. Mary Jo says that's bullshit and that when he met Tori he was "really determined." Really determined? Tori took that to mean that he married her for her money, of which she has none. Sorry 'bout it, Dean.
When Tori gets home from lunch, sitting on the counter in the kitchen is a bouquet of flowers with, you guessed it, a love note. Baaaaaaad timing. He immediately asks about how the lunch went, and is noticeably shitting his pants waiting for Tori to unleash hell on him. She tells him about Mary Jo's note, specifically about the line he wrote about her being the love of his life, and he sternly tells her to stop reading it out loud.
Dean claims that it's all lies and that he was a "weak, emasculated, naïve individual" and wanted out of the marriage but didn't have the guts. He then tells Tori that he doesn't want Mary Jo's on the show anymore because it makes him look bad. We've got news for you Dean. You looked bad loooong before your ex came into the picture. Then he flips two birds to the camera. Dean, you are so freaking likeable it's scary.
Later Dean meets with his manager because he hasn't had an acting job in over 2 years. During their conversation, Dean tells his manager that that he's eager to go on auditions but is worried about how people will perceive him.
"I have a feeling that I might be considered a bit of a laughing stock in the acting world." Your astuteness is uncanny, sir.
In therapy with Tori, Dean mentions that his managers don't think reality TV is good for his acting career. He also concerned of what people think of his absence from the silver screen, asking "What the f*ck is he doing? He was like a great actor and now what?" Somebody get this "great actor" his own show! Oh wait, he has one.
He also mentions that he hasn't seen anybody else in the reality world be able to do film and television successfully. Cut to Tori quietly raising her hand on the other side of the couch. Dean's douchebaggery knows no bounds.
Tori hears about a magical guru from a friend of hers and feels like maybe he'll help her and Dean find the answers they're looking for. The guru asks very guru-y questions like "Who is Dean?" "Who is Tori?" Well, Dean is a blubbering idiot, that's what. He has a total emotional breakdown, complete with a sobbing cry that is worthy of any great Lifetime movie. Dean, maybe you are a great actor! After regaining his composure, he stares at the guru then tells him, "Your face morphed." The guru is like, "I know." What??? Face morphing?? Go home Dean, you're wasted!
What did you think of this week's craziness on True Tori? Sound off in the comments below!