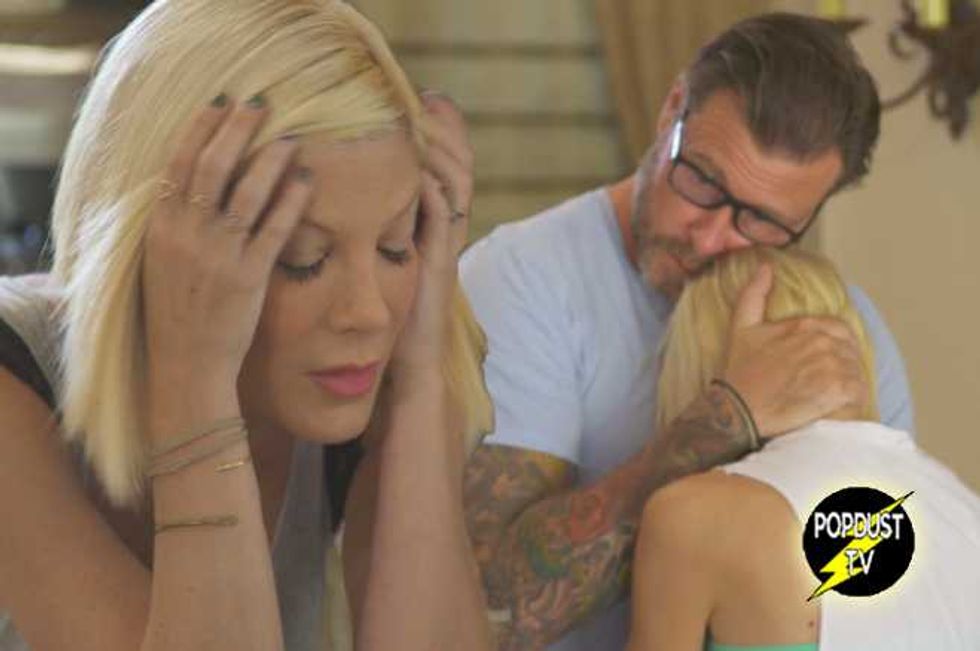 Where to begin with this week's True Tori. No, seriously? Where the hell do you even start.
Tori is throwing her daughter Hattie's 3rd birthday party at the house, and not only has she invited Dean's ex Mary Jo but also her mother, Candy Spelling. The thought of having both of the women she has the most issues with in the same place on the same day sends Tori into a monster tailspin, migraine and all.
Tori greets her guests in a weird gothic fairy princess costume, and becomes visibly ill at the sight of Mary Jo walking through the front door. She heads upstairs with her friends to decompress and do something about her migraine, and shortly after Candy Spelling walks in the house like the Queen of Sheba with…Tatum O'Neil?! Ummm, what?? Why??? Apparently Candy and Tatum are neighbors and bffs, and side note – Tatum is acting freaking bizarre.
Upon arriving, Tatum has some suggestions for the way filming should go down.
"I think that Tori should come down and say hi to her mom. It would just look better…I mean for the show."
Dean is beyond perplexed and heads inside to fill Tori in on the situation. He explains that her mother has arrived with Tatum, who by the way Tori has never met, and all Tori's friends agree that Candy just brought her to cause drama. How sad is that? Dean hit the nail on the head, saying "It's just a really odd choice for a plus one." For once, we agree with you Dean.
We all hope that Tori goes up to her mother to ask WTF, but in true Tori fashion she reverts to a 8 year old child and kisses Candy and Tatum's ass. Literally a mouth full of ass.
After their awkward encounter, Tori looks over to find Mary Jo, Candy, and Tatum getting uncomfortably chummy.
"My mom and Mary Jo are over there and they're exchanging emails now. She probably thinks she's gonna get buddy with my mom and get money and stuff," she tells Dean. This is the saddest, most cringe-worthy segment that has ever aired on reality TV. That is, until later on in the episode.
Tori finally agrees to go away on a girls weekend with her friends, but has major anxiety about leaving Dean alone with the kids. Rightfully so, because Tori
isn't gone for four hours before Dean invites his female friend from rehab to the house to interview for a temporary babysitting job while he works on CSI, and of course he didn't tell Tori. 4 HOURS!!! Tori gets a text from her current babysitter telling her that she's concerned that Dean has crossed the line.
Tori calls Dean to ask what the hell is going on. He explains that it's his friend from rehab who apparently Tori said no to hiring twice! He also claims that they had no one else to help. Seriously Dean? That's the best you could come up with? There are literally thousands of babysitters in Los Angeles, and you want to hire a woman who you have a history with and clearly makes your wife uncomfortable? What a piece of work.
The producers decide to interview Laura, the current babysitter, to get a feel for what's going on behind the scenes. Apparently the rehab babysitter feels really uncomfortable with the whole situation and was mislead to believe that Tori was going to be at the interview. Liar, liar, boner pants on fire.
As it turns out, rehab babysitter has signed a release at the interview consenting to be filmed, but when the shit hits the fan, Dean tears up her release paper, confronts the producer and refuses to discuss the matter further.
Tori continues to confront Dean via text, but Dean won't allow production to see the texts. All he says is that Tori's controlling and overbearing He doesn't seem aware of the fact that in Tori's eyes, he's not allowed to have and female friends given his cheaty history. Uh, can you blame her?! The ONE day she goes out of town he invites a chick over. All hail the king of the douchebags.
What did you think of this week's trainwreck on True Tori? Sound off in the comments below!