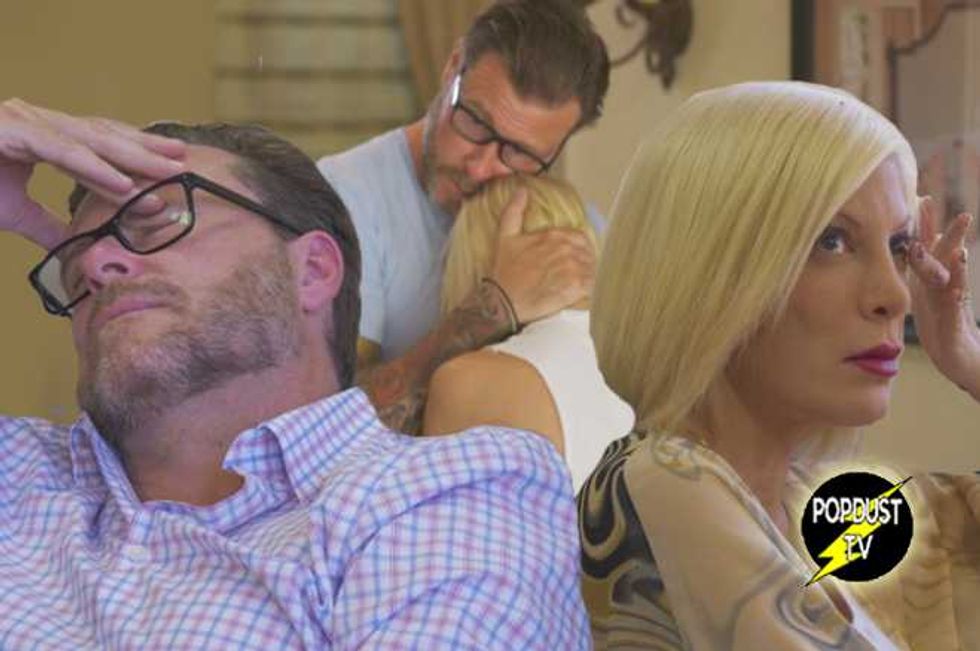 Thanksgiving is only a few days away, but on True Tori the McDermotts are finding it hard to find things to be thankful for.
In one of their regular couples therapy sessions, Dean McDermott mentions that he's been invited to play hockey with a group of dads once a week, and Tori Spelling is not happy about it. Dean and the therapist agree that they should both be allowed to do adult things apart from one another. Uh, we all know what kind of adult things you like to do in your alone time Dean. Nice try.
When they start talking about Dean not pulling his own weight, especially taking care of the kids, he loses his cool. Basically he wants to know what Tori does that is so much better than what he does. Oh no he di'int! Tori doesn't think that Dean's present emotionally with the kids, and Dean's completely offended and defensive.
Back at home when Tori's friend Mehran comes over, she begins telling him that Dean admitted in therapy that being with the kids "isn't his first want." Dean overhears this convo in the other room, and walks in to defend himself. He tells Tori that he feels like this entire season of the show is portraying him as all bad all them time, and he's over it.
Now we get to the most important issue of the season thus far…Tori's boobs. Tori has been putting off getting her boobs fixed for years, but the problem goes way beyond the fact that aesthetically they look like the two hot air balloons sailing over the Grand Canyon. Her implants were actually recalled a year after she got them…15 years ago!!!!!!!!! While clothes shopping with her friend Courtney, Tori says she regrets getting such large implants, and if someone would've told her that she had to routinely get them replaced every 15 years she never would have done it.
Tori has a consultation with a plastic surgeon to discuss the condition of her implants. Basically they're almost as bad as they can be. They're extremely hard and possibly have micro ruptures. The doctor tells her that the best option would be to remove the implants and keep them out for a few months before replacing them, but that her chest will look rather "pancake-y" in the interim. Back at home, Tori tells Dean her options, and surprisingly he is very supportive of taking a boob vacation
In other news, Dean gets on an audition for CSI. On the drive there he tries to pump himself up, saying "I'm an actor dammit!" Could've fooled us. Days later Dean's manager calls and tells him that he actually booked the guest starring, but he's nervous that Tori will be upset that he's not around for 8 days to help with the kids. On the contrary, Tori is ecstatic that Dead Beat Dean booked a job. Set your DVRs, folks.
What did you think of this week's episode of True Tori? Sound off in the comments below!