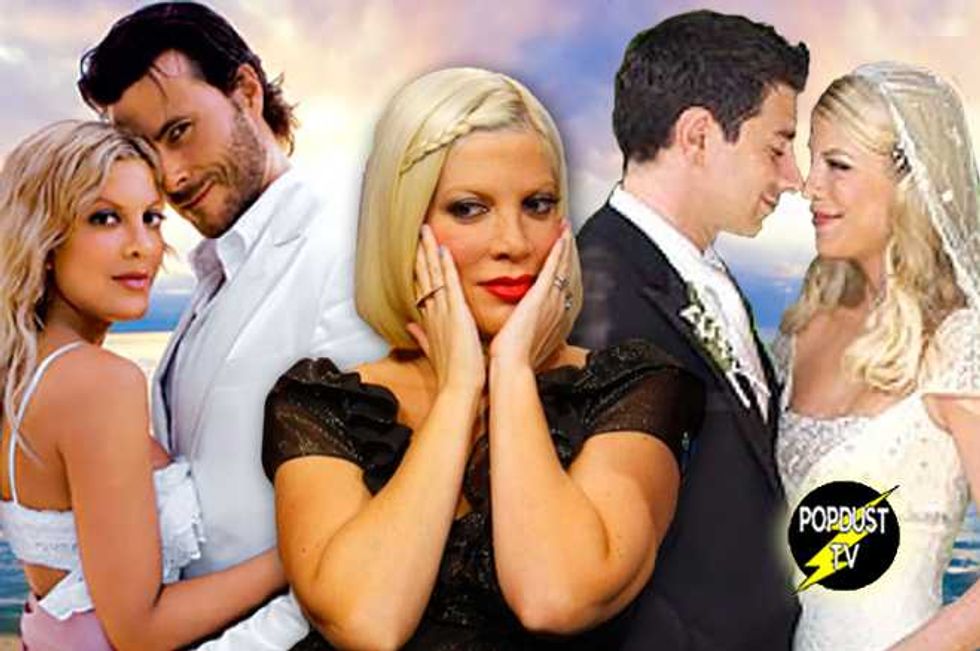 The saga continues on the soap opera that is True Tori, and we continue to ask ourselves "Why are these two train wrecks still together?"
So there's a lot of therapy going on here. Tori Spelling and Dean McDermott each see a private therapist as well as go to couple's therapy together. Tori is concerned that Dean isn't disclosing the severity of his situation to his personal therapist. She really wants to get her businesses rolling again because she's tired of constantly being in financial crisis, but doesn't feel comfortable doing so until Dean is a little more stable.
Then Dean makes the mistake of going cycling with a friend while Tori is having the day from hell with the kids. Dean can't seem to make time to go to a single AA meeting (or do much of anything, really) but he makes time to go on a freaking bike ride?! Tori confesses that she finds it hard to support things like cycling when Dean isn't financially supporting the family.
When he gets home from his ride, the couple gets into a massive fight that begins and ends with…a baked potato. It seems to Dean that Tori isn't microwaving the potato right. Then Tori feels like Dean is trying to prove that he's better at making a baked potato than her, making her feel useless and incompetent. Then Dean gets mad that Tori is projecting her feelings about life in general onto this potato. Are we seriously watching this bullshit?!?!? The fight ends with Dean walking out, leaving us all with one big question. Who the hell microwaves a baked potato?!
Later in couple's therapy, Tori is upset that Dean hasn't gone to any AA meetings. That's literally his only job right now, and he can't seem to find the time. On the ride home from therapy, Dean has the audacity to tell Tori that he wishes she would go to Al-Anon meeting to better understand him. What a piece of work. Tori does actually go to an Al-Anon meeting, but it backfires on Dean when the leader of Tori's meeting tells her that Dean probably hasn't hit his rock bottom yet. This must strike a chord in him, because the next day Dean goes to a meeting and gets his 9 month chip.
The time has come for Tori to meet with her ex husband Charlie, and she's sick to her stomach again. They meet at a church, but at Charlie's request their meeting wasn't filmed. When Tori leaves, she is a sobbing mess. Once home she sits down with Dean to talk about what happened, but all she can manage to say through tears is how safe and nurtured she felt with Charlie and how alone she felt when she drove away from him. Ouch! Basically she gushes to Dean about what a good man Charlie is and Dean is forced to ask if she ever thinks about what life would've been like if she would've stayed with Charlie. Her answer –"No, because then I wouldn't have my babies." Again, ouch! Dean, things are not looking good for you buddy.
What did you think of this week's episode of True Tori? Sound off in the comments below!