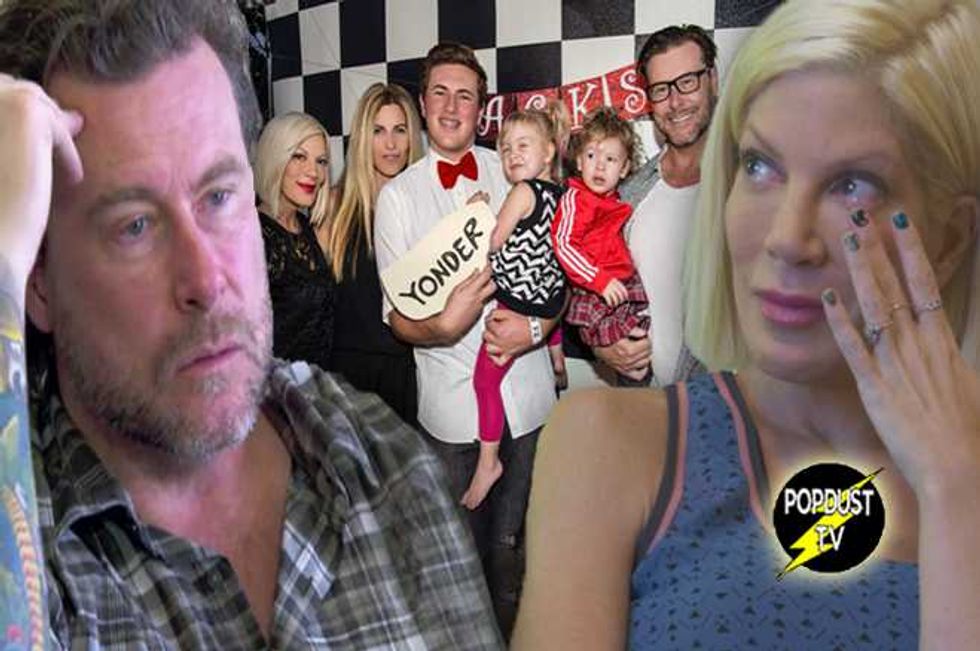 This week on True Tori, Tori and Dean meet with their therapist for couples counseling and at the beginning of the session Tori is in tears because Mystery Girls officially got canceled. Who in their right mind would cancel a show with such Emmy potential?!? After that Tori begins talking about her meeting with her ex husband Charlie and how freaking amazing a nurturing and mature he is. Dean's just sitting there like a sad old dog who just got his balls chopped off. Woof.
Tori begins to wonder what kind of relationship she a Dean have beyond the sexual. Their therapist points out that Tori has the emotional connection with Charlie and the sexual connection with Dean. Dean is visibly upset and says to Tori, "Right now I'm feeling like I'm just not the person for you." No. Shit.
Dean's son Jack from his first marriage to Mary Jo is turning 16 and really wants to have a birthday party at their house. Tori explains to the camera that they all try to be one big happy blended family for Jack's sake, but in reality they only actually see each other once a year for his birthday.
Tori meets with Jack to plan the party, and Jack informs her that he's already invited 60 people. Then on the day of the party, Jack sends the final guest list with a grand total of 90 people. Shocking.
Anyway, Jack shows up to the party with his mom Mary Jo. Tori confesses that she's always uncomfortable and intimidated by Mary Jo, especially given the fact that she and Dean seem to revert back to a happy married couple when they're together. Here's a tip…why don't you both go back to your ex spouses and call it a day?
The party actually goes off without a hitch, but Tori felt the need to get together with Mary Jo to discuss a congruent set of rules for Jack to have at both houses. At least that was the reason Tori gave Mary Jo. Secretly Tori wants to discuss the cheating scandal with her because she thinks Mary Jo is literally the only person on the planet that can relate to her right now. Hmmmm, why is that Tori?
The lunch starts well with Tori apologizing for the terrible way she and Dean handled everything 8 years ago and admits that now she has a very different perspective on the whole situation. Mary Jo admits that she was blind sighted and hurt by the way everything went down, but that she's managed to pick up the pieces of her broken life.
Tori tells Mary Jo that she couldn't help that she fell in love with Dean and then starts trying to talk about Dean's most recent infidelity, but Mary Jo is quick to cut her off as if to say, "Bitch, I ain't done talkin' yet!"
She tells Tori over and over again that she needs to own it and admit that she was complicit in the demise of Dean's first marriage. Not so fast Tori. You're going to have to do a liiiiittle more groveling before this woman is ready to "bond" with you.
What did you think of this week's True Tori? Sound off in the comments below!