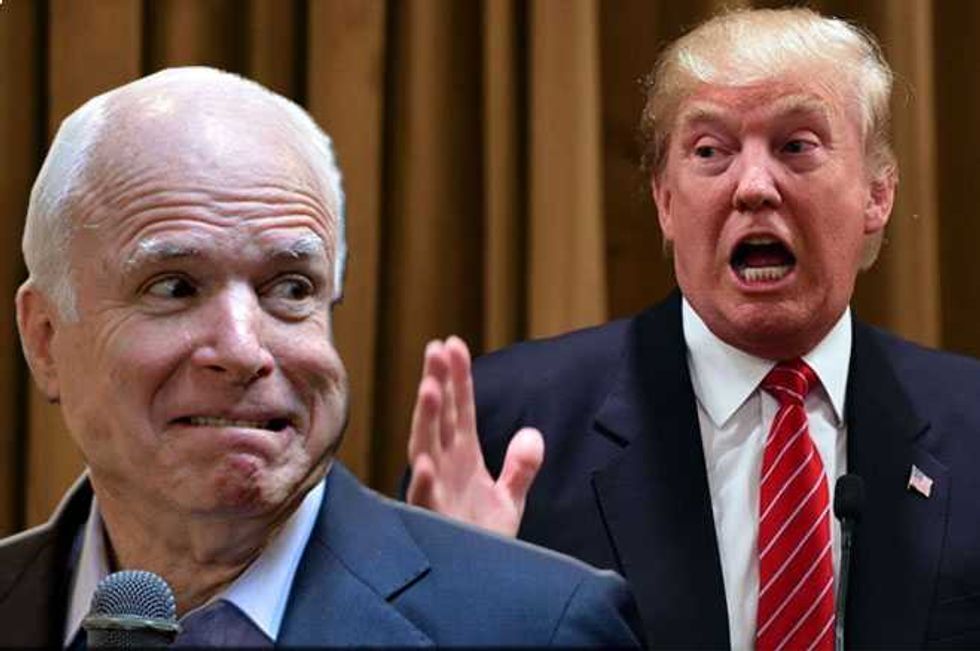 Donald Trump continued on his quest for the presidential nomination by outrageously criticizing Senator John McCain's military record.
The Donald's campaigning machine was at a conservative forum in Iowa on Saturday and Trump said of McCain, the 2008 nominee (and former prisoner of war);
"He's not a war hero. He's a war hero because he was captured. I like people who weren't captured."
The comment was an ill-advised bitchy payback for McCain who earlier this week said that Mr Trump was antagonizing the "crazies" in the Republican party with his controversial remarks about Mexicans.
Donald Trump Will Win Hispanic Vote Because Hispanics Love Him (Says Trump)
NBC Fires Donald Trump's Racist Hate Speech Spewing Orange Leathery Ass
Let's not forget that McCain was a naval aviator, who was shot down during the Vietnam War and held captive for over five years in Hanoi. He could have had early release after just six months when his captors learned his father was a Navy admiral, but he refused it even after being repeatedly beaten.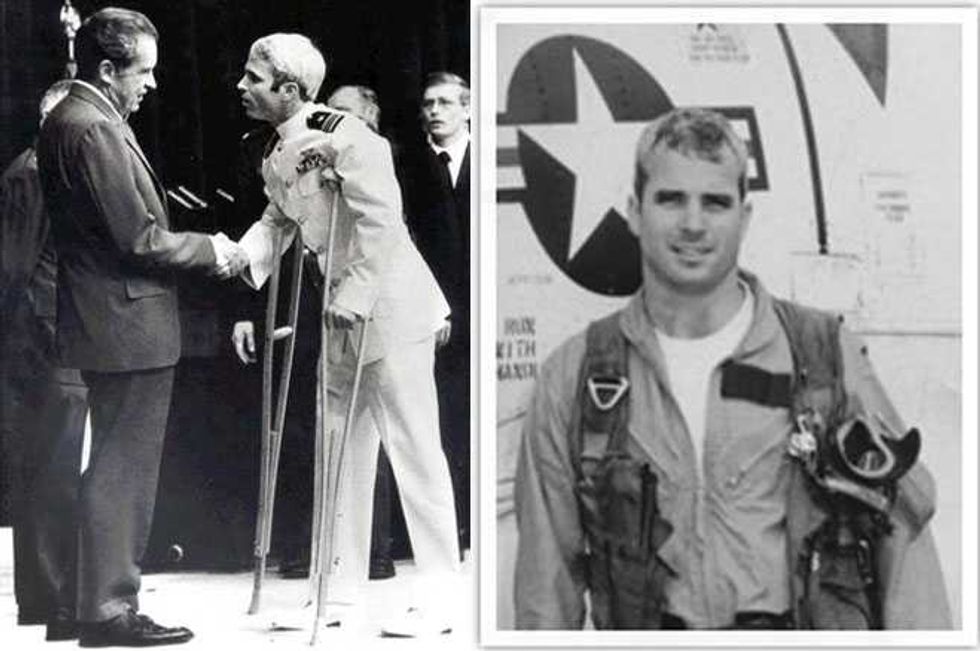 Sen John McCain who broke both arms and a leg when shot down during Vietnam War, receiving one of a number of bravery medals.
This is in stark contrast to Trump's own war record. In that Trump has no war record. In 2011 (during a previous flirtation with the presidential race), he claimed that he avoided serving in Vietnam solely due to a high draft number. He said at the time;
"I actually got lucky because I had a very high draft number...and those numbers never got up to."
This is total BS, because documents obtained by The Smoking Gun reveal that Trump, son of a multi-millionaire real estate mogul, actually filed a total of five deferments to avoid military service. The first four were student deferments filed during his time at the University of Pennsylvania where he was studying business. However the 1969 draft lottery took place some 18 months after his graduation, so the aspiring presidential nominee obtained a medical deferment. His disqualifying medical condition? A bone spur in one of his feet. It is ironic that golf enthusiast Donald now can't actually remember which foot it was. He later said that he didn't go to Vietnam because he "was not a big fan of the Vietnam War." Errr, which was it Donald, that you couldn't serve because of a medical condition or wouldn't serve because you didn't agree with the war?
Charlie Sheen Sticks His Nose In Brian Williams Debacle
Trump's anti McCain remark drew some boos from the audience and quick condemnation by his rivals, who are incredibly frustrated at his recent surge in polls, and feel that Trump's limelight stealing tactics have hijacked the 2016 Republican primary and undermined the GOP brand.
Trump tried to take control of the damage by tweeting;

His backtracking won't diminish the anger caused by his remarks though. Given the party's solid support of military service and sacrifice, they must actually be secretly pleased that a chink has appeared in the Trump gold armor that will enable them to chip their way in and get them to a point where they can thump the desk and shout;
"Trump, You're Fired!".