Humor
Enjoy some post-election comic relief, courtesy of Stone Cold Steve Austin and the folks at WWE.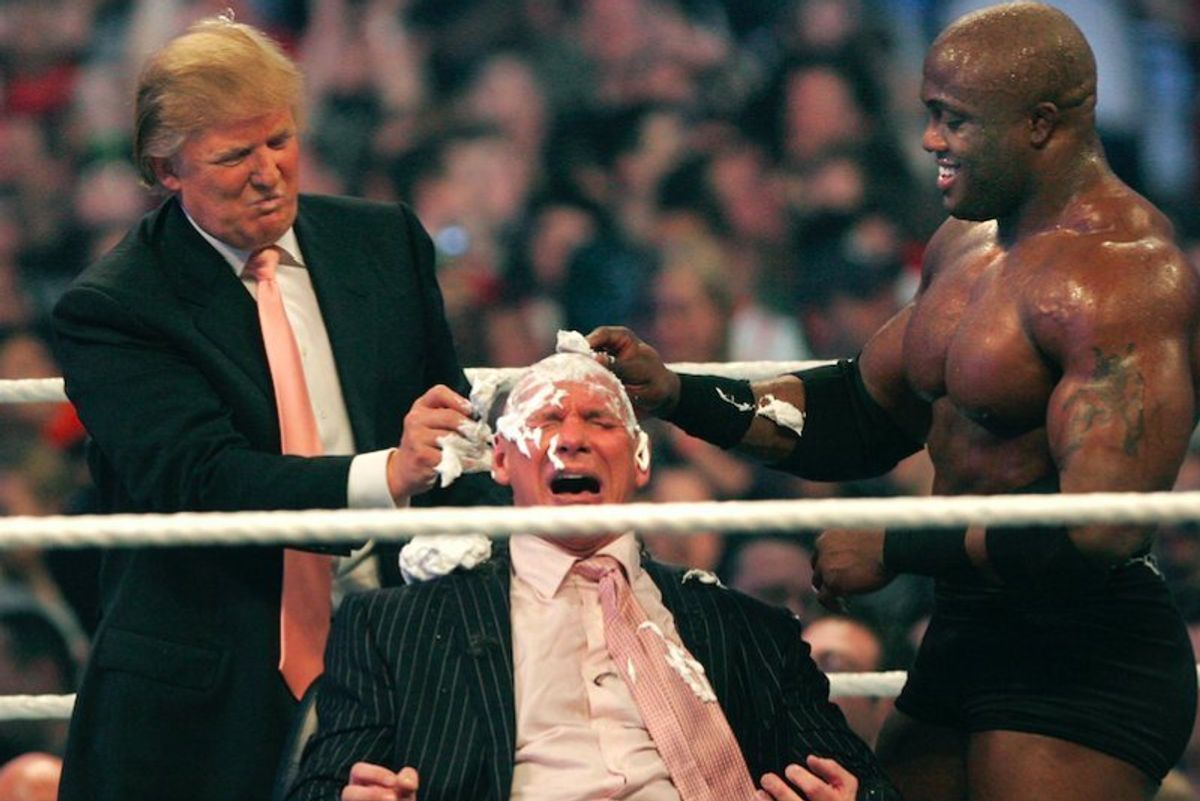 Twitter
I know, you hear about him enough. If you're connected to the internet or to a television there is a zero percent chance of making it through today without hearing about him. If you like him, this is probably slightly annoying. If you don't, this is purgatory. But there is one thing people seem to have forgotten during the information tsunami that was this election: the new President-elect almost lost his hair in the WWE ring.
It wasn't metaphorical. It wasn't a trim. And, unfortunately, it didn't happen. But for a time in early 2007, the world salivated over the possibility of seeing Vince McMahon, juiced-up CEO of the WWE, shave the Donald's head at WrestleMania 23.
In typical WWE fashion, the buildup was immense and way, way over the top. In short, it's marvelous.
Trump's first match was on Raw in January 2007. His opponent was… and it's immense fun to write this… Rosie O'Donnell. Of course, the real wrestlers in the ring were lookalikes. Trump won and the match recap is both horribly offensive and hilarious.
The real rivalry started a few weeks later when Trump upstaged McMahon's Fan Appreciation Night by dumping thousands of dollars in cash on the audience. McMahon and Trump organized a match to settle the rivalry: each would pick a wrestler to represent him at WrestleMania 23 and the winner would shave the loser's head.
Now McMahon really is the CEO of the WWE organization but he is also a character in the show. So it was pretty obvious that allegedly-real-life-person Trump would not have his head shaved by semi-fictional-character McMahon. Nonetheless, the prospect of seeing that happen brought record ticket sales and a record PPV audience.
Stone Cold Steve Austin was the guest referee for the "Battle of the Billionaires" match. Watch him lay down the rules directly into Trump's face for four amazing minutes here.
Trump's wrestler won the match. (And Trump actually attacked McMahon outside the ring!) We'd known it would happen that way, but it was still unfortunate. Trump shaved McMahon's head with a maniacal smile.
The President-Elect Throws Punches & Shaves a Man's Head
But it wasn't over. Now, more than ever, the world deserves to enjoy what happened next (better quality footage here):
Since that WrestleMania victory, Trump's WWE career has been on a hiatus while he's spent his time dabbling in politics and idiocy. Let it not be forgotten, however, that in 2013, despite having won only two matches and wrestled in exactly zero, he entered the WWE Hall of Fame. The man has built his career on receiving honors and appointments with no qualifications or experience.
All of this leads up to what is a contender for the funniest and most frightening sentence written about the new President-elect.
In an update to Trump's "superstar" profile, the WWE wrote that this will be "the first time in history a WWE Hall of Famer would ever hold the distinguishing title of U.S. Commander-in-Chief."
Let that sink in.
From Your Site Articles
Related Articles Around the Web