Frontpage Popular News
This is for the g's, this is for the hustlas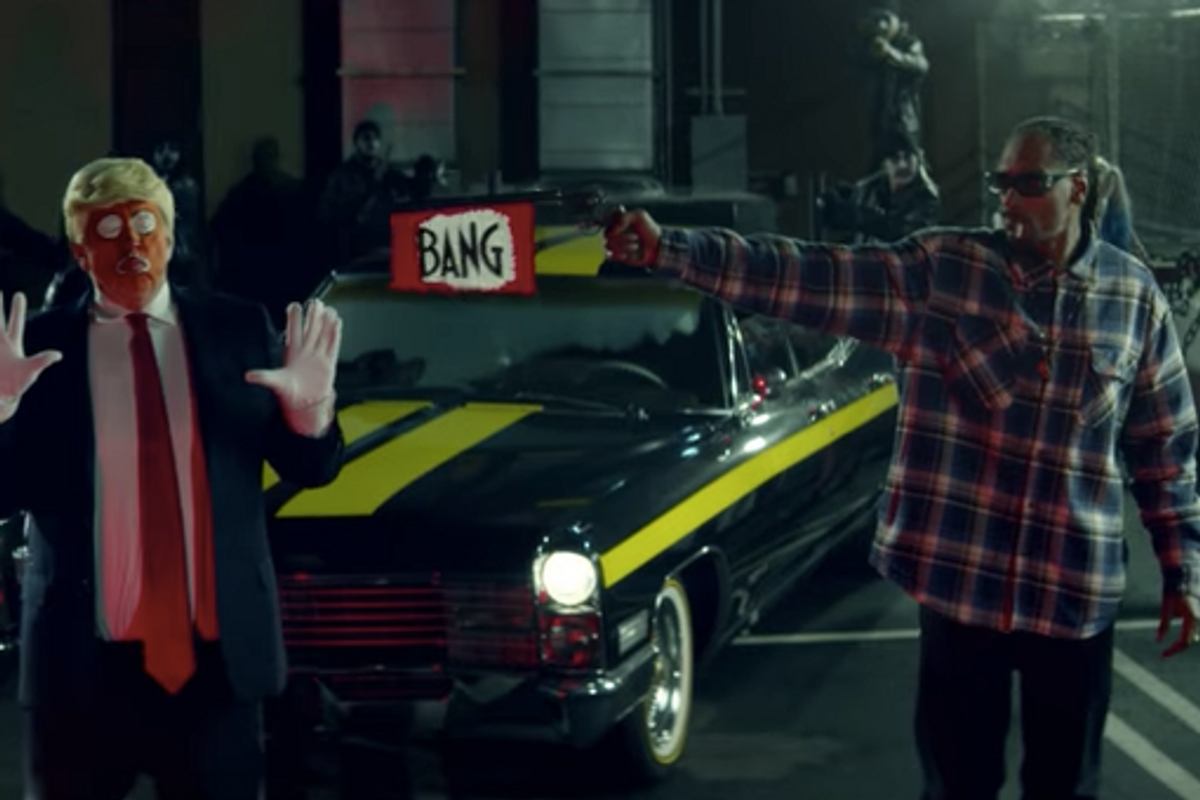 Donald Trump kicked off a busy day of tweeting this morning by first clarifying his stance on NBC ("fake"), then reacting to Snoop Dogg's latest video, "Lavender."
Can you imagine what the outcry would be if @SnoopDogg, failing career and all, had aimed and fired the gun at President Obama? Jail time!

— Donald J. Trump (@Donald J. Trump) 1489575760.0
Several points of interest here. First off, the grand "Jail time!" exclamation, which at the very least implies Trump believes Snoop committed a crime deserving incarceration. Or maybe he is saying that it would have been a jail-worthy crime if it had been Obama depicted in the video. Or, he was changing topics entirely as he realized he was late for a meeting at a jail. I don't know, the guy isn't known for precision. What's important to know is that nothing about Snoop's video is illegal.
Secondly, let's take a moment to appreciate that Trump watched the video, saw an orange-faced clown with an oversize tie and immediately recognized himself. When he brings Obama into the equation, he doesn't refer to a clown depicting Obama, but says "aimed and fired the gun at President Obama." Side note - Obama is no longer the President. "The gun" Trump references from the video, by the way, is a fake gun that fires a "BANG" flag instead of bullets (you know, Loony Toons shit). Moreover, the Trump-clown is cleary shown alive and well (albeit chained and getting skipped in the smoke cypher) later in the video. So at worst, this was a cartoony portrayal of a toy, bullet-less gun being aimed at a clown resembling Trump. Big whoop. Again, totally legal.
Finally, we get to Trump's assertion that Snoop has a "failing career and all" (and implication that Snoop's career trajectory somehow makes this crime more provocative). The D-O-DOUBLE-G has 15 years of success and counting in the entertainment industry with 14 solo studio albums. Typically, hip hop celebrity lasts little longer than that of a reality tv star. Most people in that circumstance would have to do something insane like run for President to achieve that longevity...
Bottomline is that the record is dope, Snoop kept it mad real in the lyrics (see: "Trying to keep from dying in these muthaf--kin' streets/ F--k the police/ From a black man's point of view"), and continue to keep it real when explaining the visual: "I feel like it's a lot of people making cool records, having fun, partying, but nobody's dealing with the real issue with this f--king clown as president, and the shit that we dealing with out here, so I wanted to take time out to push pause on a party record and make one of these records for the time being."
Obviously Trump is more of a party rapper.
Get at me on twitter and let me know YOUR thoughts! @brentbbutler
Via billboard: "The 'Lavender' remix was released Sunday (March 12) via Innovative Leisure, BADBADNOTGOOD's label. It is also available on vinyl, with artwork by Joe Cool. Snoop says it will be on his forthcoming album, the follow-up to 2016's Coolaid. "'That record will be a part of my new album that I just finished. It's called Never Left and it should be out [soon], maybe in May.'"

From Your Site Articles
Related Articles Around the Web