Culture News
The Trump-Twitter Industrial Complex continues to fester and mutate.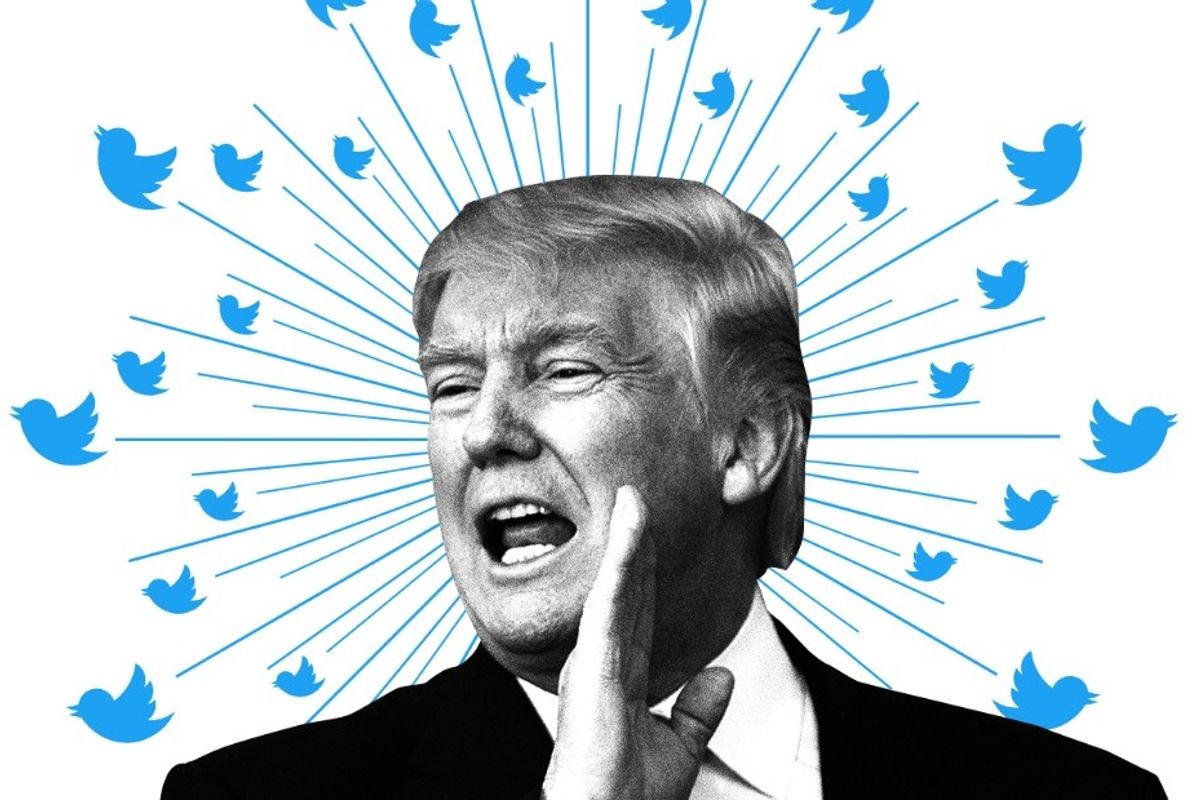 This week, President Donald J. Trump tweeted a false statement about mail-in ballots.
He wrote that secretaries of state were sending mail-in ballots to every person, when actually states are only sending out ballot applications. For the first time, Twitter jumped in to fact-check Trump's statement, adding a link to a webpage full of information about mail-in ballots.
---
When users clicked the warning message, they received a statement that read, "On Tuesday, President Trump made a series of claims about potential voter fraud after California Governor Gavin Newsom announced an effort to expand mail-in voting in California during the COVID-19 pandemic. These claims are unsubstantiated, according to CNN, Washington Post and others. Experts say mail-in ballots are very rarely linked to voter fraud."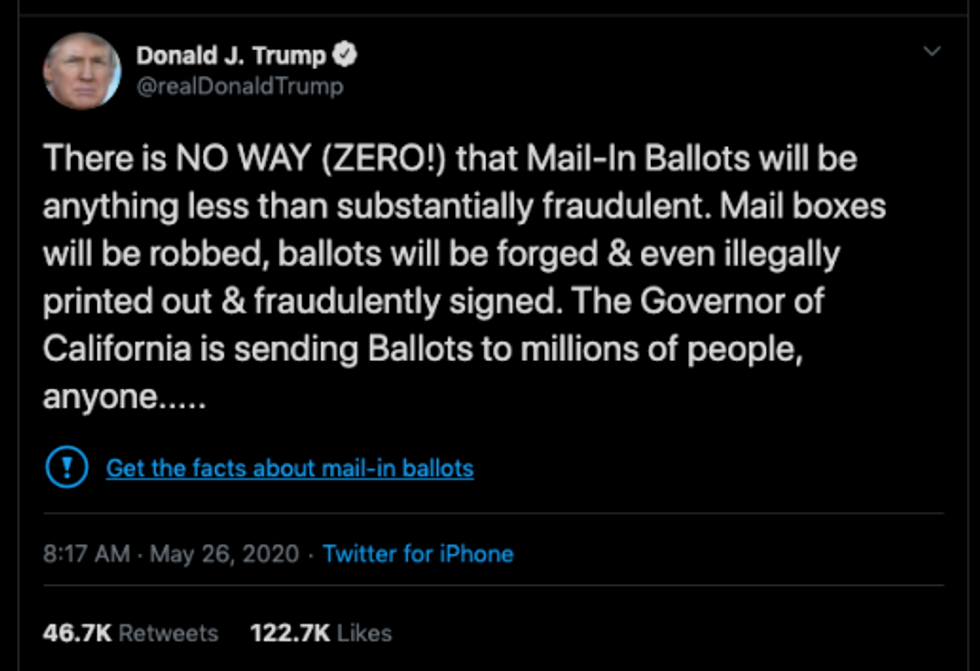 Mother Jones

Mother Jones
.@Twitter is now interfering in the 2020 Presidential Election. They are saying my statement on Mail-In Ballots, wh… https://t.co/cdSr6B9kWi

— Donald J. Trump (@Donald J. Trump) 1590536410.0
The company legitimized its actions by citing its "civic integrity policy," which prevents any user from "manipulating or interfering in elections or other civic processes."

President Trump promptly threatened to "strongly regulate" or close down social media platforms. "Republicans feel that Social Media Platforms totally silence conservatives voices," he wrote this morning. "We will strongly regulate, or close them down, before we can ever allow this to happen."
Twitter has been acting more aggressively with regards to Trump, whose rise is arguably owed in part to his use of the platform. Earlier this week, after Trump questioned the death of a staffer named Lori Klausutis in then-Rep. Joe Scarborough's congressional office, Twitter company heads officials/headquarters/rulers of the universe? wrote that although the platform was unable to remove the Tweets, it was "deeply sorry about the pain these statements, and the attention they are drawing, are causing the family." Shortly after, Twitter applied visible warnings to two of Trump's additional tweets.
Twitter's actions have raised new discussions about the power, autonomy, and even political identity of major corporations. Despite claims of neutrality, no social media platform has ever been completely neutral. (As Elie Wiesel said, "We must always take sides. Neutrality helps the oppressor, never the victim. Silence encourages the tormentor, never the tormented.")
Facebook's decision not to censor untruthful political ads generated a discussion about whether the company was allowing electoral interference by permitting microtargeting and blatantly false information from saturating its platforms.
Twitter's actions also received some criticism. "It's not clear how Twitter intends to move forward with its disclaimer policy," wrote Inae Oh for Mother Jones. "For now, it seems pretty untenable, considering Trump's entire social media presence is propped up by falsehoods."
In a world where brands pretend to be your friends and where corporations are viewed as people, the fact that Twitter has developed some political spine of its own may be unsurprising. But were its actions really politically biased against conservatives if they were defending electoral integrity and the democratic process? And why did Twitter decide to lash out at this tweet, out of all the false, misleading, unhinged, and deeply dangerous tweets Trump has written?
This is uncharted territory, certainly, but there is some sweet hypocrisy in Trump's efforts to censor Twitter for censoring him. Regardless, both Trump and Twitter will both maintain distended amounts of money and power while pretending to defend democracy. Meanwhile, the pandemic will continue to rage and the world will continue to burn while Trump tweets away.