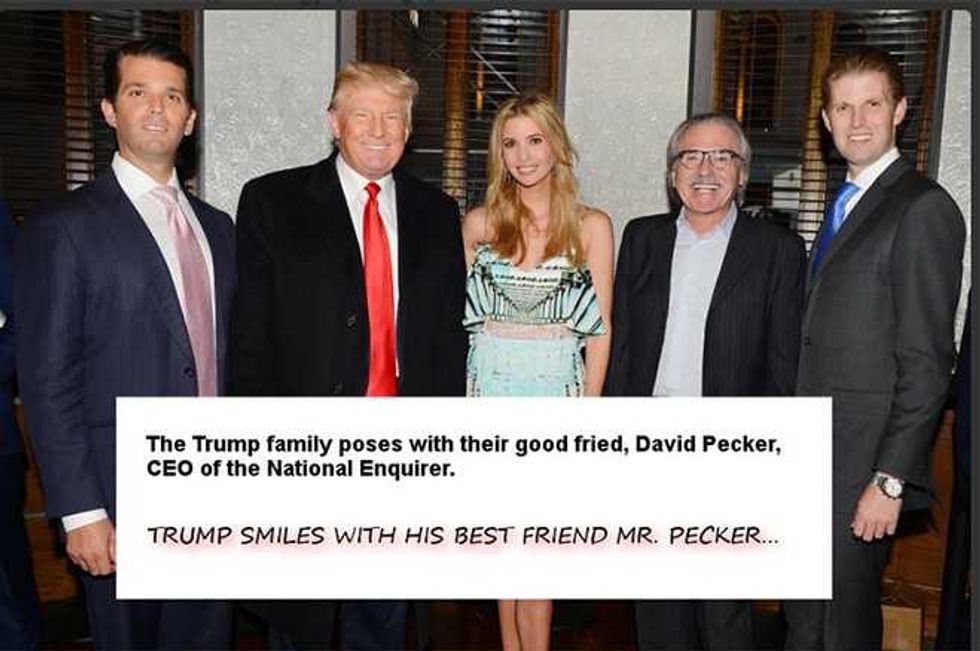 The hashtag #TrumpLovesPecker is trending on Twitter right now and you could not ask for a pithier, more delightful double entendre.
With the publication of a story in the National Enquirer smearing opponent Ted Cruz for an alleged series of adulterous affairs, Donald Trump hastened to make a statement on Friday, denying any involvement but strongly implying that is was true.
I have no idea whether or not the cover story about Ted Cruz in this week's issue of the National Enquirer is true or not. But I had absolutely nothing to do with it, did not know about it, and have not, as yet, read it. I have nothing to do with the National Enquirer and unlike Lyin' Ted Cruz I do not surround myself with political hacks and henchman [sic] and then pretend total innocence.

Ted Cruz's problem with the National Enquirer is his and his alone. And while they were right about O.J. Simpson, John Edwards, and many others, I certainly hope they are not right about Lyin' Ted Cruz. I look forward to spending the week in Wisconsin, winning the Republican nomination, and ultimately the presidency in order to Make America Great Again.
Well, the publisher of the National Enquirer is David Pecker, a good friend of Donald Trump. What a nutty coincidence!
Not only that but the tabloid has endorsed Trump in his race for President.
Earlier this week, a Republican PAC created an ad with a semi-nude picture of Melania Trump, asking if America really wanted her as First Lady. The Donald shot back with a tweet threatening to 'spill the beans' on Cruz's wife, Heidi.
Instead of beans, Trump settled on posting a picture of Mrs Cruz grimacing, next to a glamorous head-shot of Melania, as if to say "Nah Nah, Your Wife is Ugly!" Explaining this puerile tactic, Trump said: 'Ted started it.'
The Enquirer piece on Cruz accuses him of 5 extramarital affairs, featuring pictures of the alleged partners with little black patches over their eyes. The five women have all been identified by political reporters, further fanning the flames of outrage and evoking a flurry of denials and counter-accusations.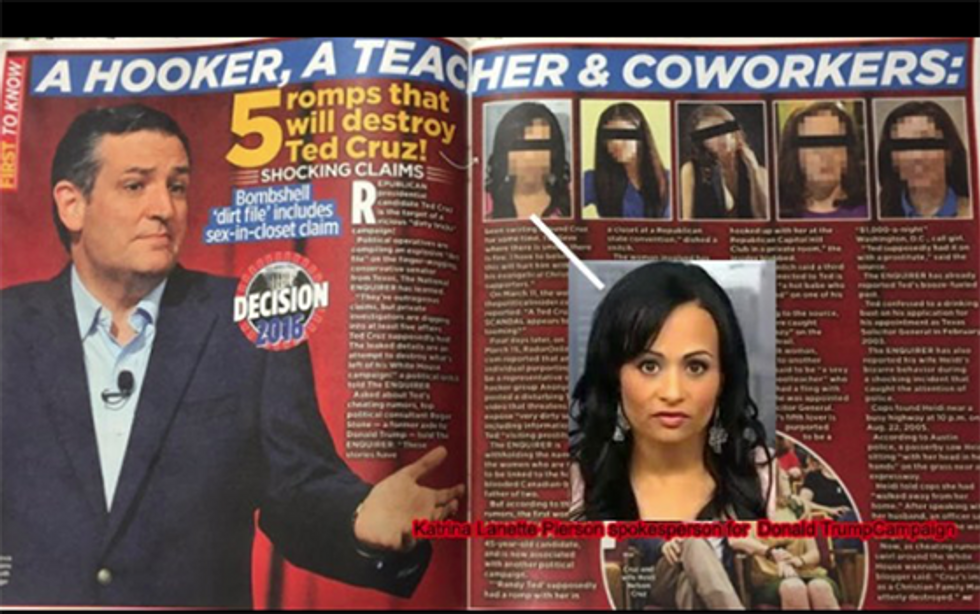 The Daily Beast is reporting that Marco Rubio has been trying to pitch the Ted Cruz Adulterer story for months, without success.
If this is true, why did the Enquirer change its mind and publish the story?
Is it because #TrumpLovesPecker? And Because #PeckerLovesTrump?
If you are a still a human being after following the 2016 Republican race, you will want to disavow Donald Trump's claim to membership in your species.
It's not just his misogyny. It's not just his vulgarity. It's not just his angry red face encouraging racist violence.
It's the horror.
Help stop it by going straight to Twitter and using the hashtag right now.