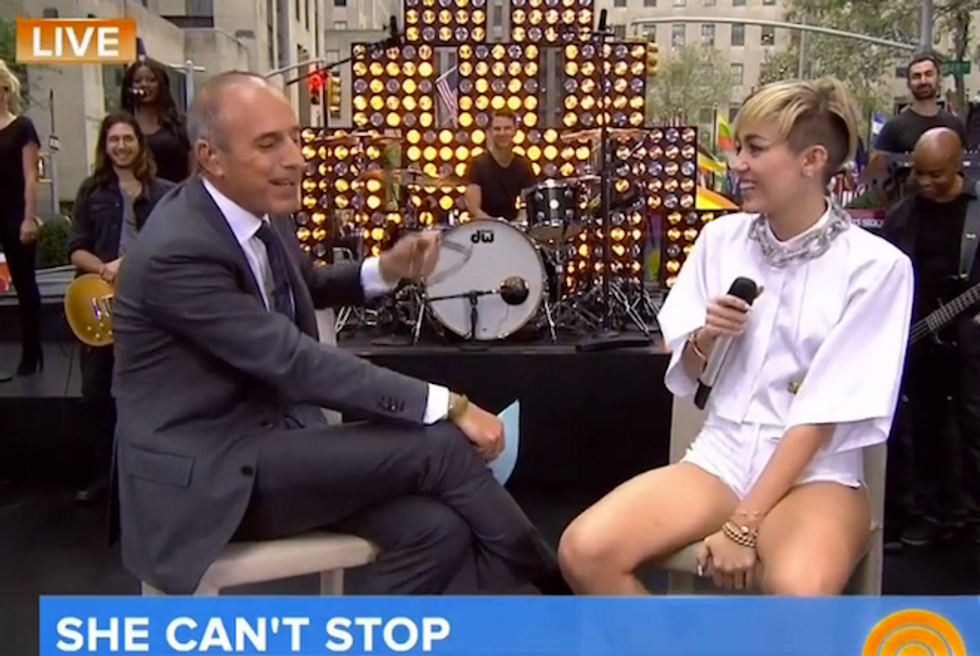 Miley Cyrus sure has a knack for creating awkward sexual tension with men old enough to be her father, doesn't she?
On this morning's TODAY, Matt Lauer interviewed the lady of the hour about, duh, the VMAs—which he referred to as a "strategic hot mess"—and Miley's provocative behavior in general. What ensued was the sort of flirting anyone hopes for after a couple drinks. Here are some snippets.
~
MATT: I'm never going to go to a sporting game and see a foam finger--
MILEY: Without doing getting up and doing this to it (mimes a sexual grind)?
MATT: Well, I'll be thinking about it.
The both giggle.
~
MATT: The naked shot on the wrecking ball for the video, it's very clear you are navigating--"
MILEY: That also you can't help but every time you go by a wrecking ball you just wanna get naked and hop on top of it?
MATT: Luckily I don't pass wrecking balls very often.
They both giggle.
~
MATT asks how long she plans to keep up the sexy act.
MILEY: Well I heard when you turn 40, things start to get less sexual. I heard that's when you don't have sex anymore.
MATT: Do you know how old I am?
MILEY: I'm gonna guess 40.
MATT: I love you.
Fin.
You've gotta watch the video to get a full sense of just how uncomfortably flirty it was.