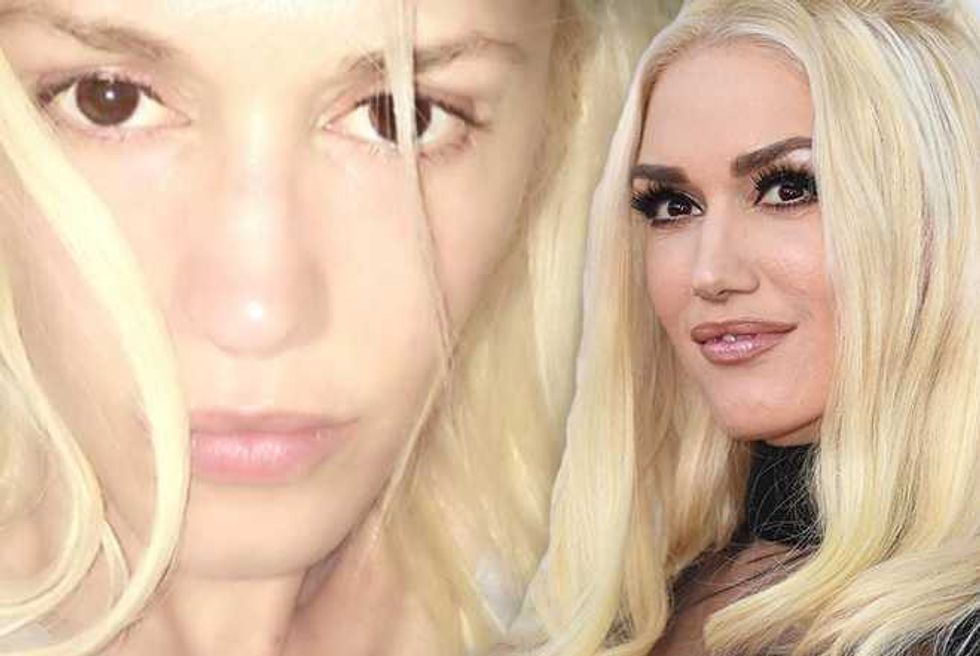 That Gwen Stefani bare face selfie that was burning up the interweb last week was ALL about the B.S.—no, silly, not bullshit…. Blake Shelton!
That Gwen Stefani bare face selfie that everyone and their mother has been cooing about, was totally inspired by Blake Shelton apparently.
In case you missed it—Stefani set the interweb on fire last week after posting a completely make-up free, bare face selfie on Instagram.
And, yeah, it's pretty amazing how different she looks without even a hint of make-up on.
The 46-year-old looks absolutely beautiful—not to mention, twenty or so years younger…
Kinda crazy really, seeing as make-up is often used to cover-up imperfections.
And, it transpires, the notoriously heavy make-up loving Stefani is pretty damn perfect without it.
Think fresh faced Jessica Simpson circa 2005 Newlyweds days...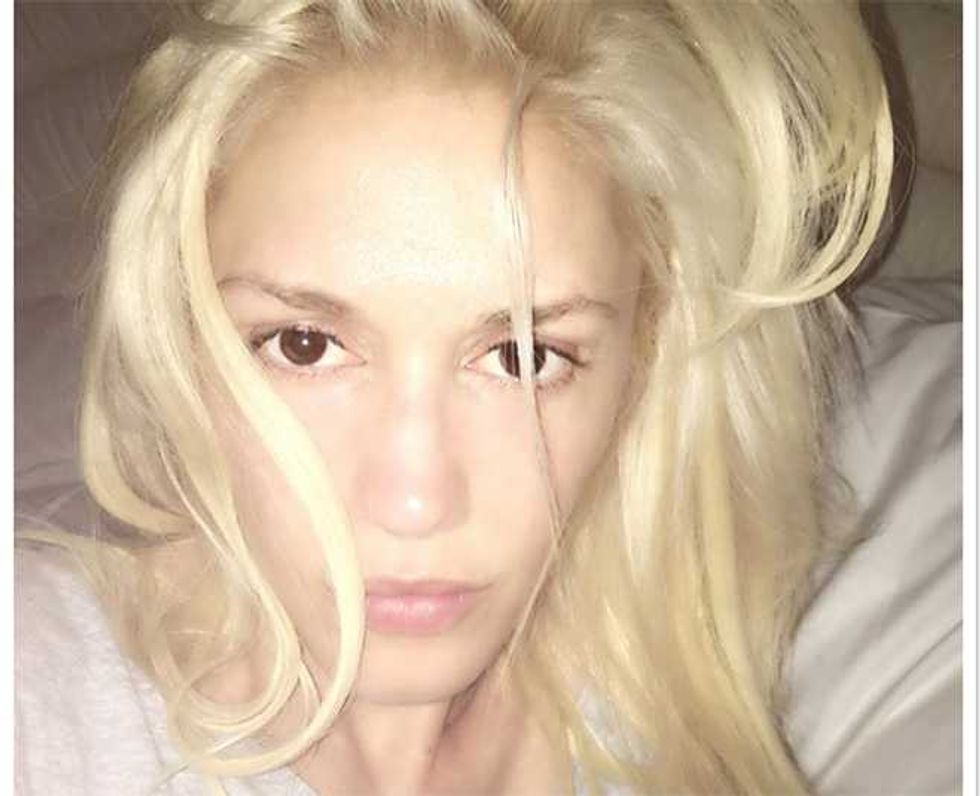 Flawless.....
Not surprisingly, Stefani's Instagram pic quickly received an avalanche of comments from her 4 million followers.
With fans telling her how pretty she looks without makeup and what a natural beauty she is.
Both of which are true—although, it has to said, girlfriend looks smokin' hot WITH makeup on too….
So, go figure.
However, it transpires, when she took the photo, Stefani was seeking the attention of one special fan only.
The singer tells People magazine:
I was laying there, I just got in bed and I was like, 'Maybe I'll send a picture to Blake,'

You just start fooling around with it.

I actually had a new camera on my phone and I just took that picture.

I probably took about 10. That one looked cute and I was like, 'I'll just post it
Meanwhile, apparently, Stefani looked "visibly upset" after seeing ex-husband Gavin Rossdale today.
The armchair psychiatrists at the Daily Mail report that she appeared "distraught" and "a bit shaken" as she drove away from their Mulholland Estates meeting.
Hmmmm…. personally, looking at the photos they're basing this on, Stefani looks more pissed off at being photographed than "visibly upset" and "distraught".
More like, sick of having been subjected to yet more of that cheating asshole ex's bullshit kinda look.
Check out the photos for yourself and then spin your own totally speculative story line.
For more entertainment, world, music and pop culture updates and news, follow Max Page on Twitter
Usher Nude Selfie Snafu Proves Size Really Does Matter
Cara Delevingne Posts Selfies With Mona Lisa Because What Else Is It For?
Dad Accidentally Films Entire 'Dream Of A Lifetime' Vegas Vacation In Selfie Mode
More People Have Died Taking Selfies Than In Shark Attacks This Year
The Vag Selfie—Definitive Guide To Securing The Sexiest Snatch Shots
Introducing The Dildo Selfie Stick!
Dude Accidentally Sexts Naked Selfies To HR Manager Who Just Offered Him A Job
Oops! Marc Jacobs Accidentally Instagrams Naked Selfie
gwen stefani bare face selfie
Gwen Stefani—I Never Thought I'd Land A Hot Guy Like Gavin Rossdale!
Gwen Stefani, Blake Shelton's Epic Jimmy Fallon Tonight Show Lip Sync Battle
Gwen Stefani Divorce Settlement Reached — But Where's The Public Drama?
Gavin Rossdale Cheated With Nanny While Gwen Stefani Was Pregnant
gwen stefani bare face selfie