Beloved characters from one show appearing in another never fail to spike ratings and generate publicity–even if it's a confusing crossover between The X-Files and Cops.
That really happened (seriously, season 7, episode 12 of The X-Files is called "X-COPS"). Aside from adding to show creators Dick Wolf's and Shonda Rhimes beds of gold, crossovers pander to multiple fanbases in hopes of merging their viewership. Doing so can potentially revive flagging franchises, set up spin-offs, or generate more cultural currency in the Twitterverse of hashtags and dramatic gifs.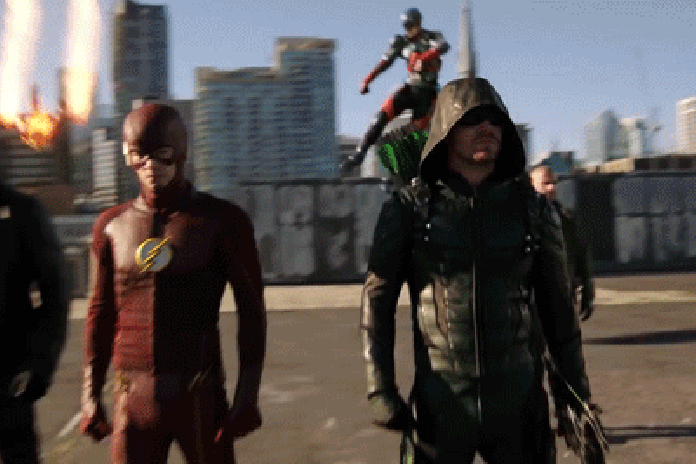 CW
From five of CW network's most popular shows overlapping in the same DC universe to Chicago Med, Chicago PD, and Chicago Fire dominating NBC's Wednesday nights, these franchises are thriving off the art of TV crossovers.
The World of Shonda Rhimes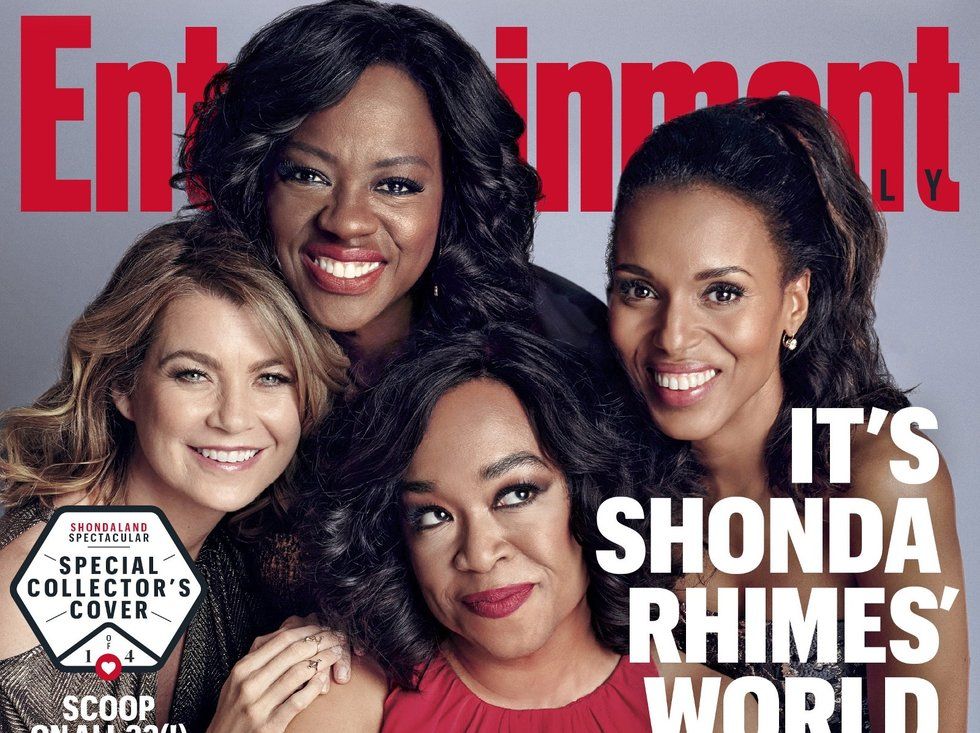 Medium
Named one of the most powerful women in entertainment, Shonda Rhimes rose to TV primacy by creating empowering female leads and never passing up a dramatic, tear-jerking moment. As the creator and executive producer of four TV shows, scriptwriter for two, and the "highest-paid showrunner in television," she's combined her franchises in memorable, if odd, crossover episodes.

Rhimes' political drama Scandal ended after seven successful seasons of reaping awards, from a Golden Globe to the Peabody Award for Excellence in Television. But in episode 12 of the final season, Olivia Pope (Kerry Washington) came face to face with Annalise Keating (Viola Davis) from How to Get Away with Murder, Rhimes' Golden Globe-nominated legal drama. After the show received a noticeable boost in the ratings, The A.V. Club called it "fanbait," but "well-crafted."
Even with Scandal off the air, Rhimes' TV eminence continues through Grey's Anatomy ongoing fifteenth season, its spinoff series Station 19 in its sophomore season, and How to Get Away with Murder's speculative renewal for its sixth.
NBC's Chicago Franchise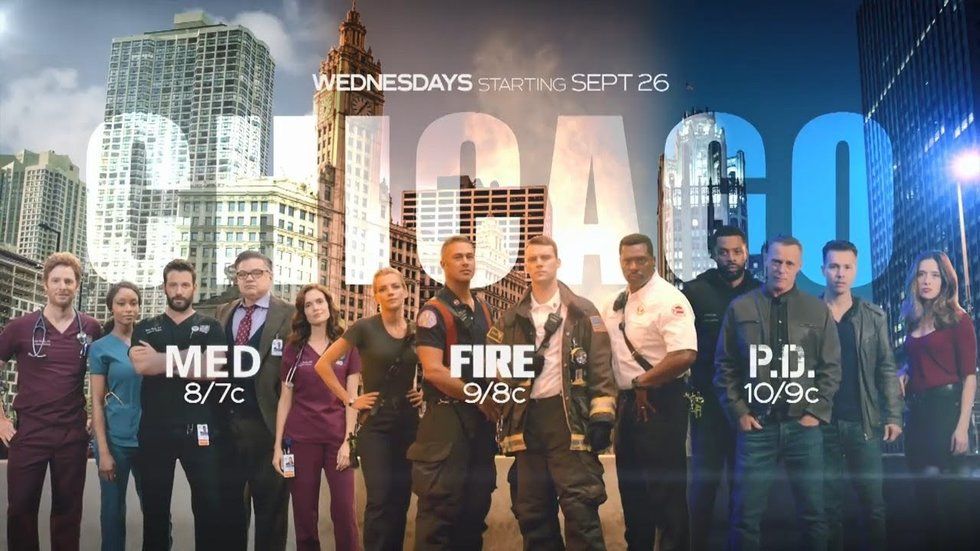 NBC
Four Chicago shows currently feature firefighters, police officers, doctors, and lawyers saving lives in The Windy City. Characters regularly overlap for brief moments as they tend to the same emergency. But since the premiere of its inaugural series, Chicago Fire, in 2012, the franchise has branched off with successful backdoor pilots and more than 30 crossover episodes.

Dick Wolf has said of his NBC empire, "The crossovers are incredible ratings engines for us. What we can't do is have them become commonplace." Among the dozens of crossover events, most of them are structured as special two or three-part episodes. In other words, Dick Wolf has a net worth of $250 million.
AMC's Walking Dead/Fear the Walking Dead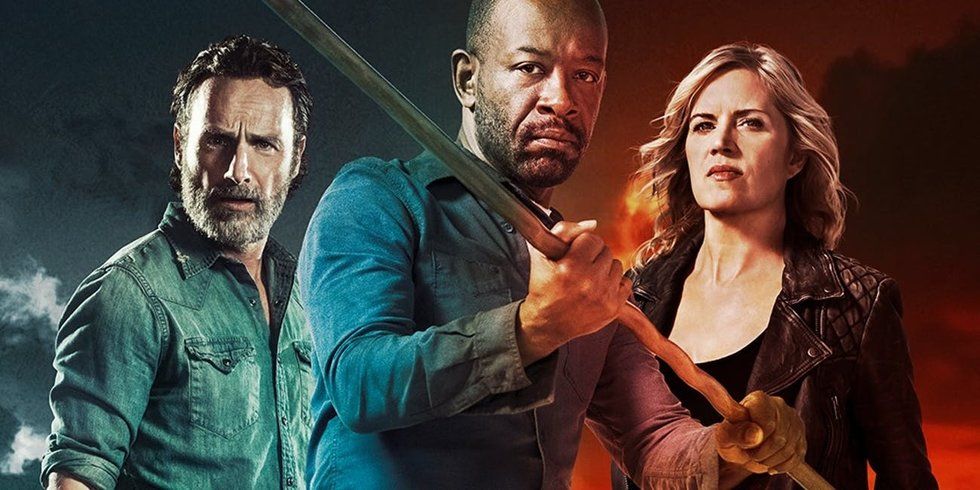 Inverse
With an untitled third series in production, AMC will continue to expand its post-apocalyptic world of The Walking Dead. Season 5 of Fear of the Walking Dead will feature a crossover appearance from Dwight (Austin Amelio), the lackey-turned-good guy who turned on Negan (Jeffrey Dean Morgan) at the end of Walking Dead's ninth season.

Dwight will not be the first to appear in both series after the crew of Fear attacked Morgan Jones (Lennie James) in season 8 of TWD. From the actors' perspectives, crossovers are welcome offers of more work. "For some reason, Dwight keeps getting blessed with the best of both worlds," Amelio told Comicbook.com, "I got to work with actors from Alexandria and the Saviors. Now I get to work with actors from Fear the Walking Dead. After a year and two months of being a really good secret keeper, that's really exciting. I get to work with everybody in this world."
CW's DC Universe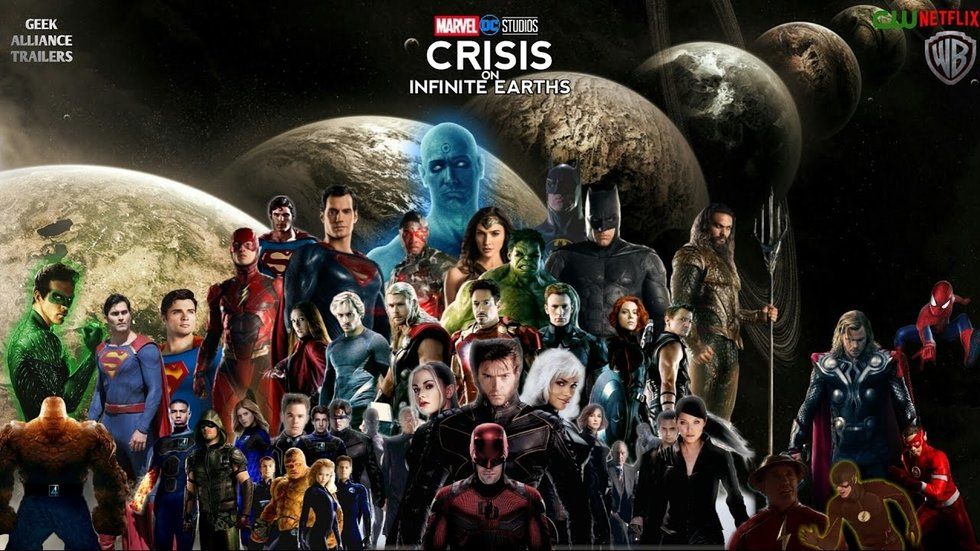 Geeks on Coffee
Three of the four highest-rated shows on the teen-oriented network are The Flash, Supergirl, and Arrow. All five of the DC universe shows have been renewed for another season, with next year marking Arrow's eighth and final season. Still, the CW president Mark Pedowitz has said, "we want to get the next generation of shows to keep The CW DC universe going for as long as possible."

To further that cause, the network is already teasing fall 2019's epic crossover event, featuring the DC comic storyline "Crisis on Infinite Earths." Pedowitz teases that "it will be the biggest and most complicated [crossover yet]." "[I] can't tell you if it'll follow the comic book version, but it'll take some big swings." CW's previous DC crossover, Elseworlds, brought the network its highest ratings for the season. Fans were sort of excited, too.
---
Meg Hanson is a Brooklyn-based writer, teacher, and jaywalker. Find Meg at her website and on Twitter @megsoyung.

---
POP⚡DUST | Read More...
The Best Game of Thrones Season 8 Theories
Body Positivity: Seven Celebrities Who Think You're Hot Just the Way You Are