FILM & TV
Character Themed Wines and Their Drinking Games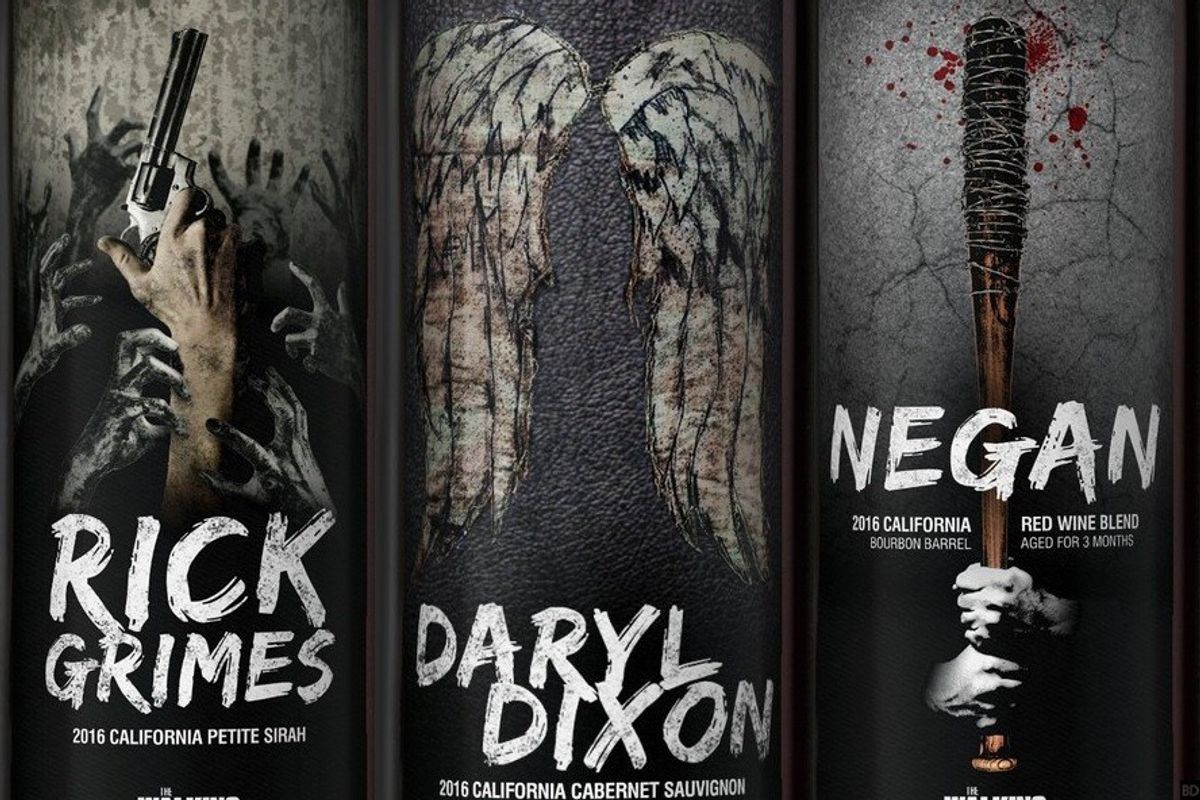 Drink Your TWD Fan Favorites
If your Rick Grimes action figure, replica Lucille, and your "If Daryl Dies, We Riot" t-shirt were not enough to satisfy all you die-hard Walking Dead fans, you are in luck. AMC has teamed up with Lot 18 to produce a line of The Walking Dead wines. Each wine corresponds with an iconic character and their legendary talismans. So, not only will you have a new collector's item to add to your TWD cache of collectibles, you can now enjoy your favorite show with character-select red wines — and red wine would seem appropriate for a zombie show after all, right? So, put away the southern sour mash and get a little sophisticated on Sunday nights (or whenever you are binging your character-favorite episodes). Here are the newest releases in the line along with some TWD drinking games so that you can kill the dead, fear the living, and sip something that's dead appropriate with your friends every week.
---
It Ain't Just About Getting By... It's About Getting It All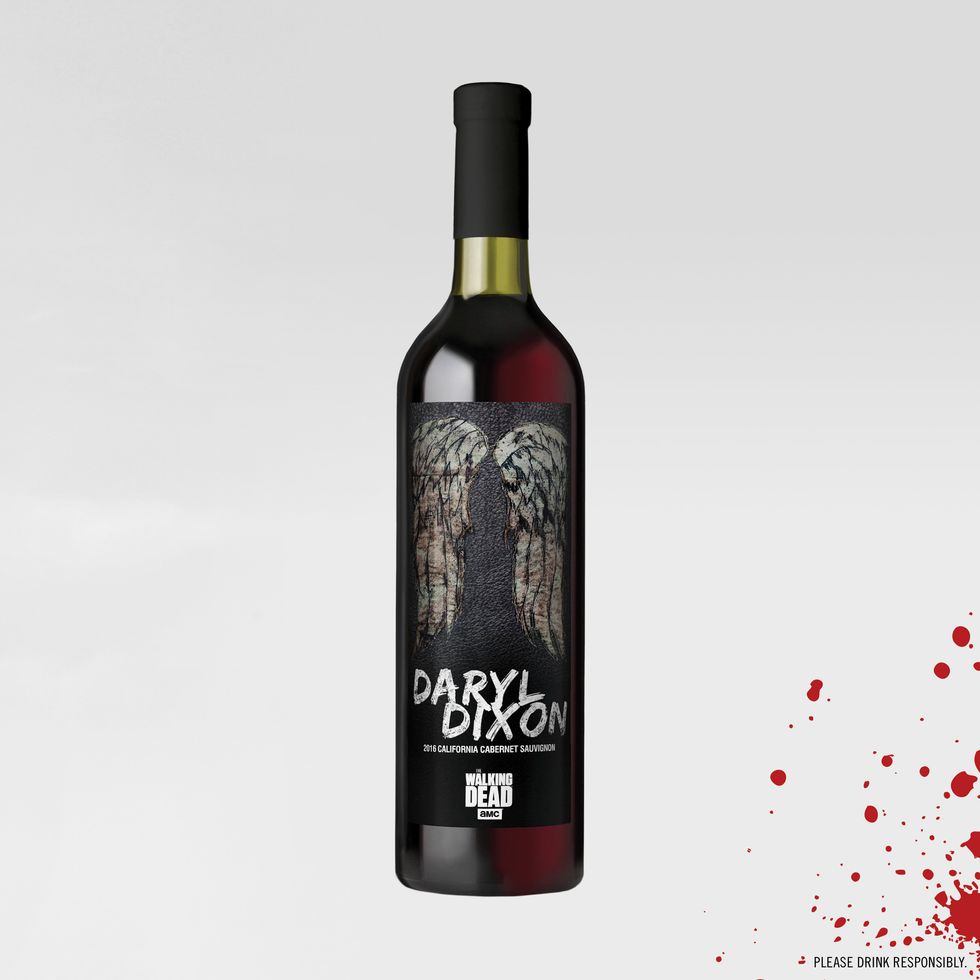 Daryl: Who doesn't love the toughest (and sexiest) of all The Walking Dead boys, Daryl Dixon, and his mythic winged vest? Some of the most beloved and engaging moments of the show focus on this veritable redneck warrior portrayed by professional bad ass Norman Reedus. Who could forget episodes like "Cherokee Rose," which first revealed Daryl's softer side and golden heart? And, let us always keep in mind the most crucial zombie apocalypse skill that Mr. Dixon teaches Beth in the episode "Still" — how to get drunk. While Daryl has "never needed a game to get lit before," we do. So, here is a Dixon drinking game as well as character driven episodes to enjoy this apocalyptic wine with.
Episodes

Cherokee Rose
Chupacabra
Say the Word
Home
This Sorrowful Life
30 Days Without an Incident
Indifference
Still
Alone
Us
Consumed
Coda
Them
Always Accountable
The Next World
The Cell
Daryl's Game: Let's See How Red Your Face Can Get

Rules
One sip if Daryl says "Merle," "Ain't," "Rick," "Sombitch," or "Squirrel"
Two sips if Daryl kills a walker without his crossbow, cracks a joke, or uses his red rag
Three sips if Daryl licks his fingers, hugs someone, or says "Lil Asskicker"
Four sips every time he gets his bike, vest, or crossbow stolen
And if Daryl cries, just cry too and finish the damn bottle.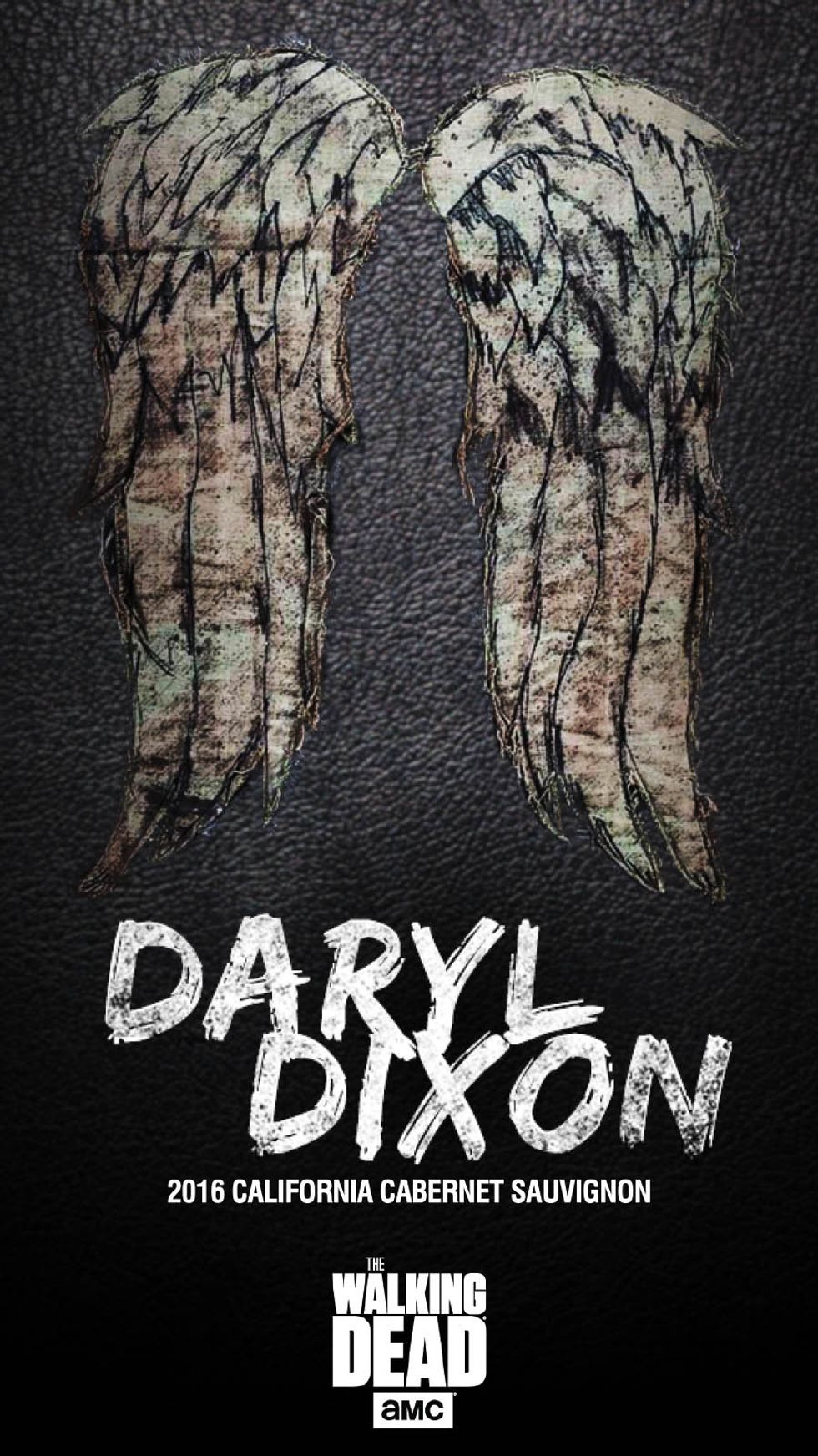 ---
We Are The Walking Dead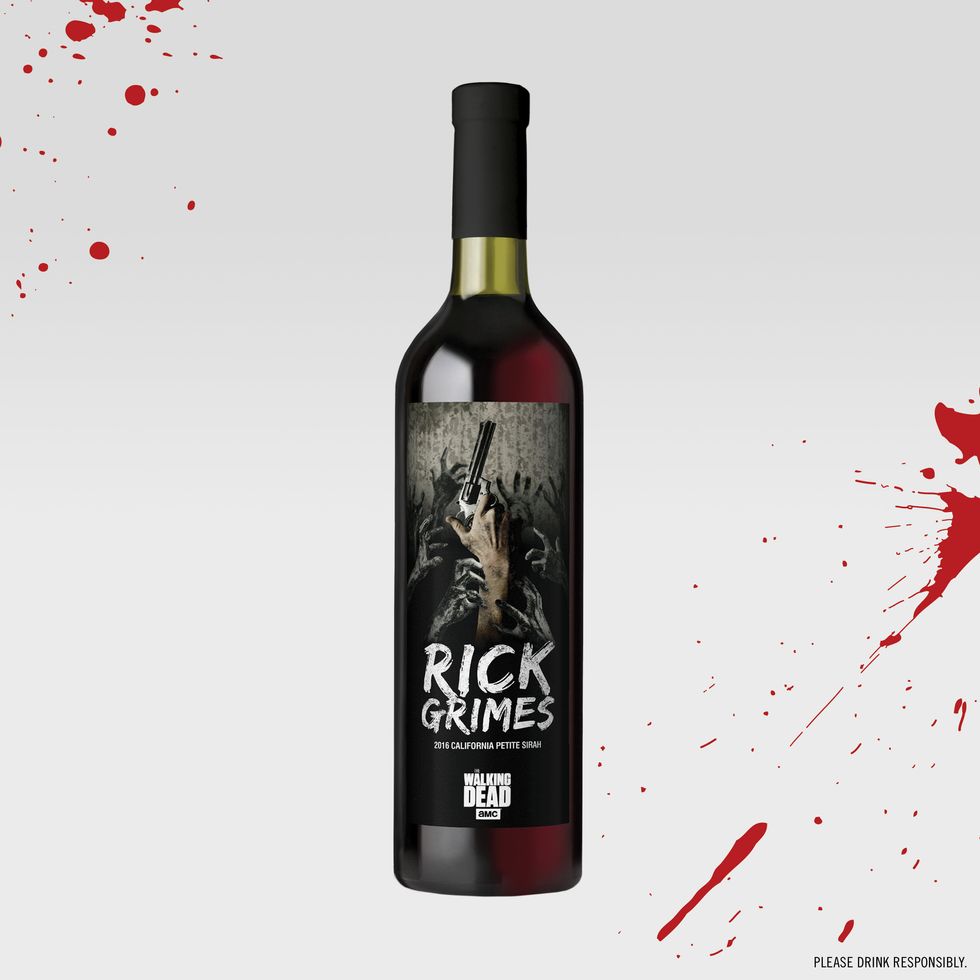 Rick: If you find yourself stuck in a walker-ridden, post-apocalyptic world, there may be no better sheriff in town to team up with than Rick Grimes. Andrew Lincoln could be the king of the zombie apocalypse mythos. His cowboy boots, his impeccable Georgian drawl, and his death-stare are classic characteristics for Grimes, but his Colt Python is the ultimate object of power for Rick and the perfect symbol for the Rick Grimes wine. Since almost every episode is centered on Rick, here is a helpful guide to a few special ones to have fun with for his drinking game.
Episodes:
Nebraska
Beside the Dying Fire
Killer Within
Clear
Too Far Gone
A
Four Walls and a Roof
The Distance
Conquer
Start to Finish
The Next World
The First Day of the Rest of Your Life
Rick's Game: Officer Friendly

Rules
One sip if Rick says "Carl," "Daryl," or goes on a classic Rick tirade
Two sips if Rick whistles, shouts, says "Judith," or fights the living
Three sips if Rick kills the living or if he loses his mind
Finish the glass if he goes head-to-head with Negan
Finish the bottle if he kills with his teeth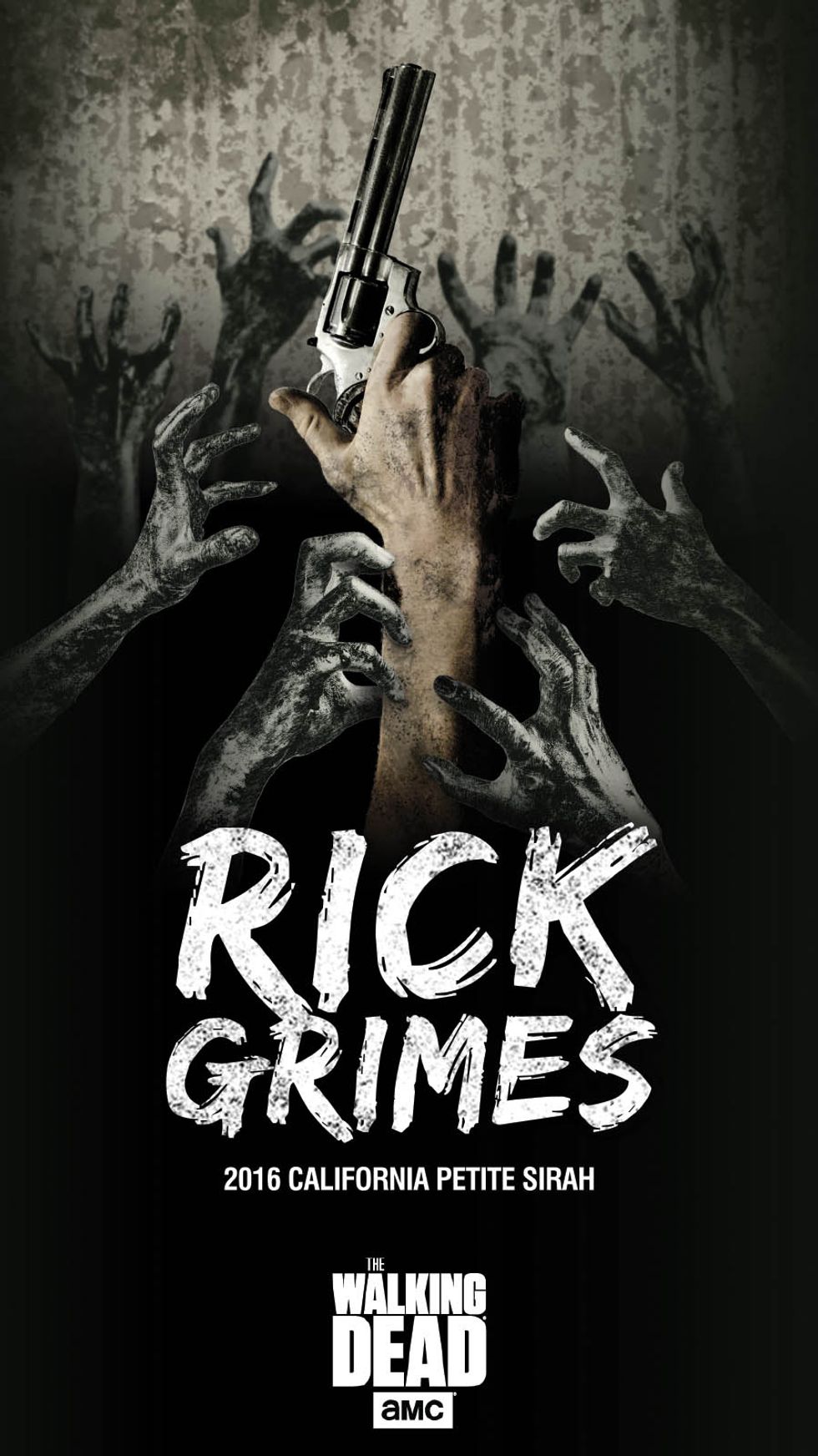 ---
She's a Vampire Bat!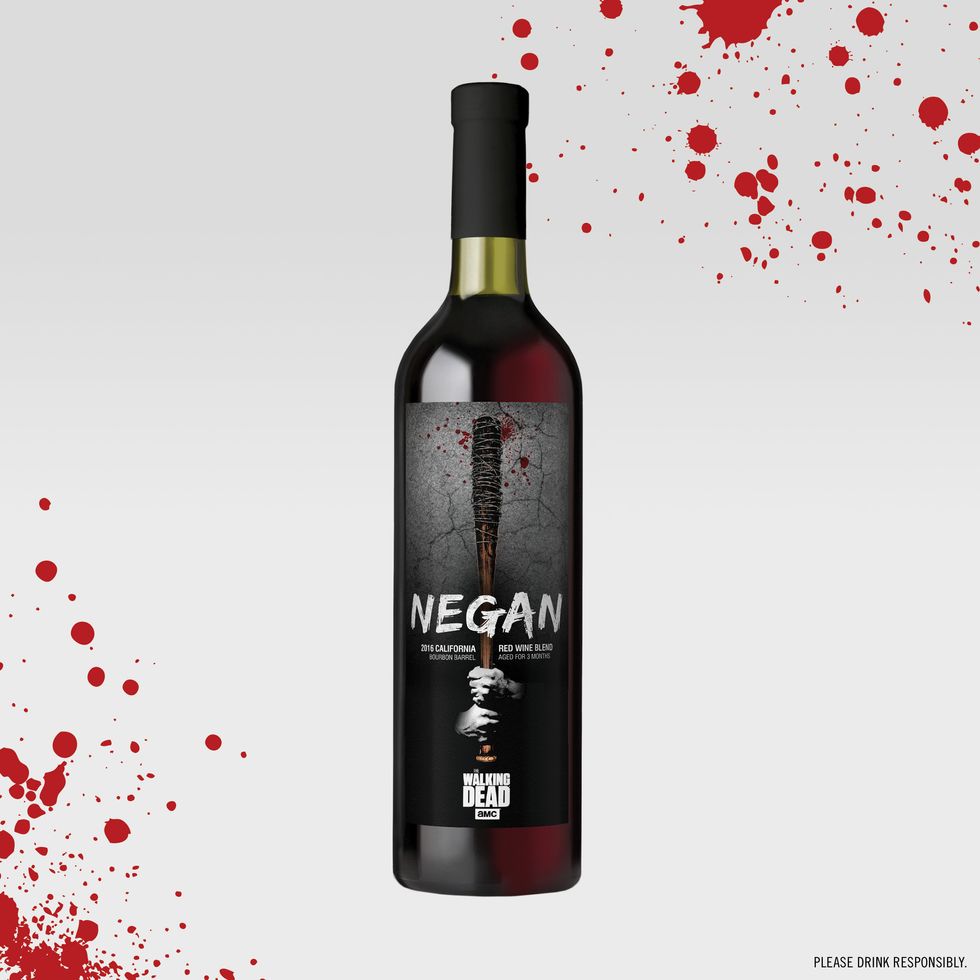 Negan: He's the villain we hate to love and love to hate. Jeffrey Dean Morgan might have pulled off the most charismatic, funny, likable, and handsome villain of all time, and his quirky relationship with his weapon of choice, Lucille, is truly singular in the comic as well as the television world. What better symbol for this wine and this character, and what better way to enjoy his capricious antics than with a Negan wine and drinking game? Here are some fun Negan episodes and his game. Warning: Much like Negan himself, this game is not for the faint of heart.
Episodes
Last Day on Earth
The Day Will Come When You Won't Be
The Cell
Service
Sing Me a Song
Hostiles and Calamities
Something They Need
The First Day of the Rest of Your Life
Mercy
Negan's Game: Are We Pissin' Our Pants Yet?

Rules
One sip if Negan laughs, insults someone, flips the bird, or picks up Lucille
Two sips if Negan swears, threatens someone, or swings Lucille
Three sips if Negan shouts, kills a Savior, or tortures someone
Four sips if Negan kills a walker or an Alexandrian
Finish the glass if he goes head-to-head with Rick
Finish the bottle if he says "tiger"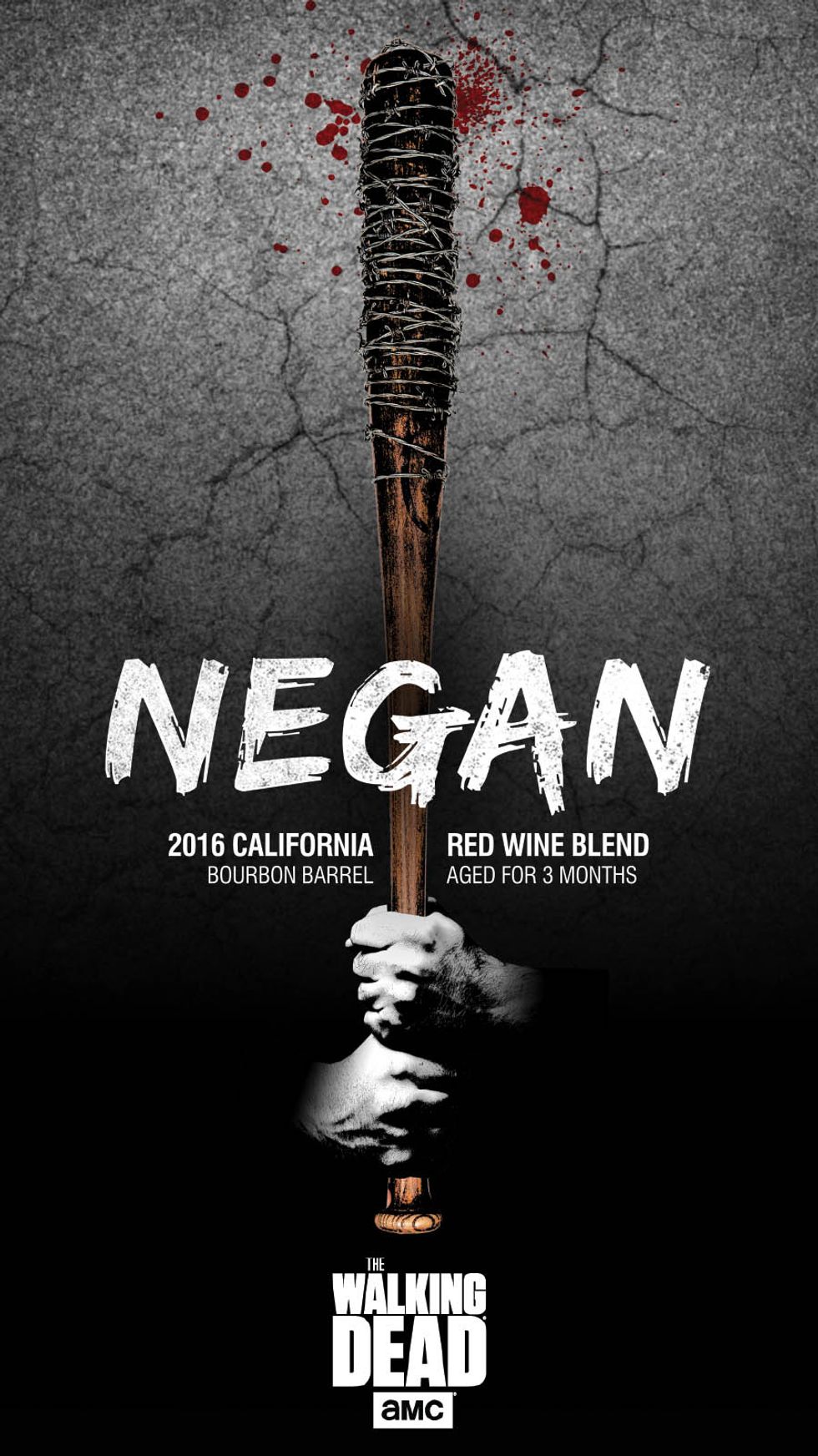 And remember... just survive somehow. Keep on the look out for more The Walking Dead wines to come.
"You can get The Walking Dead wine collection here."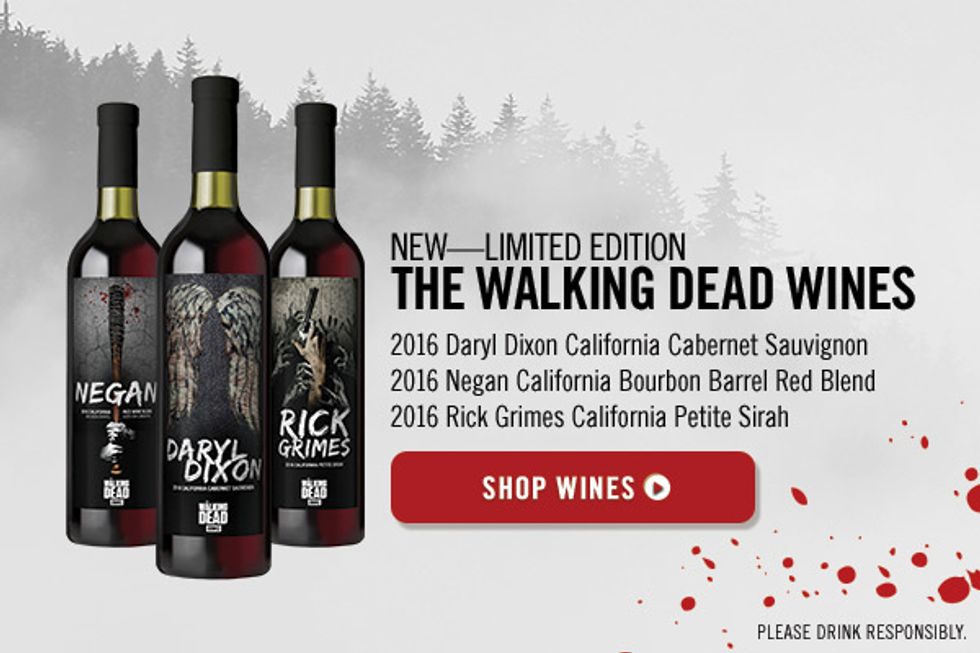 ---
Ciara Cerrato was a projectionist and curator at the Hot Springs Documentary Film Festival, and she currently is a poet and freelance writer in New York.
---
POP⚡ DUST | Read More…

WTWD? | Questions on Season Eight of The Walking Dead: Episode 1
WTWD? | Questions on Season Eight of The Walking Dead: Episode 2
WTWD? | Questions on Season Eight of The Walking Dead: Episode 3
---