"She's filled with secrets. Where we're from, the birds sing a pretty song and there's always music in the air."
The role music has played in the world of David Lynch's Twin Peaks is far greater than any other character. It's through songs like Laura Palmer's Theme or Audrey's Dance, sonic encapsulations of these figments of imagination, that we have come to feel like we know them in the first place. The live bands featured before the end of every night's episode, just before the credits roll, are as much as part of the story unfolding before us as everyone else. We had a hard time listening to Nine Inch Nail's haunting rendition of "She's Gone Away" on Part 8 without envisioning Laura somewhere in it's words. "I can't remember what she came here for / I can't remember much of anything anymore/ She's gone, she's gone, she's gone away...."
As someone who's spent their entire life devoted to music, that very same thing is what drew me into the series. Lynch aims to absorb the characters in the music that surrounds them, in a way that's surreally unlike any other series on television. Instead of songs coming in at the start of a new scene, they become part of a character's environment - whether it's blasting from a car driving past or the jukebox in the Roadhouse diner, it attempts to aid along a narrative set by the show's creator himself.
Many beloved artists have made appearances in The Return, like the Chromatics, Au Revoir Simone, and Sharon Van Etten. The Roadhouse and it's performers, in the world of Twin Peaks, became a foundation for the underlying message of the night. Last Sunday's episode saw a familiar face return to the stage - James Hurley, ever so cool, with a rendition of the very same song he crooned to Donna several seasons ago. However, James wasn't the most interesting part of the scene, albeit the most heartbreaking. A young woman credited as Renee (played by Jessica Szohr) sat in the audience and, upon a minute into the performance, starts breaking down in tears. Perhaps it's because I've been that woman before, enthralled in someone else's sorrows that quickly became my own, that lended the moment a feeling of familiarity. Much like Phoenix's Sofia Coppola-directed music video for "Chloroform", the subject of a young female in hysterics over a song is not necessarily new or lost on anyone, much less Lynch. It's hard for me to believe this sentiment of longing, the type we feel when we are moved beyond any reasonable wording by just a piece of music, could be reflected any better than through a lone Renee holding back tears between whispers of "just you and I."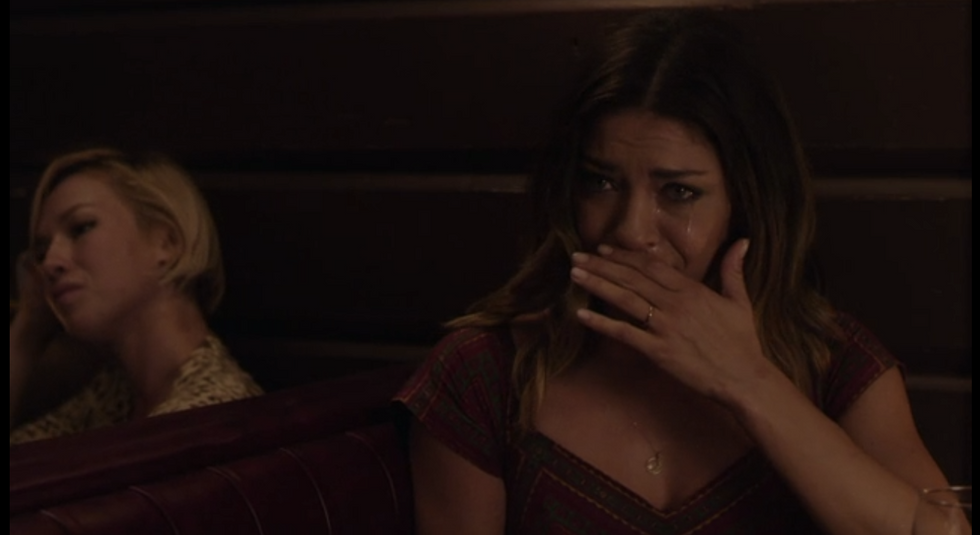 "Twin Peaks", Showtime
How does the score become composed when it's so closely intertwined with the story, anyway? Angelo Badalamenti is behind some of the more haunting compositions on Twin Peaks since the series' inception. In a Variety interview with music director Dean Hurley, he gave us some insight into the whole process: "Historically [Lynch] has always done this: worked with Angelo next to him, playing piano or Fender Rhodes before, during, and after production. This time, they did so in a unique fashion through Skype and another ISDN-like program, where we linked Angelo's New Jersey studio with our studio in Los Angeles. Broadcasting was done at high resolution so that David could work with Angelo in live time. They were seeing each other on Skype, talking back and forth, the same way they always worked, but now in a super-digital, futuristic way. Through this process, we built up a small library of new Angelo music, then we had a lot of the original Angelo music from the first series, then this archive of experiments David and I recorded over the years and stored. Eventually we wound up with all these paint colors so that, as you're assembling a show, David could start reaching for things as he saw fit," he said. "David described the scene in detail to Angelo via Skype and he started playing. As this was happening David was, like, "Now the car hits him," and Angelo brings in atonal clusters. Then David told Angelo to bring in something beautiful and Angelo did – all in real-time. That cue existed verbatim. The score was laid in perfectly, even though they worked independently from each other."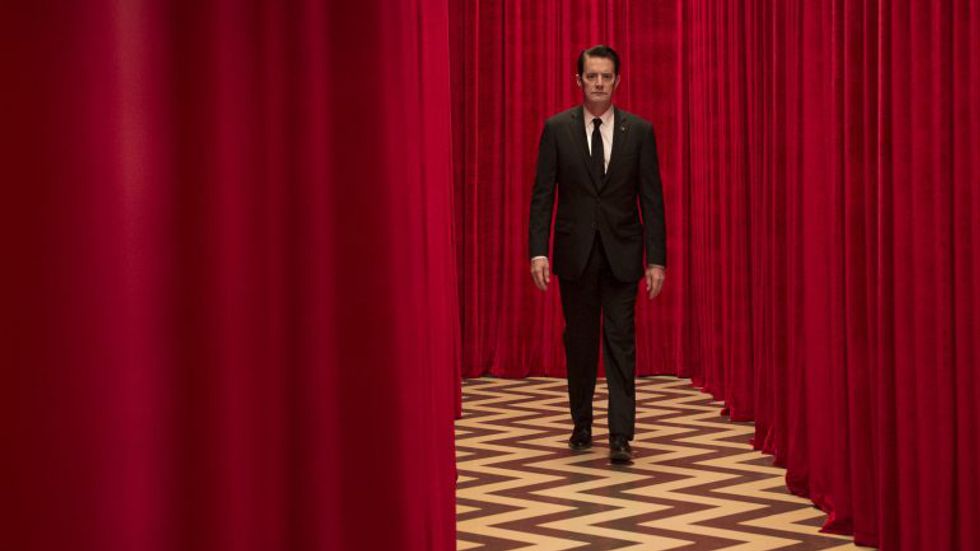 "Twin Peaks", Showtime
Twin Peaks, if anything, is a story of loss - music happens to be the one thing that helps us cope when we've lost something, someone, and feel like we've lost a part of ourselves too. It's focus on making it's music just as integral to it's story as anything else is part of the reason why we're still watching 25 years later - because through sounds and the memories they bring is where we find the ability to relate. The story of it's intro theme song, Laura Palmer's Theme, is as simple as it is revealing - Lynch told Badalamenti to imagine he was alone in the woods at night. The wind was blowing, an owl hooting. The keyboard slowly climbs up higher and higher melodies before falling back into the loneliness of the woods. It took about 20 minutes until Lynch replied, "Don't change a single note. I see Twin Peaks."
Twin Peaks airs on Showtime at 9/10c.
---
LISTEN to this playlist of all the show's featured bands:
READ MORE ABOUT MUSIC...

Popdust Presents | VANT opens at the main stage of Governor's Ball
GOV BALL 2017 | Who are you going to see? Editor's top picks
Screaming Eagle of Soul, CHARLES BRADLEY winning his battle with Cancer