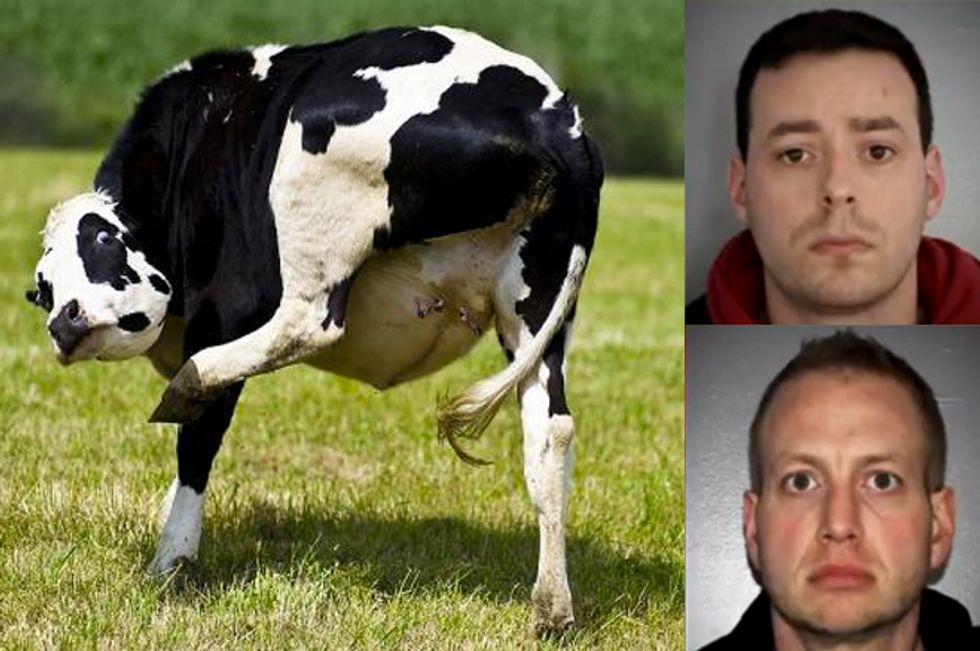 OK…. NOTHING strange here….
Two men have been arrested in Farmington, Conn, and charged with sexual misconduct after being caught in the act allegedly filming each other, covered in Jell-O, having sex with a cow—Popdust has the very bizarre details.
According to WTHN-TV News 8, Michael Jones, 33, and Reid Fontaine, 31, were captured on film in flagrante delicto after a farmer set up hidden cameras in a bid to discover why his cows had suddenly stopped producing milk.
And, he got the shock of his life after learning of what was going down on the farm....as did Farmington locals.
"I couldn't believe it! I just… what! No never and then I was like, wow, it's bizarre," one resident told WTHN-TV.
Adding even further to the disturbing story, the two men were caught in the act by TV reporters after the farmer tipped them off and they arrived mid bovine-bonk, cameras rolling.
"Now when we arrived, one of the men was actively having sex with the cow. His friend who was videotaping the act took off as soon as he seen us arrive," a newscaster says.
"Now we can't show you that video because the man was naked and covered in Jell-O, however we can show you the video of the aftermath."
As if being sexually abused by two Jell-O covered men wasn't traumatic enough for the poor cow, it bolted when the TV cameras arrived and was hit by cars, leaving it dead in the road.
Meanwhile, Fontaine has resigned from his job as a computer tech at a local school...
Yeah, that's probably the wise thing to do......