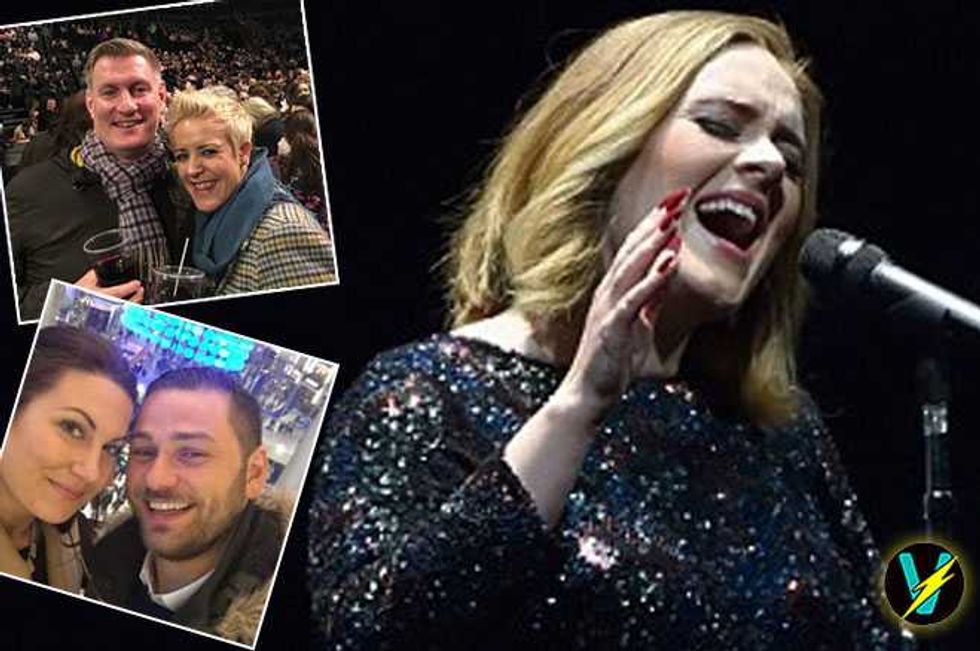 adele concert proposal
Adele's concerts are the place for a proposal these days, and thankfully the latest one went slightly better than last time.
Last night Natalie King went to see her favourite singer in concert at the 02 Arena in London, along with her boyfriend of 12 years Johnny Biggle.
They were enjoying the music with a fantastic view just three rows from the front when Johnny said he was popping out to get them a drink.  Adele started performing Make You Feel My Love and 31 year old Johnny rushed back in to the arena empty handed.  Natalie asked him why he didn't have the drinks and he told her the bar was closed, before dropping to one knee and asking her to be his wife!
Most Adorable Surprise Gay Marriage Proposal Maybe Ever?
It took 29 year old Natalie completely by surprise as it was totally unexpected and everyone around them went mad and started filming them on their cellphones. Someone yelled out "someone just proposed" and Adele got the happy couple up on stage to congratulate them. They told singer that he'd popped the question during that track as it "is our song".  Adele told them;
"That was the most beautiful thing I have ever witnessed at one of my shows.  Thank you."
The future Mrs Biggle was over the moon and told the Mail Online;
"If I knew I was going to be on stage and all over the news I'd have worn a better top!"
Bless her!
Buying Naked—Nude Wedding Proposal Edition
Check out the video—Adele gets wind of the happy moment at around the 3:29 mark...
adele concert proposal
Thankfully this couple had a happier experience than a poor man named Neil at a concert on Leap Day this year.  His girlfriend Hayley had already proposed to him during the day and he'd said "maybe in a little while".  Not quite the ringing endorsement of love that is hoped for when a girl plucks up the courage to pop the question!
During the gig in Belfast Adele asked if there were any ladies who wanted to propose, what with it being Leap Day and all that.
This Whole 'Most Epic Proposal Ever' Thing Is Getting Out Of Hand—Case In Point
Undeterred by his earlier reticence, Hayley climbed onto the stage and told Adele that she'd already asked the big question along with his reluctant response.
Eeek!  Why on earth would she get on stage and risk further humiliation?  There wasn't a lot Adele could do except ask him again.  The spotlights found the poor man, the crowd started booing and eventually he managed to nod his head—clearly wanting the ground to swallow him up.
You gotta feel sorry for the guy.
adele concert proposal
adele concert proposal