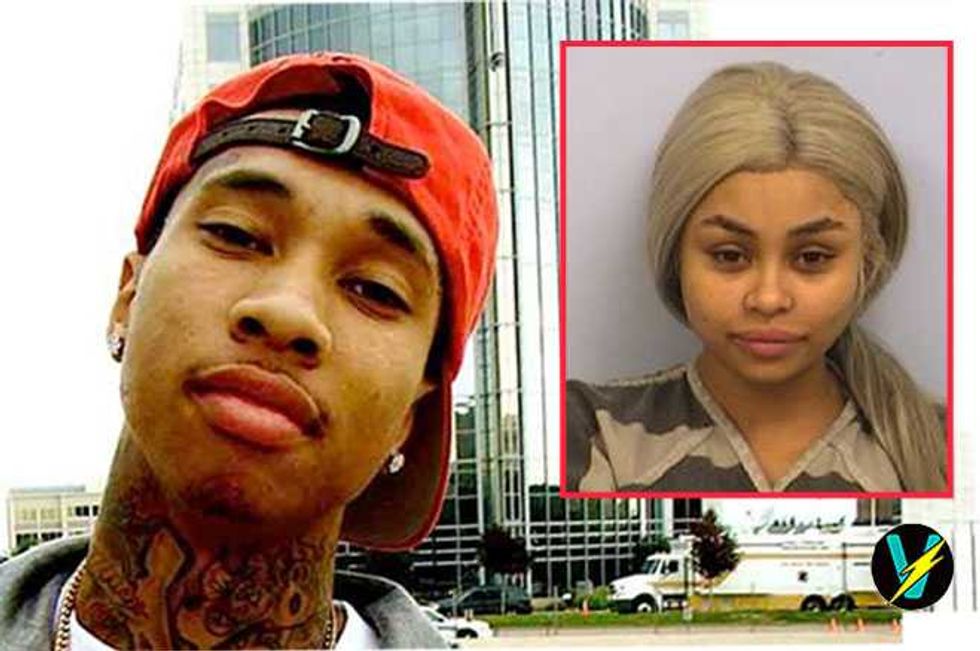 Tyga Custody Battle Blac Chyna
The current drama surrounding the Kardashian Klan is rumbling on and on, with a custody battle now on the cards.
Let's not forget in this incestuous mess that is the first family of reality, that Rob Kardashian's new obsession, Blac Chyna, shares a three year old son, King Cairo, with Kylie Jenner's lapdog, Tyga.
Kylie Jenner's New Video Will Make You Cringe
Now TMZ are reporting that Tyga is not happy with some of Blac Chyna's more recent decisions—like getting her drunken ass hauled off a plane and then being busted for possession of ecstasy.  He is worried that her drinking and drug taking might be putting little King at risk.
The lawyers standing to attention
Tyga has filed legal documents to change the current custody arrangement, he thinks he's the more responsible parent and should have primary custody of the kid, with her having visitation on weekends. We feel sorry for the judge having to make THAT decision.  Talk about caught between a rock and a hard place.  BC herself previously attempted to have the custody arrangement changed last May in an attempt to keep King away from Kylie, who was then just 17.
Rob Kardashian Is Letting His Family Know Exactly How He Feels About Them
Apparently Tyga has no problem with Chyna's new BF, Rob (Tyga certainly knows which side his bread is buttered, there is no way he would publicly have a problem with someone whose last name starts with a K).  Rob posted a video on his new Snapchat account (delightfully named 'Robphuckedme') of him playing happy families with King Cairo which Tyga is aware of.  He isn't worried though—he knows who's the Daddy and has no fears of being replaced.
Tyga Custody Battle Blac Chyna
Tyga Custody Battle Blac Chyna
Amber is being tight lippped
Meanwhile Blac Chyna's BFF Amber Rose landed in New York last night hot on the heels of her make up session with Kimmy.  She told photographers that she just 'loves them together', meaning BC and Rob and that she thinks Blac is good for Rob and will help him get healthy.  She also said that we shouldn't assume that the Kardashian girls are pissed at the relationship just because we've read it in the media.  Hmmmm....trying to smooth the waters maybe?
Well whatever we think about the whole situation—the fact that since hooking up with Blac Chyna, the previously total recluse Rob has been more active on social media, out and about in public, has shaved off his big beard and is posting pics of himself can only be a good thing right?
What A Bitch! Kim Kardashian Mocks Brother Rob Kardashian's Weight Gain
It's always been completely obvious that the way for Rob to recover his mental health is to get the fuck away from his family—something that he appears to be making progress with since moving in with his girlfriend—even if she is deemed to be an unsuitable mother.
Run, run as fast as you can Rob!  Get away and stay away!
Tyga Custody Battle Blac Chyna