FILM & TV
TV | Ernie Hudson guest stars in this never before seen clip from Sunday's episode 406 "Reparations"
Don't cancel your Starz subscription just yet.
If you like complex storylines that go down smooth as whiskey, great writing, knowing the business behind balling, and acting from some living and forming legends, Survivor's Remorse is on every Sunday night at 10 PM. If you've been taking this journey through life with me, then you know three things about my feelings towards the show:
One of the main character's Jessie T. Usher, and one of the writer's responsible for last week's hilariously disgusting episode, Allen Maldonado, have been interviewed right on these digital pages by moi
I wish this undermined gem was longer than thirty minutes because I always want more when the episode is over
Jessie T.Usher still owes me a seafood dinner that he cooked with his own hands (no deadbugging–you have to see episode 5 to get it)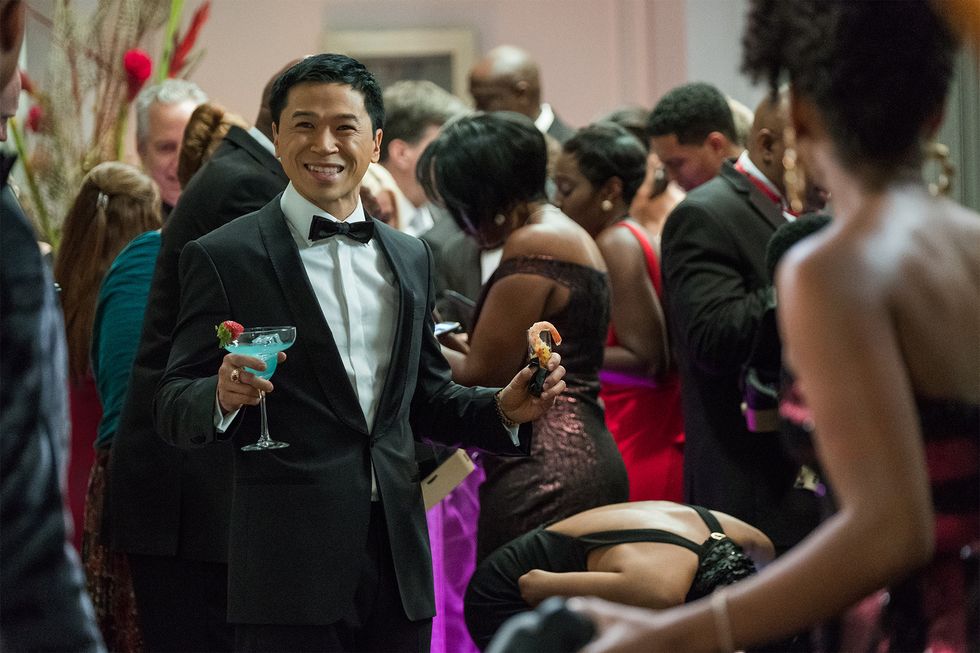 Robert Wu (Chen) in Episode 5 of Survivor's RemorsePhoto Courtesy of Starz
So when Starz (the network responsible for uniting us through our weekly Sunday Power chats over the summer– I miss y'all) slipped us a clip of this week's episode before it airs, of course we had to share with our Popdust fam, you're welcome. In episode 6, Chen suspects Cassie may be having an affair, Flaherty tries to dissuade Cam from getting involved in the Players' Union and Missy discovers a secret that threatens to drive a wedge between her and Reggie. I love guessing secrets but I can't call it with these writers so hit me up on twitter or IG post-show and let's see if your guesses are right.
---
RELATED ARTICLES
From Blackish to Survivor's Remorse Allen Maldonado is Voicing a Generation
RECAP | Power, Season 4, Episode 1: "When I Get Out"
5 shows that FINALLY make their return this summer
Remembering Charlie Murphy-The big brother of comedy
Bow Wow has a hit on his hands, and it's not a single
---
What Survivor's Remorse does so innovatively in a space where success has been formulated(ensemble cast+ costumes+ fantastical storylines), is upset the status quo. The idea that you are not supposed to talk about a subject unless in revered and respectful tones (sexuality, race, poverty, religion, self-hate were the center of just a few of my favorite episodes over the course of four seasons) is completely upturned. The most polarizing topics are discussed with a thoughtful hilarity and sometimes you catch yourself agreeing with the wrong side. In the premiere episode when the police chose to drive away from an unruly Atlanta Waffle House fight because they were afraid they were going to shoot someone if it escalated further, I cocked my head to the side and thought, well, it's not policing but it does keep everyone alive. Horrible, I know, but in a time of hashtags and murders, that's where Survivor's Remorse shines. In reminding us that we aren't perfect and there are more complexities to life than standard right and wrong answers, I get a chance to re-evaluate myself and my beliefs for thirty minutes I would have otherwise thought I did not have. Instead of whitewashing the complexities of life or normalizing one way of life over another, they just give us, well, life. A realistic representation with varying opinions, sides, and often, no moral highroad, just the journey. With an episode title of "Reparations", I'm curious to see what they do with Sunday's episode.
Check the clip shared exclusively with us first, featuring Jessie T. Usher, RonReaco Lee, and Ernie Hudson.
---
Brittiany Cierra is an entertainment and travel journalist and On-Air host highlighting where culture, music, film, television, and current events intersect. When she's not writing about people, places, and things, she's speaking about, dancing on, or marketing them. Follow the journey on twitter and Instagram.