Megan Oots
Megan Oots is Popdust writer based in New York City. She loves the sun, cooking, and playing with dogs.
What Is FailSafe Festival?
FailSafe Festival is a five-day festival of live performance, taking place in the Times Square/Hell's Kitchen area of New York City. FailSafe Festival provides a space for artists to push beyond what they consider "safe" to present, giving them an opportunity to show work that may not have a home elsewhere.
As part of the second annual FailSafe Arts Festival, 10 artists of varying backgrounds will present live performances over 5 days in the Times Square/Hell's Kitchen District. FailSafe provides a space for artists to push beyond what they consider "safe" to present, giving them an opportunity to show work that might not have a home elsewhere. Last year, the festival presented work from 11 artists and organizations and welcomed over 400 audience members to take in dance, theater, and music for adventurous theatergoers.
This year we are excited to see "Until Proven Guilty."
Until Proven Guilty is the final installment of Louis DeVaughn Nelson's American Satire Trilogy. Human Error (2007) dealt with the effects of technological advancements on society, Man Bites Dog (2010) satirized sensationalism in the media, andUntil Proven Guilty will address good, old-fashioned American sociopolitical warfare.
The former two ballets were performed at The Philadelphia Live Arts & Fringe Festival. The underlying theme of this series is social justice. Until Proven Guilty uses theatre, modern dance, burlesque and multimedia to explore several facets of the minority experience, including domestic violence, external and internal racism, sexuality, discrimination, bigotry, misogyny, and the marginalization inherent in class and social systems.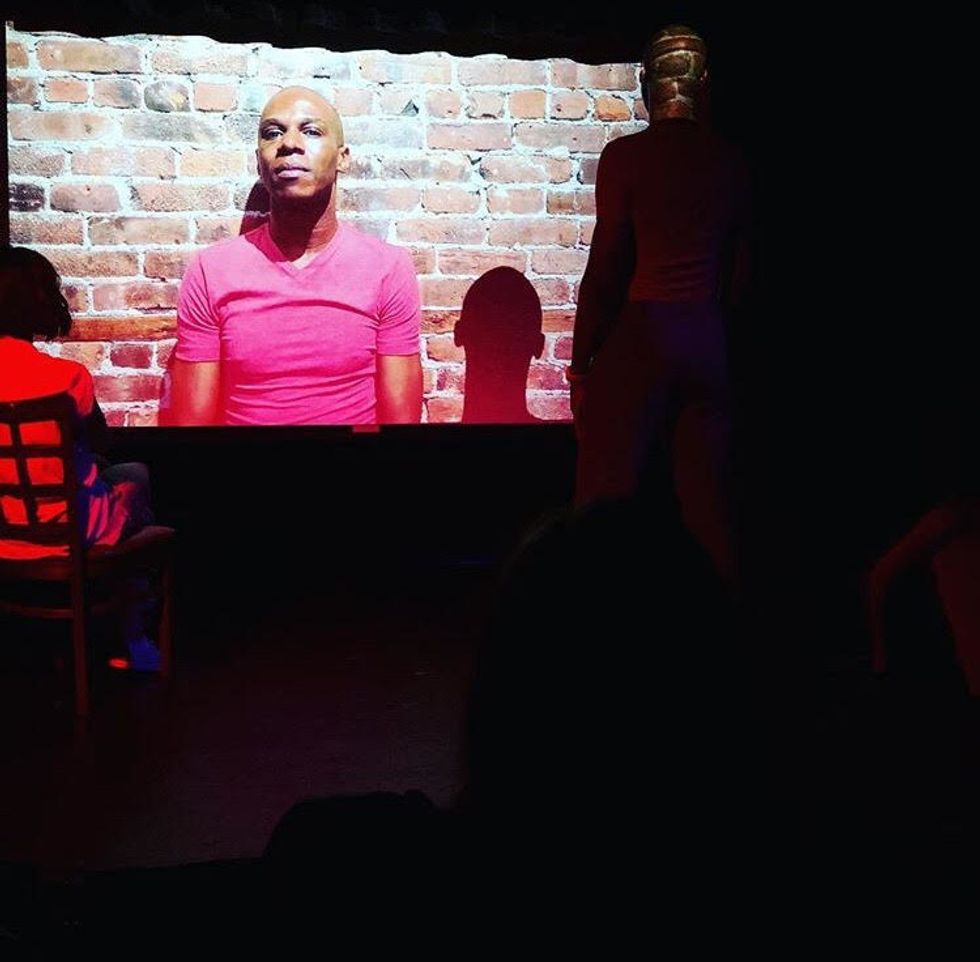 Photo of "Until Proven Guilty"by Shayla Lawson
Written and Choreographed by Louis DeVaughn Nelson, Directed by Jeannine Frumess with Film by Maren Woodward, and featuring writing from Merry Johns, Until Proven Guilty by Hokum Arts has been selected for this year's festival. The diverse cast and crew is entirely made up of POC, LGBTQ and Women including Natasha Frater, Ariella Mastroianni, Brian McQueen, Blaire O'Leary, and Jeffrey Buck Wright Jr.

When and How do I get tickets?
Until Proven Guilty has one more show left On Sunday, August 12th @ 6pm
For tickets https://untilprovenguilty.brownpapertickets.com
Tickets will also be available for purchase in person half an hour prior to performance. Cash only.
Related Articles Around the Web
MUSIC
Back are the days of 1990's double side singles, at least for Mountain Man's ASM in her latest solo project
ASM has announced her debut double A-side single, Fantasy Boyfriend, which will be released on July 24, 2018 via Psychic Hotline.
There's a patience in the little things. The arc of sticky summers brimming and eventually cooling, grasses overgrowing before being cut to stubs, creeks rushing to an eventual trickle, night skies growing darker before dawn breaks. In stillness and in presence, these archetypes pervade our experience and teach us lessons as old as time and reflexive in every organism's makeup. This clarity is present in every note of " Gem" and "Grasses," the two songs that comprise Fantasy Boyfriend. Starting small on a creaky old guitar, a single voice in the air, these meditations were brought to life by Sauser-Monnig over the winter in a tiny house at the center of a creative commune. It's a compass set, an intention stated, a window flung open to let the summer air in -- buoyant, resilient, golden.
When off of the flower farm and out of the weaving house, the NC-based Sauser-Monnig has spent time in recent years touring with Feist and recording with artists including Sylvan Esso ('Echo Mountain Sessions'), Hiss Golden Messenger, and Tift Merritt.
ASM will perform next at the Cat's Cradle in Carrboro, NC on August 8th, with more shows to be announced soon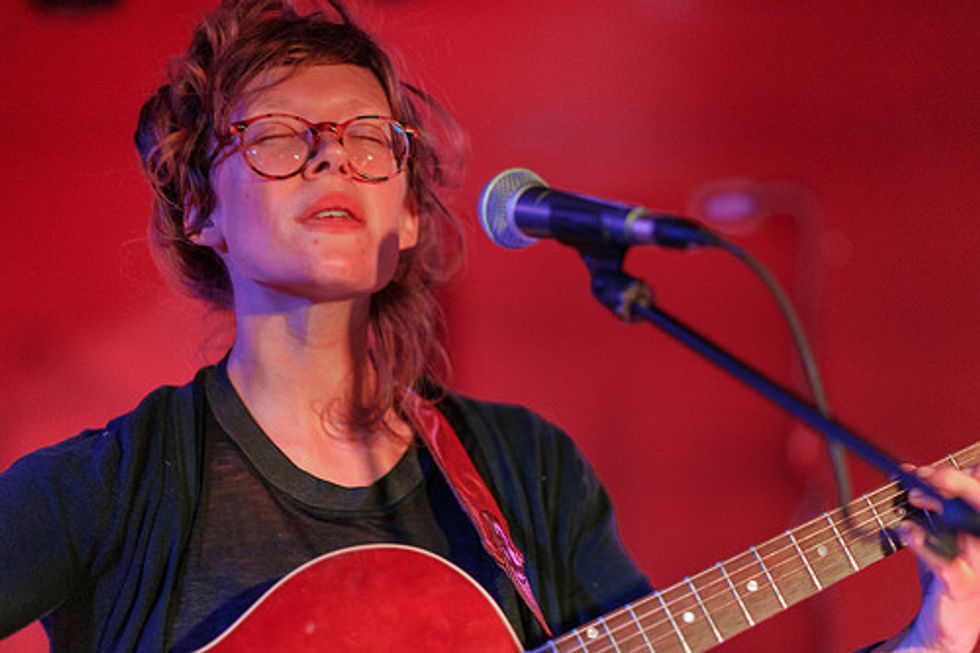 Matt Condon
---
POP⚡DUST | Read More…

Scruffy Pearls Brings us Soul-Pop Sweetness
Chris Jobe gives us some "Love in the Morning"
MUSIC
We Got A Chance to Sit Down With Ashe Upon The Release of Her Newest EP.
Photo by Leslie Colon
Ashe's alt-pop style and sunny, vintage vocals have earned her quite the buzz.
She recently released her new single "Choirs" that has amassed over 870k streams on Spotify. Compounding her previous success, which saw her accumulate 200 million streams and nine Hype Machine #1s with "Girl Who Cried Wolf" and "Used to It" (as well as her Louis The Child collaborations "World on Fire" and "Right To It"), Ashe was recently announced as one of VEVO dscvr's Artists to Watch for 2018. Having played select dates this summer with Lewis Capaldi, Ashe recently wrapped up a tour with Lauv and previously traveled Northern America while performing alongside Big Gigantic, Louis The Child, Shawn Frank, Whethan, and the Chainsmokers. Now, her very own brand of psych-pop is poised to make a splash in 2018 with her debut EP The Rabbit Hole and the recently-released single "Choirs."
Popdust's Megan Oots got a chance to sit down with Ashe and chat about the inspiration behind The Rabbit Hole which deals with existentialism, escapism, the human condition, and love.

Ashe says her favorite song on The Rabbit Hole is "Real Love"
Real Love was also one of the first songs she finished and it blazed the way for the others. Real love is about loving others regardless of where they come from and encourages us to focus on the commonalities between all people. She was inspired to write "Real Love" by the social political turmoil that commenced after the 2016 presidential election. Ashe hopes people that listen to "Real Love" unify in their joy, and develop more empathy and compassion for one another.
---
POP ⚡DUST | Read More...
RELEASE RADAR | Premiere from Monikers
RELEASE RADAR | Premiere from ELZ + THE CULT
RELEASE RADAR | Premiere from Kris Gruen
Related Articles Around the Web