Popdust got to sit down with Lewis Capaldi, whose song "Someone You Loved" has recently hit number one in the US. Capaldi told Popdust he began playing songs at the age of 9 when his 15-year-old brother formed a band. Playing his first live gig at just 12, Capaldi is as at home on the stage as he is anywhere.

With 6 years live experience under his belt when he began a college course in music, Capaldi was always one step ahead. After finishing school he was firmly warned by his father that he was not to be "sitting around and playing gigs." But he ended up in the music course through friend Adam Warrington, aka YUNGBLUD, who is also rising to international musical stardom.
When asked about his teenage years, Capaldi describes them as filled with "general mischief and finding more stages to play from," often hiding out in the restrooms of bars around Glasgow in order to dodge the ID check and make his way to the stage when the crowds filled in. Paolo Nutini and Ben Howard covers slowly were swapped out for originals as time went by. Capaldi mentions he is even glad he got a "hard no" from the Britain's Got Talent judges when he was 13, a rejection that ended up being a blessing in disguise.

Things really picked up steam after college, with Capaldi continually posting his original music on SoundCloud, leading him to be spotted by his current managers. Soon, he was supporting the likes of Rag'n'Bone Man, Sam Smith, Niall Horan, Ed Sheeran, and Milky Chance. Now, Capaldi's talents have propelled him to perform for massive arenas all over the world.
While modest in person, Capaldi's stage presence is massive, and his show's often feel as much like a comedy show as they do a concert. One thing is for sure, Lewis Capaldi will only keep rising.
Facebook / Paint_Studios
Englishman George Ezra rocked Terminal 5 in New York City on Tuesday night to a packed audience. "I'm George Ezra and this is my lovely band", he humbly announced to 3000 people who paid to see him. Opening to the tune of Austin Powers paying homage to Verne Troyer, Ezra followed his support Noah Kahan with 'Cassie O'', a lively classic from his debut album, 'Wanted On Voyage'.
After putting the fears of the crowd to rest in assuring us there would be songs both old and new, he began to drip feed the story of writing his new album, Staying at Tamara's, like a Netflix series that drops an episode a week. One thing we do know is that if his rustic voice didn't propel him to stardom, his storytelling skills just might have. While attempting to write another album, Ezra took off to Barcelona in search of inspiration, choosing to stay with a host instead of a hotel, in a couchsurfing style vacation.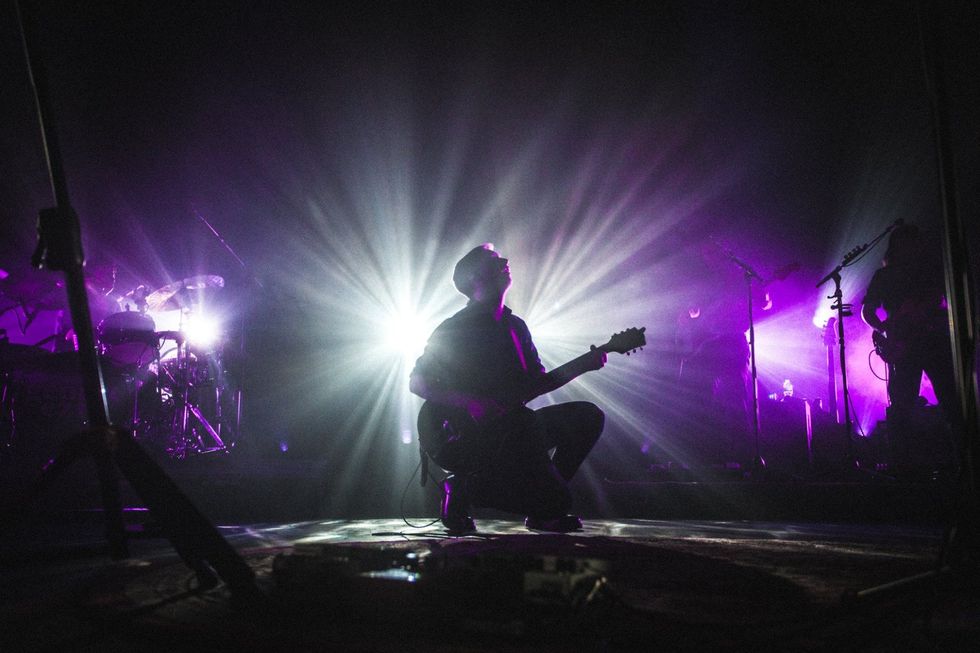 Faceboook / Paint_Studios
His host, you may have already guessed, was named Tamara. Ezra rocked an almost overfilled Terminal 5 with hits like 'Blame It On Me' and 'Pretty Shining People', the opening track of his recently released album that you just know is set to be a hit. His smile throughout the song radiated around the venue and demonstrated to us how much he loves what he does, and how he is still a little starstruck every time he hits that stage. The song itself is based on sitting in a small Spanish cafe in the middle of the day, looking around at all the people and thinking "not one of us know what the hell we're doing here".
That's exactly the theme that features throughout his music, relatable messages that are taken from the ordinary and made extraordinary. The simplicity of 'Shotgun', not a 2nd amendment advocating song but actually about the simple bliss of riding shotgun in a car through the blazing summer heat. Deeper questions are reflected upon too, further through the album with 'All My Love' and 'Only A Human', just to demonstrate that capability in his writing.

Having caused an audience with an age range wider than the Cape Cod Canal to dance and sway uncontrollably for over an hour, Ezra dropped some shocking news. The singer-songwriter had written 'Budapest', his breakout hit, after missing his train to the city and deciding to skip visiting altogether, caused by a bottle of rum and the Eurovision Song contest the night prior. All I can say is, thank God for that.