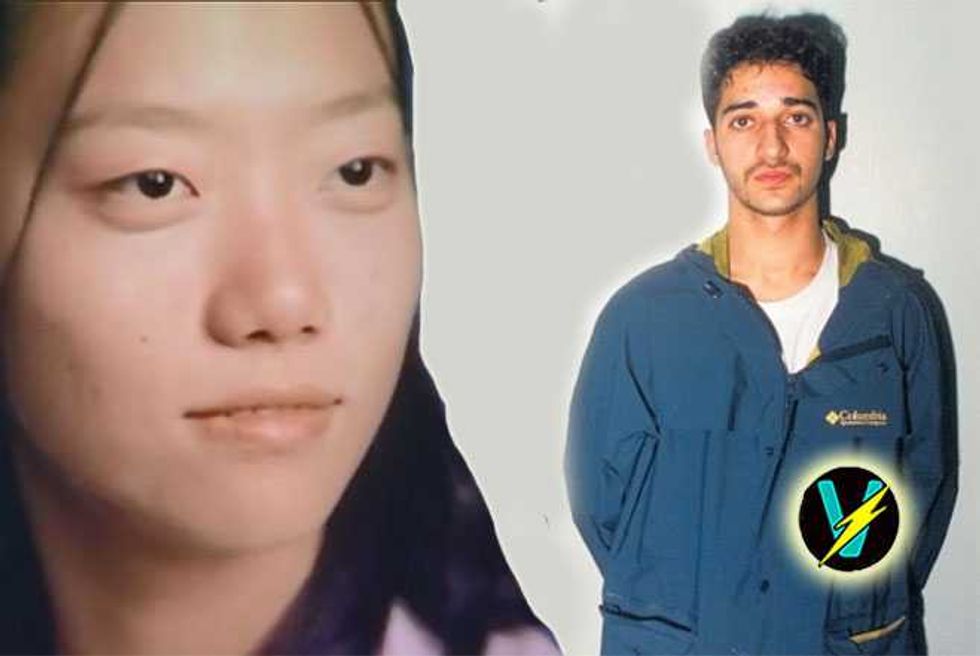 The Undisclosed team continues to muddy the legal waters that were used to drown Adnan Syed and land him in jail for the rest of his life.
As Popdust previously reported, Syed, 34, has spent the past 15 years behind bars, after being sentenced to life plus 30 years, for the murder of his ex-girlfriend Hae Min Lee back in 1999—Syed vehemently maintains his innocence.
The case garnered national attention last year after NPR reporter, and This American Life producer, Sarah Koenig, covered it in great depth, on Serial, her weekly podcast series. However, after twelve gripping episodes, listeners were left no clearer as to Syed's innocence or guilt.
Rabia Chaudry, the lawyer who first alerted Koenig to the case, along with fellow attorneys, Susan Simpson and Colin Miller, are giving their all in an attempt to remedy that—working tirelessly to tear apart the State's case against Syed—and they are broadcasting their findings every two weeks on their podcast series, Undisclosed: The State Vs Adnan Syed.
During the first episode of Undisclosed, the team dissected the State's version of what occurred on January 13, 1999, the day Hae was murdered—pulling to pieces many of the witness statements, and turning up two shocking new accounts of what allegedly went down that day, that were never presented at either the first trial (which ended in a mistrial), or the second, which resulted in Syed's conviction.
In a follow-up special broadcast a week later, titled, Addendum 1: New Information About The Trip To Cathy's, Chaudry, Simpson and Miller shredded another vital, key piece of the prosecution's case against Syed—what purportedly went down January 13 (post murder, pre-body dump), at the apartment of Cathy, a close friend of the prosecution's star witness, Jay Wilds.
The second installment of Undisclosed, focused on Hae's movements that fateful day—and, as became evident very early on in Serial, the prosecution's version of events appears to be more than a little "off."
Today, they broadcast another special, titled Addendum 2: More information on Takera, and on Hae's other diary—the latter of which, if found, could possibly hold the key to Adnan proving his innocence.
But, more on that later.
The team kicks off the podcast by answering listener questions, which cover a variety of subjects—including the level of friendship between Hae and Jay Wilds; the true identity of the mysterious "Takera" and why she wasn't interviewed by authorities following Hae's murder; why nobody can track down evidence of when exactly the interview between Hae and local news station, Channel 36, actually happened; if the clothes Hae was wearing in that interview can be compared to those found on her body; if the wrestling match that the State claims happened January 13th, wasn't on that date, what does it mean for their case; and, is there a record of Adnan logging on and checking his email during the time Asia McClain claims she saw him at the library working on the computer?
According to Chaudry, Hae and Jay did know each other, had at least one class together, and had the same circle of friends, as Jay was dating Stephanie, a friend of both Adnan and Hae. But, Chaudry says, "there doesn't seem to be any indication that they were actually 'friend' friends." And, there was no mention of Jay in Hae's handwritten diary.
When it comes to the true identity of Takera—who played such a major role in last week's podcast—Miller shares that they do know who she is, claims, "it is clear she was never interviewed by police" and goes on to question why not.
"According to the prosecution at trial, the last student to see Hae alive was, again, her best friend, Ayisha," Miller says. "And, Ayisha was in her last period, AP psychology class, and, according to the prosecution, Ayisha saw Hae at the end of class, in class, talking to Adnan.
"And so, if you're the State, and you're trying to determine did this conversation take place on January 13th, what was its content, what did Hae do after class? Who is the person you would most want to talk to? The answer is probably the person who sat next to Hae in AP psychology class….she likely would have been there for the conversation with Adnan….she's likely the person most likely to accompany Hae out of class—and so, who was that person?
"It's a good question, and it seems like one the State decided to pursue….and they had the AP psychology teacher draw a diagram of the class. She plotted Adnan sitting at the back of the class, furthest away from the door, plotted the two people who sat next to him....the teacher then plotted Hae in her seat, on the side of the class, closer to the front door, and then the one person who sat next to her—apparently the other seat was empty.
"Hence, the question is, who is this other person who sat right next to Hae in AP psychology?  And the answer is.."
Drum roll……
Yep, you guessed it…..Takera!!
"And, there's no transcription mistake here," Miller continues. "The teacher correctly spelled both her first and last name….and, so, what are we left with? We're left with Debbie, the original last person to see Hae alive, and yet, Takera, who is almost certainly part of this conversation, was never interviewed.
"The state's view at the end of trial is that Ayisha is the last student to see Hae alive….and yet, Takera sits right next to Hae, in that same AP psychology class, and again, as far as we can tell, no attempt whatsoever to interview Takera."
Now, that's either just plain bizarre, just plain incompetent, just plain fishy…. or some kind of combination of all three.
So, now to the question of, did the interview between Hae and Channel 36 actually happen on the day of her murder, as the State claims, or, did it actually happened on January 5, eight days prior, as the Undisclosed team argued during last week's podcast? And, why can nobody pin down evidence of the actual date?
"Reason we haven't been able to get information from the channel itself, is that they don't have it," Simpson explains. "Folks have reached out to them to try and get verification, but have not really been able to dig anything up. Apparently the original tape doesn't exist…and the original would have the date and time stamp.. and they have no record of when the video was actually made, which is just, kind of sad—and, also odd, because, you think, it was 1999, it wasn't like it was 1899, but it's just one more thing that easily could have been verified, you know, 16 years ago, and now we're struggling to do."
OK, well, how about the clothes Hae was wearing in that video? Can they be matched to the clothes that were found on her body? If it's a positive match, wouldn't that be proof that the interview did happen on January 13th, the day of her murder?
Sadly no, as Chaudry explains, "In that video she's wearing either a Lacrosse, or field hockey uniform, I don't know the difference, and, we do know those uniforms were kept on campus. There was a locker for them, and they stayed there, so, it's no surprise those were not found in her car, or with her.
"What is surprising though, is she was wearing tennis shoes and socks in that interview—Hae didn't have a locker on campus, she used her car as a storage place, but her car didn't have her shoes, or her socks in it, when the cops found it, which is weird, because, if she had had those with her that day, they should have been in the car somewhere."
And, talking of what was found—or not found rather—in Hae's car, there's the mystery of the disappearing hot fries.
During both of Syed's trials, Woodlawn High teacher, Inez Butler, testified that Hae stopped by her concession stand after school on January 13, and bought apple juice and hot fries. But, according to Chaudry, "What cops noted in their report though, because it didn't add up, was that, although they found a bottle of apple juice in Hae's car, they didn't find any hot fries…which they should have, if Inez Butler was recalling the right day…..those snacks should have still been there…but they weren't. So, what did the cops do? Because their report says, 'did we ever find the bag of hot fries?' No, they didn't."
And so, if the State's timeline for January 13th is completely off—if Butler was recalling another day, and if the wrestling match that was a key part of their narrative for that day, didn't occur on that date—does that throw everything up in the air?
Miller says that yep, it does. It changes everything.
"If we think back to Serial, we have Summer, and she's talking with Hae about the wrestling match up till about 2.50….3pm on January 13th," he explains. "And what that means is, we have Asia McClain who saw Adnan in the library, up until about 2.40 pm….and, while she's legally relevant… she's factually, pretty irrelevant…because, if Hae's still at school till 2.50…3 pm…Adnan certainly could have seen Asia at the library, and then gotten in her car.
"Well, if there's no wrestling match on January 13th, Summer is taken out of the narrative. .. and, in fact, the last person to have seen Hae on January 13th is likely Becky…who, again, said, she saw Hae leaving school around 2.20 pm in a hurry, with something else to do, and somewhere else to be.
"And that does two things… first, it makes Asia, actually very important….if she saw Adnan up until about 2.40, and Hae's leaving school about 2.20….well, then, obviously Adnan didn't get into her car…. the other point is to say, we know Hae usually left school around 3 o'clock, to pick up her cousin at 3.15….well, according to Becky, she's leaving school in a hurry at 2.20, to do something else….so, she's leaving about 40 minutes earlier than usual….and this is something I've been trying to determine ever since Serial ended… what was this something else that was causing Hae to leave 40 minutes early, when did it come up, how did it come up?
"My best theory at this point in time, is, the ride with Adnan was still discussed at lunch, and so, sometime during Hae's computer class, or, sometime during AP psychology, I think she got something on her pager, something came up, question is, what was that something?"
That's the burning question, and, as the police failed to pull Hae's pager records following her murder, and the pager has never been found, it is likely to continue burning bright and hard well into the future.
Then, there's the question of Adnan's emails—if he WAS at the library working on the computer on January 13th, as Asia claims, surely there must be a record of it?
Once again, that's a very frustrating and resounding no, as Chaudry explains, "Adnan had gotten Asia's letters shortly after he was arrested, and she had mentioned he was on the computer when she talked to him, and he remembered that when he had actually seen her at the library, that he was on the computer…. so, he had given his lawyer his email address, and also his password, and we know that, because it's in her notes from 1999. Now, we have no evidence that she actually ever checked his email address, and what's really frustrating, especially for someone like me, is that, that would have taken absolutely no effort.
"I mean, you could sit in your own office, never leave your own office, and log in to somebody else's Hotmail account. And there's just no evidence, there are no print-outs of his activity… and what happened is, she went back  to Adnan, and said, 'I checked with Asia and the dates are wrong,' so he kind of forgot about Asia, and he forgot about the email stuff.
"By the time I learned about Asia, and the possibility that he may have been checking his email, which was like, a year later, after he was convicted, I immediately went to try and log in to his account… and, the account had been suspended, because that's how Hotmail worked, they did not keep inactive accounts open. And, since that time, a number of folks have tried to get that information from Hotmail, including Sarah by the way, from Serial...a number of Adnan's lawyers…and what the response has been, is that, it's just gone….1999 was too long ago, and that information's gone.
"Which is kind of hard for me to believe, because, I always thought that once it's out there on the internet, it never goes away, so there's part of me that wonders, if somewhere, in the very dark recesses of internet archives, his account records exist, and gosh, it would be great if Microsoft would step up, and say, 'hey yeah, we'll find it for you.'"
But, things get even murkier when it comes to the subject of Hae's "secret" second diary.
According to Chaudry, "Hae had a handwritten diary that was found and was used at trial. At trial, Hae's brother testified that he had gotten caught snooping—he had gone into her room and read her diary, and Hae had found out. As a result, Hae had stopped writing all of her entries on the physical book that was introduced into evidence… instead, she had started writing her more sensitive diary entries on her computer… and she would save them on a floppy disc, that way, they weren't available to her brother and he couldn't find them.
"There's  no official record of what happened to that diary, the one on the floppy disc," she continues. "But, there is a big clue from the police files…and from the evidence that was taken into custody….in Hae's car the police found a floppy disc, it was labeled 'Hae school stuff' and it was on the backseat…. we don't know what happened to it…we don't know where it went…. we don't know if anyone ever checked it…but it's a good bet that's where the diary was kept…and if we want more information about what Hae was doing, what her plans where, it's a good place to look.
"The police never did though—or at least, never officially. There are some oddities in the trial record though that suggest that maybe someone had access to it. For instance, in closing arguments, the prosecution claims, in Hae's diary she had written that she had given Adnan a ride two days before her death—and this was evidence that she would have given him a ride on the 13th as well. Problem is, there is no entry in her diary to support this, either the prosecution was simply making this up, because it helped their case against Adnan, or, possibly, it actually was in Hae's diary, just not the one that was introduced into evidence."
The plot just thickens and thickens….. and, likelihood is, it's going to continue to do so yet further, especially after next week's podcast, when the Undisclosed team dissects Jay's alleged movements on the day of Hae's murder.
Keep checking back on Popdust for more updates on the story—listen below to this week's Addendum special—and head over to audioboom for more Undisclosed: The state Vs Adnan Syed.