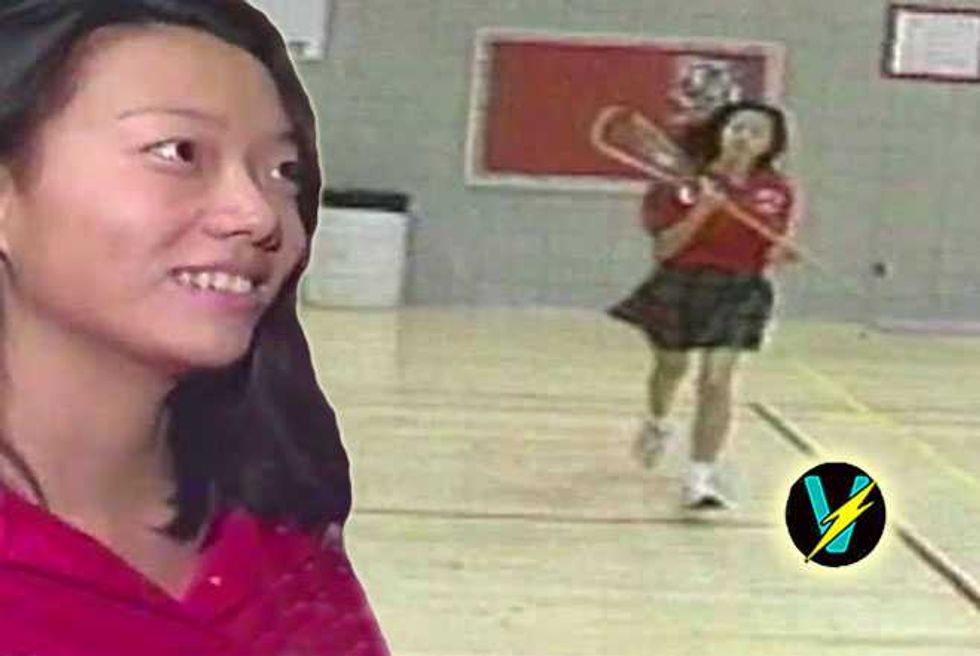 With each new episode of Undisclosed: The State Vs Adnan Syed, the Maryland prosecution's murder case against the then-19-year-old Woodlawn High School student seemingly becomes shakier and shakier.
As Popdust previously reported, Adnan Syed, now 34, has spent the past 15 years in jail, after being sentenced to life plus 30 years, for the murder of his ex-girlfriend Hae Min Lee back in 1999—Syed vehemently maintains his innocence.
The case garnered national attention last year after NPR reporter, and This American Life producer, Sarah Koenig, covered it in great depth, on Serial, her weekly podcast series.
After the final episode of Serial aired, listeners were left no clearer as to Syed's innocence or guilt, although, it seems that everyone has some kind of unsubstantiated opinion—more of a gut feeling—on the subject. [I know I do, and it's that Adnan did NOT murder Hae….but, like I said, that's just opinion, based on gut instinct.]
I'm not alone when it comes to believing Adnan is not a murderer though—The Innocence Project has become involved in the case, and a whole slew of attorneys and investigators are working together to overturn Syed's conviction.
The Maryland Court of Specials Appeals has agreed to hear arguments from Syed's current legal team, who are requesting a new trial on his behalf—arguing, with good cause it would appear, that their client's original defense was negligent and incompetent.
As Syed waits it out inside jail, Rabia Chaudry, the lawyer who first alerted Koenig to the case, along with fellow attorneys, Susan Simpson and Colin Miller, are working tirelessly on the outside to tear apart the state's case against Adnan—and they are broadcasting their findings every two weeks.
During the first episode of Undisclosed, the team dissected the State's version of what occurred on January 13, 1999, the day Hae was murdered—pulling to pieces many of the witness statements, and turning up two shocking new accounts of what allegedly went down that day, that were never presented at either the first trial (which ended in a mistrial), or the second, which resulted in Syed's conviction.
In a follow-up special broadcast last week, titled, Addendum 1: New Information About The Trip To Cathy's, Chaudry, Simpson and Miller shredded another vital, key piece of the prosecution's case against Syed—what purportedly went down January 13 (post murder, pre-body dump), at the apartment of Cathy, a close friend of the prosecution's star witness, Jay Wilds.
The second installment of Undisclosed, focuses on Hae's movements that fateful day—and, as became evident very early on in Serial, the prosecution's version of events appear to be more than a little "off."
"This week we are going to focus on Hae's day… what her schedule was on Jan 13 1999, and who the last person to see her alive was," Chaudry explains.
"Hae was 18-years old, a senior in high school, a scholar athlete, with a 3.8 GPA," she continues. "She played Lacrosse, she co-managed the boys' wrestling team, and she worked a part time job. She was popular, she was definitely hard working and she was a star at Woodlawn High School's magnate program."
Chaudry goes on to recount the events of the night before Lee's murder—January 12th, 1999—during which she had dinner with her new boyfriend Don, before heading home to her parents' house.
Hae spent the evening at Don's house, he recalls her being in a good mood, despite arguing with her mother. She leaves Don's around 10pm, and she gets back to her home around 11.30pm. Once home, she and Don stay up talking on the phone, till around 3am… Adnan calls at 12.45am for a minute-and-a-half to give her his brand new cell phone number. She writes down the number in her diary, resumes talking to Don, then, writes a diary entry about Don.

"According to Don, [during the call] Hay tried to convince him to call into school and say she was sick so she could spend the day with him, on January 13th…he talked her out of it…. she said OK, and that she would call him when her work shift ended—she was scheduled to work 6-10pm that night. According to Don, he never speaks to her.
So, with the scene set for the prelude of Hae's last day on Earth, Undisclosed goes on to break down the State's version of what happened next.
The prosecution claims that on January 13, 1999, Hay went to school like any other day; she had classes all day; she was filmed by a local news team, Channel 36, for a piece about her being Student Athlete of the Month; at some point during the day Adnan asks her for a ride after school; she tells a teacher that she will be attending a school wrestling match later that night—but, she never makes it, because she drives Adnan to the parking lot of the local Best Buy, where he strangles her to death around 2.36 pm, makes a call from a pay phone to Jay, asking for help, then, later that night dumps her body in Leakin Park.
The prosecution's timeline is cobbled together from several different witness testimonies, seemingly all laying out the events that unfolded January 13.
However, with some good old fashioned investigation, and careful cross-referencing of the myriad of different statements and testimonies given to cops and at trial, the Undisclosed team blows the purported timeline to pieces.
After going through the day hour by hour, it soon becomes apparent that many of the witnesses' accounts are completely wrong factually—at least when it comes to the date.
Woodlawn High teacher, Inez Butler, testified at trial that she spoke to Hae as she was leaving school on January 13, and that Hae told her she would be back later that night to attend an away match with the wrestling team at Chesapeake High School. Disturbingly though, Inez's story changed each and every time she told it.
In her initial police interview, the teacher states that she talked to Hae around 2.30pm—when she visited Butler's food concession stand to purchase some snacks—claiming, Hae seemed "upset" as she had been fighting with her mom, and that she made it clear she wouldn't be attending the wrestling match that night.
However, in her second statement, she claims that around 2.30, Hae pulled up to the concession stand in her car, jumped out with the engine running, grabbed a snack, threw some money down and quickly sped off.
The interviewing detective questions Butler on the time, asking if it's possible she could have seen Hae earlier, at around 2.15—but, she remains resolute, insisting there's no way it could have been before 2.30, as the school bus loop prevents students from leaving the car park any earlier than that.
But, by the time it come to trial, Butler testifies that Hae pulls up in her car at 2.15-2.20 (conveniently fitting with the State's murder timeline), she grabbed some snacks and didn't pay for them, but that was OK, as she knew Hae would be back again at 3.35pm to catch a bus to the wrestling team's away match.
Then, at the second trial, her story changes yet again, as Butler testifies that Hae pulled up at 2.15-2.20, took some snacks and didn't pay, and that she reminded Hae she had to be back at school by 5 pm, for a wrestling match starting around 6.30 or 7.30.
Despite the details constantly morphing, one part of Butler's last two accounts—that Hae told her she would be back later that evening to attend the wrestling match—matches with another witness statement.
Bizarrely, until she rang into Serial, to tell Sarah Koenig she had some new information on the case, none had ever heard of Summer—a Woodlawn High student, who co-managed the wrestling team with Hae.
Yep, this chick co-managed the wrestling team, with the murder victim, who disappeared on the day of a wrestling match, and yet, cops didn't even bother to speak to, or question, her.
Summer told Koenig that she distinctly remembers seeing Hae at school at 3pm, on Jan 13 (which would totally derail the prosecution's timeline, because they charge that Hae was murdered by Adnan at 2.36 pm).
Summer claims she remembers so clearly because she was going to be scoring a school wrestling match at Randallstown High that night, and, as she was new to scoring, she told Hae she needed for her to be there with her to help.,,,but, Hae never turned up.
Sooo, one of the witness claims the match was at Chesapeake, and one claims it was at Randallstown.
Curiouser and curiouser….
But, what's REALLY curious, is that it turns out there was no wrestling match on January 13! The match, part of the state's narrative for 16 years, never actually happened…at least, not on January 13.
After searching through old newspaper clippings to try and pin down which school the match was actually at, Simpson discovered that there were two different wrestling away matches in January 1999—the one against Randallstown, which actually happened January 5—and, one against Loch Raven, which happened January 12, when Hae was with Don having dinner.
Well, that's that part of the State's narrative shot down...But wait! Then, there's the other part—the claim that on January 13,  Hae filmed an interview with Channel 36 in the school gym.
After raising speculative doubts about the interview occurring on that day—not one newspaper report at the time referenced the fact Hae had filmed a TV interview on the very day of her murder; no witnesses mentioned it to police in their statements or during their trial testimony; that it would seem strange for Hae to ask Don to call in sick to school for her on the day she was filming an interview about being Athlete of the Month—the team moves onto the factual evidence.
Following Hae's murder, a handwritten note to Don was discovered in her car:
Hey cutie, sorry couldn't stay, have to go to a wrestling match at Randallstown High, but I promise to page you as soon as I get home, OK… till then, take care and drive safely, always, Hae

PS: Interview went well and I promise you a tape so can see me as often and as much as you want
At trial, the prosecution made a big sing and dance about the note—as it seemingly tied everything together when it comes to their version of events—claiming, Hae had been planning to drop the note off to Don later that night, but was murdered by Adnan before she got the chance.
But, given that the wrestling match against Randallstown actually happened on January 5th, and NOT on the 13th, it would lead to the conclusion the TV interview also actually happened on the 5th, and not the 13th.
So, the State's timeline has suddenly become shakier than Keith Richards the morning after a big night out.... that, Butler was not one of the last people to see Hae alive... that everything she testified to happening (albeit in different ways each time) actually occurred eight days previously to Jan 13.
It also leads to the conclusion that Summer's account of what happened that day means jack too…. which, as she was never actually interviewed by the cops, or testified at trial, you would think is pretty unimportant really—however, as Miller points out, it's anything but.
"Why is it important? It's important because like a lot of people, when I listened to Serial, I believed [what Summer said about January 13], and I thought she saw Hae around 2.45-2.55 or so, at school, and that takes us back to Asia McClain…"
Ah, yes…. that name again.
For those who are not as unhealthily obsessed with this case as I and many others are, McClain claims she saw Syed in the library on January 13, "up until about 2.40…"
Which, you may have worked out, would render impossible the prosecution's claim that at 2.36 pm, Syed was strangling his ex-girlfriend to death (in broad daylight), in a Best Buy car park.
The shock emergence of Summer with her entirely credible version of events that day, seemingly kicked Asia's alibi to the curb, and gave cause for doubt to even the most die-hard Adnan is innocent proponent. Then, as seems to be the case over and over, there's yet another curveball thrown. And, if Asia's alibi IS real and genuine, there is no way Adnan was getting a ride from Hay after school, and, no way he murdered her at 2.36 pm…
So, if Summer and Anaise Butler did both get the date confused, that would mean that , according to statements, out of all the other remaining witnesses, Debbie and Ayisha were actually the last two people known to have seen Hae alive?
Right?
Ha! Hell no…. don't think it's going to be that simple! Guess what?
Debbie claims that in her police statement, she did tell the cops she and Ayisha saw Adnan and Hae interact in the school corridor around 2.45pm, as he was on his way to track practice—but, she also told them that there was a third witness present. That third witness was "Takera" [which is not her real name, but the one that is used in Debbie's testimony].
According to Debbie, Takera asked Hae for a ride after school, but Hae turned her down, claiming that she couldn't as she had to go pick up her cousin.
Takera's name crops up several times throughout Debbie's statement to police—there's a second incident mentioned, where Debbie claims that she, Ayisha, Takera and her sister all went to talk with a crisis intervention team that was sent to the school following Hae's murder.
Which begs the question—why the fuck wasn't she contacted and interviewed…. by the police, the prosecution, the defense?!! Well, turns out, the first mention of Takera's name occurs on page 31 of the police documentation for the case—and, the paperwork that was handed over to the defense team ends on page 30.
Finally, there's the mystery of what happened to Hae's pager. Police never pulled the records for her pager—which would seem to be the most basic of school boy errors when investigating a murder victim's last movements and interactions. The pager has never been found, it was not with Hae when her body was discovered, nor at her home or in her car.
What happened to it? Did the person who murdered Hae contact her during the day, and then dispose of the pager after they killed her in order to hide their tracks?
So many goddamn unanswered questions!
Chaurdry concludes:
What we know now is that Hae's day looked a lot different to what we thought it did. Although she had school, as everybody said, she certainly wasn't doing her filming for channel 36 on Jan 13. ..that filming took place the same day she wrote that note to Don, which happened to be the same day she had a match. None of that happened on Jan 13…it all happened on Jan 5…

Other things we know—that we're pretty certain about— is that at some point during the day, Adnan asked Hae for a ride after school, she initially said yes, and then later, in front of a couple of different people, she said no, I cant give you that ride… so that takes us to Debbie and Tikarra—we've heard a lot from Debbie… her police statement, her testimony at two trials… but, we've never heard from TiKarra, none ever contacted her, not the police, the prosecution, the defense…but, she may have been one of the last people to see Hae alive…
So, where does Undisclosed go next? To pick apart the account of Jay's day... of course.