Arts
NOTE: Post has been updated to correct previous error regarding DNA testing of Hae's shirt.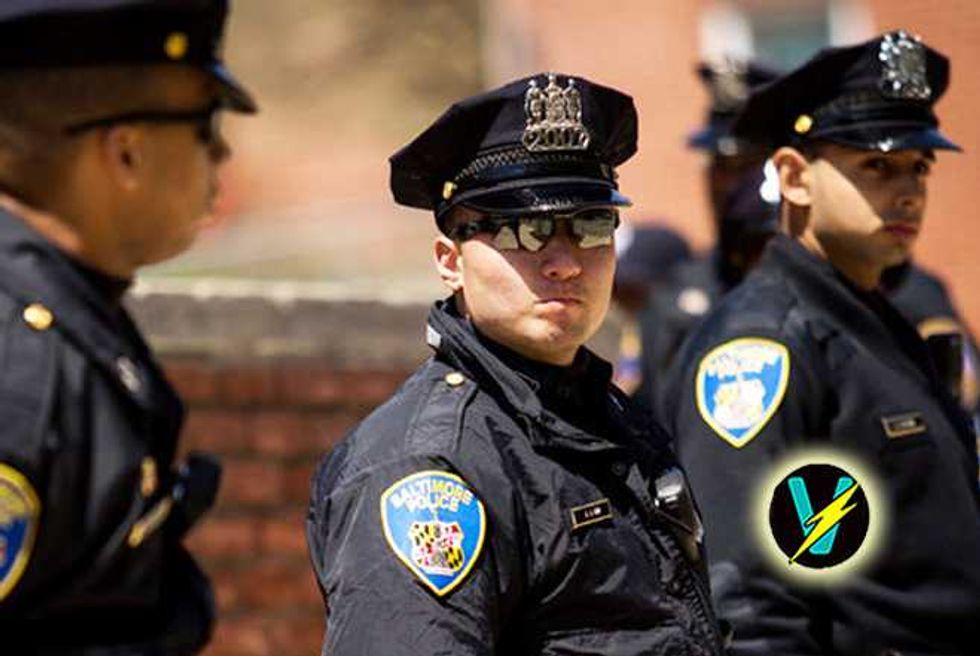 You know that whole innocent until proven guilty nonsense that some people think so important to ensure justice is served and those silly human rights protected?

Well, turns out it's not all that important at all—at least, not when you're Baltimore PD, and you just KNOW inherently that someone's guilty of a crime—or, perhaps, you're Baltimore PD and you just want to close some homicide case quickly and easily, without having to go through all that annoying, time consuming, pesky detective work palaver….
Adnan Syed Alibi Witness Testifies At Hearing For New Trial
Charm City law enforcement has been dogged by reports of racism, brutality, corruption and questionable ethics for years—with a slew of supposedly air tight convictions ultimately being overturned after evidence of police, and or, prosecutorial misconduct comes to light.
And, it's looking more and more likely that another case is about to join the list—that of the State Vs Adnan Syed.
As Popdust previously reported, Syed has spent the past 15 years behind bars, after being sentenced to life plus 30, for the murder of his ex-girlfriend Hae Min Lee, back in 1999—the 34-year-old vehemently maintains his innocence.
Serial—Bowe Bergdahl Taliban Capture Story Is Like Adnan Syed's....But On Steroids
The case garnered national attention last year after NPR reporter, and This American Life producer, Sarah Koenig, covered it in great depth, on Serial, her weekly podcast series. However, after twelve gripping episodes, listeners were left no clearer as to Syed's innocence or guilt.
Rabia Chaudry, the lawyer who first alerted Koenig to the case, along with fellow attorneys, Susan Simpson and Colin Miller, are giving their all in an attempt to remedy that—working tirelessly to tear apart the State's case against Syed—and they are broadcasting their findings every two weeks on their podcast series, Undisclosed: The State Vs Adnan Syed.
Adnan Syed Attorney Says New Phone Evidence Should Overturn Murder Conviction
During the first three episodes of Undisclosed, the team has dissected the State's version of what occurred on January 13, 1999, the day Hae was murdered—pulling to pieces many of the witness statements, and turning up two shocking new accounts of what allegedly went down that day—shredded vital, key pieces of the prosecution's case against Syed; presented the revelation that Hae kept a second diary, which, if found, could possibly hold the key to Adnan proving his innocence; and presented a solid case that Baltimore PD may have coached their star witness, Jay Wilds, and even perhaps coerced him into giving false testimony.
This week's podcast, titled, 28 Days, breaks down the actions of Baltimore PD from the day Hae went missing, through to the day her body was discovered—and, Goddammit, if you don't already have serious doubts about the validity of the State's case against Syed, you will after this—and, if you don't, I seriously do not know what's wrong with you.
Adnan Syed Case Dissected—What ACTUALLY Happened The Day Hae Lee Was Murdered?
Tuesday January 13, 1999:
Hae leaves school soon after 2.20pm, after telling Becky she had somewhere else to be. She is due to pick up her cousin from the Campfield Early Learning Center at about 3.15 pm…but she never shows up. Around 5.15 pm Hae's family contacts the police to report her missing, and Officer Adcock is dispatched to their home at approximately 5.30 pm. Thereafter, Adcock calls both Adnan and Aisha, who was Hae's best friend.
NOTE: So—why would cops respond so quickly? Usually a call about an 18-year-old who's gone AWOL would take a significantly longer amount of time than mere hours in order to launch a police investigation....
Undisclosed—So THIS Is Why Jay Kept Lying His Ass Off About That Day With Adnan
Well, turns out that just six months before Hae disappeared, there was another Woodlawn High student—by the name of Jada Denita Lambert—who had also disappeared. Lambert's body was subsequently discovered in the woods—she had been strangled to death.
Sound familiar? Seems it certainly did to the cops, which is why they were so quick to respond to the call about another missing teenage female student.
At the time of Hae's disappearance, the identity of Lambert's murderer was still unknown—it took three years for police to identify the killer as Roy Davis, following a DNA match from another crime scene. Davis is one of the individuals the Innocence Project is claiming could be the source of previously untested DNA from Hae's crime scene.
Could Hae's Secret Diary Hold The Key To Adnan's Innocence?
Adcock calls the Owings Mills Mall Lenscrafters, and they inform him that Hae has failed to show up to work that day.
Adcock then attempts to contact Don, Hae's current boyfriend, and Lenscrafters co-worker—but is unable to connect with him until around 1.30 am on Jan 14—Don tells Adcock he hasn't seen, or spoken, to Hae since January 12. Don goes on to tell Adcock that he'd been working at the Hunt Valley Lenscrafters that day, as he was covering for a staff member, that he finished around 6pm, and got home around 7. Don says that shortly after arriving home, he got a call from the Owings Mills Lenscrafters, where he usually worked, asking about Hae as she hadn't turned up to work.
411 On Baltimore City PD Corruption, Racism, Witness Coercion And Coaching
Which, as Chaudry points out, is kind of weird, don't you think? Hae was Don's girlfriend, they supposedly had plans to hang out after her shift that day—she was going to call him around 10—yet, Lenscrafters call Don and tell him she never showed up to work; he doesn't hear from her when he's supposed to; they don't meet up…. but, he doesn't call her, or page her, or email her, to find out what's up?
NOTE: Interestingly, during all of Adcock's interviews, nobody makes even a single mention of the supposed wrestling match the State claimed Hae was planning to attend that night.
Thursday January 14:
An ice storm moves in around 3 or 4 am, making road travel conditions very hazardous, and causing schools to shut down for the day.
Did Jay Lie About Adnan Killing Hae, Purely To Save His Own Ass?
Baltimore PD contacts Hae's family to follow up, and they say they still haven't heard from Hae, and they still don't know where she is.
NOTE: This is also the day, according to Jen, that she gets off work and goes to pick up Jay, before helping him dispose of the clothes he was wearing the day before, when he had buried Hae (Jay testified to it being the day before). Jen also claims in her police statement that she remembers it was raining on that day…. which is weird, as there was actually a big winter storm.
Regardless of that, January 14, definitely WAS one of the last days of Ramadan—and, according to three different witnesses, Adnan gave a talk and led prayers at the Mosque that night.
Undisclosed Breaks Down Hae's Last Day, Casts More Doubt On Adnan Syed's Guilt
One of the witnesses even tells cops that he remembers going over notes relating to the presentation, with Adnan, at the Mosque, the night before on Jan 13, the day of Hae's murder—but, he never got to testify to this at trial, so the jury had no idea.
Adnan's father also vividly remembers Adnan's presentation and talk at the Mosque that day, because, he told cops, it was "a very proud moment" for him.
Friday January 15:
School is canceled again, road travel is still hazardous, and the power is out in many places. It's also the 18th birthday of Krista…..Adnan and Hae's friend.
Serial—Bowe Bergdahl, Cowardly Deserter Or Brave Whistleblower?
Krista's parents throw her a party, and a lot of Woodlawn students attend—including Jay, Adnan and Stephanie, who arrive together in the same car.
NOTE: This totally throws into dispute what Jay testified to at trial (GASP!! Noooo! Jay lied about something else? Say it isn't so!!)—that he had only seen Adnan twice since January 13—the first of those times being a couple of days after Hae's murder, when Adnan dropped Stephanie off from school—but, they weren't back in school again until the following Tuesday, for Stephanie, and Wednesday for Adnan), and Jay makes no mention—in any of his seven different accounts of events—of them all going to a party together.
And, let's face it, Jay and Jen going to a party with Adnan, of their own free, happy will, really sort of throws out the whole "Jay was terrified of Adnan" prosecution claim…. along with the "Adnan was threatening Stephanie" bullshit.
Tuesday January 19:
It's MLK Day, and the first day back at school post snow storm. Adnan is not at school however, as it is a religious holiday. People are noticing that Hae is missing, but nobody is really thinking it's a big deal, and the general consensus is that she's probably just run off to be with Don.
Wednesday January 20:
The first day Adnan is back at school since the 13th, and exactly one week since Hae vanished. But, nobody seems particularly bothered still. It's exam time and a half day at school, so the students are not really noticing Hae's absence.
Friday January 22:
It's semester break, and there's no school. Detective O'Shea has taken over the case, and he talks to Don—likely over the phone, but, not one hundred percent certain, as his notes are ambiguous.
Don repeats the testimony he gave to Adcock—that he last saw Hae on January 12—and that she seemed to be happy, but that she was fighting with her mom over phone privileges and breaking curfew.
NOTE: This is also the date the social work seminar occurred, that Cathy-not-her-real-name-actual-name-Kristy referred to in her testimony—so, it's speculated, the actual, real, date that Jay and Adnan went to Cathy-not-her-real-name-actual-name-Kristy's apartment, rather than January 13, as the State claims.
So, it's further possible, the Adnan phone call that Cathy-not-her-real-name-actual-name-Kristy testified to, actually also happened on January 22, and was from O'Shea, ringing around and introducing himself to people involved with the case.
Saturday January 23:
Jay, Adnan and Stephanie all attend another party together, according to Yaser, a family friend of Adnan's, who is also close to a pal of Jay's.
Monday January 25:
The first day of the third school trimester—so everyone is back in school. O'Shea visits Adnan's house and talks to his mom, Adnan is at school, but, according to O'Shea, Adnan calls him later that afternoon. Adnan tells him he was in class, with Hae, up until about 2.15 pm…but he didn't see Hae out of class, till after school, and thereafter he went to track practice
People don't seem too concerned about Hae's disappearance still…One teacher, Mr. Terry, notes Hae wasn't at school on the 25th—and, on the 27th, when she is still absent, Terry writes a note to the attendance office and calls Hae' parents; no-one seems to be treating it like a serious matter though at this point, and the general consensus still, amongst students, is that Hae's run off to be with Don, or to see family in California. Teachers note in records that Hae didn't attend school, but, as one teacher noted, she had a high GPA, so could afford to skip a few days of school without having her grades affected. Students were, in the words of Hae and Adnan's English teacher, Miss Effron, "remarkably unconcerned" about Hae's disappearance—an observation echoed by two other teachers in their police interviews.
In fact, it wasn't until three weeks after Hae's disappearance that a faculty meeting was called to discuss it.
NOTE: There's no cell phone record of Adnan actually making that call to O'Shea, on that date…so, perhaps it happened on another day?
An important part of Adnan's appeal request is ineffective counsel at trial, as nobody contacted Asia McClain, a potential alibi witness, to talk about her claim that she saw Adnan in the library, at the exact time he was supposedly strangling his ex-girlfriend to death.
The State has always shot this down, insisting Asia's claim is incorrect—citing O'Shea's report that Adnan told him he had stayed in school until track practice, so there's no way he could be at the library.
But, hey…. actually READ the report dudes!!! Adnan doesn't actually say that he stayed on the school campus, just that he saw Haw after school.
Oh, and, according to O'Shea's report, he doesn't bother to ask Adnan if he he had asked Hae for a ride after school….. a kinda important part of the investigation, one would think.
Wednesday January 27:
Aisha speaks to O'Shea about January 13—the first record of anyone, aside from Adnan and Don, being officially interviewed by cops.
O'Shea's notes on the interview are glaringly short and concise in detail—noting just two things: Aisha said Hae had told her she was in trouble with her mom, but nothing so significant as to make her want to skip town. And, Aisha said she last saw Hae at the end of class, at 2.15pm, that she was in good spirits, and didn't mention any problems.
Oh, BTW...O'Shea's notes on the interview aren't actually written up until February 14.
NOTE: So, one HUGE question here, what did Aisha tell O'Shea that didn't show up in the February 14 note version of the interview?
Well, you may remember that during the first Undisclosed podcast, Krista said that Aisha told her she had heard from Hae's brother and they couldn't find Hae. Krista asked if anyone had spoken to Adnan, as she had heard him ask Hae for a ride during first period class…. and Aisha said, no, because Hae told her during psychology class, last period of school, that something had come up so she couldn't give Adnan a ride anymore, and therefore she didn't think it actually happened.
Chaudhry shares, "Something that's bothered me about the files from the Baltimore PD, is that almost all the files are dated February 14, that's after Hae was found, and after Adnan was identified as the suspect. Which means, all of this is written in hindsight, meaning the police think they know who the culprit is—you can see the notes kind of reflect that. They are so terse, so devoid of any details…. they basically just say, 'yep, Hae was happy, she wasn't running away, nothing of note to see here.'
"There had to be more than she seemed happy, wasn't planning to run away to California…..there had to be more that would be important to the investigation.. but it's never included in the report."
Thursday January 28:
O'Shea talks to Debbie, who becomes the first major witness in the case—before later being written out of the prosecution's case due to her testimony not fitting with the State's time line of events.
Debbie says she saw Hae at school around 3pm on Jan 13—a claim that cops initially circulate as being factual, and the time that all news reports run with as a fact.
NOTE: This could be why Adnan initially overlooked the importance of Asia McClain as an alibi witness—because he knew Debbie claimed to have seen Hae, still alive, at 3—whilst the State claimed she was dead sometime before 2.40 pm.
On a side note, Debbie seemed to think Don knew where Hae was—and, in some bizarre Nancy Drew attempted maneuver, set up a secret email account to contact him anonymously, and ask if he knew anything about Hae's disappearance. Debbie claims this eventually led to a seven hour long phone conversation between her and Don—during which, they discussed Hae and where she may be. However, by the end of the alleged call, Debbie says that she was convinced Don didn't know where Hae was…and that Don thought maybe Adnan had been responsible for her disappearance.
And, that's when students start to rethink the theory that Hae's probably just hiding out with Don.
Monday February 1:
O'Shea conducts a series of further interviews. He speaks to Hae's French teacher, Ms. Schab, who, according to O'Shea's report, had nothing of much significance to say.
NOTE: According to Schab, she then becomes a go-between for Woodlawn high and the cops, after O'Shea gives her a list of questions to ask students, including ones like, "do you know where Hae and Adnan used to hook-up?"
O'Shea also talks to another teacher, Inez Butler, who tells him Hae was NOT going to a wrestling match that day, and that when she talked to Hae on the 13th, she told her she was having problems at home, and wanted to contact her family in California.
O'Shea also talks to the manager at the Owings Mills Lenscrafters….. who confirms Don was working at the Hunt Valley store that day, but doesn't say how they know that.
NOTE: Is it possible it was just that Don told her that? Well, we'll never know, as cops didn't bother to interview anybody at the other store..and no attempts were made to verify Don's story that he was working there.
Most significantly, O'Shea also talks to Adnan on the phone, for the second time, officially. According to O'Shea's notes—which, once again weren't written up until February 14, after Hae's body had been discovered and Adnan had become a suspect—he quizzes Syed over Adcock's account of their conversation on Jan 13….during which, Adcock claims, Adnan told him Hae was supposed to give him a ride home after school, but he was running late, so, Hae probably left after waiting a short while.
Adnan corrects O'Shea, and says, 'nope didn't say that, I had my own car that day'….this is later used at trial to show Adnan was lying….
As Chaudry points out, "What's interesting is that O'Shea waited till February 1 [to ask about the ride]. O'Shea's report of his interviews with Adnan, were, like the rest of his records, written on February 14. So, again, they're written with hindsight.
"They're written after the body has been found, and after Adnan has been identified as a suspect in Hae's murder. And, this is the first time the ride has been mentioned since Adcock's report…. and, it does raise the question, why didn't he ask on the 25th about it, but, does ask on the 1st?
"Between those two interviews he talked to Aisha, and according to Krista, Aisha knew about the ride request… which raises the possibility that's where O'Shea learned about it."
Tuesday February 2:
O'Shea interviews Yoon Sin—Hae's mom's ex-boyfriend who lives in California. He tells O'Shea that he and Hae's mother were never married, but lived together for a time in 1996, along with Hae and her brother, and that he hasn't seen or heard from Hae since before her disappearance.
Wednesday February 3:
Three weeks since Hae disappeared and there's just one note in the police record for that date—a print out from the database cops use to pull criminal records on individuals. And, the only record they pull is Adnan's.
"What's startling to me about the fact that on Feb 3 they are only pulling Adnan's records," Simpson says, "is that this is before there's any anonymous call made, before [Adnan's] cell phone records are pulled—especially as they have a witness saying the last time she saw Hae, she said 'I'm going to go see Don.' It would make sense that at least Don's records would be pulled too… so, it's really odd that only Adnan's records would be pulled at this time."
Thursday February 4:
The Baltimore Sun issues a request for information on a missing woman—Hae Min Lee. Their subsequent report notes that according to cops, Hae was last seen around 3pm at Woodlawn High. She was supposed to pick up her 6-year-old niece and go to work, but she did not do either.
NOTE: Once again, no mention of the wrestling match….
Also, the date of the first TV report about Hae going missing, something Jen references remembering in her first official police interview on February 26—as, she bizarrely tells cops, Jay came up her whilst she was drinking with her friend Nicole in a bar and said "they just said Hae's body is missing, I just saw it on the TV."
The cops ask Jen what she means by this, and she quickly corrects herself, saying, "Oh, I mean, she's missing…"
Meanwhile, Jen goes on to tell cops that she told Nicole she knew who had murdered the girl they were taking about on TV….however, cops don't bother to talk to Nicole—at least, according to records.
Saturday February 6:
Cops use dogs to search the woods surrounding Woodlawn High. A map of the search area, included in police records, shows they suspected a possible link to the [at this time still unsolved] Lambert murder case from six months prior.
Monday February 8:
Adnan makes a cellphone call to O'Shea, but, no details of what that call was about are included in his records.
O'Shea seizes Hae's computer to examine it for evidence. Detective John Rau, of the Computer Crimes Unit, requests computer records from AOL in reference to Hae's email account. However, a week later Rau informs Detective MacGillivary that he was asked to cease his investigation after the case was turned from that of a missing person to homicide, and transferred from Baltimore County to Baltimore City.
From that point on, there is no mention of the computer, or Hae's email account and any other online records, being searched. And, that's also the time when Hae's computer, along with her floppy disc secret diary, mysteriously disappeared out of police evidence, forever, never to be found again.
Tuesday February 9:
We conclude with the discovery of Hae's body. Baltimore PD gets a call from the mysterious Mr. S, who claims that he was desperate to pee while driving through Leakin Park, so he pulled over, walked into a wooded area and discovered the partially buried body of a young Asian female. The PD thinks his story weird, and he quickly becomes a suspect. They pick him up from his work, drive him to the park, he takes them to the body and haul him off to be interviewed.
There's scant evidence available for examination when it comes to Hae's body and the crime scene, however—as, bizarrely, the on-scene coroners didn't make any written notes at the time, by order of the State.
Actually, scrap that… not quite so bizarrely, it turns out—because, if there's no written reports then the State doesn't have to turn them over to the defense during pre-trial discovery.
There is one brief note of the coroners findings though, which was written up at a later date by a third party.
It reads:
Body partially buried. Body partially exposed. Could not see from street. They found two pieces of trace evidence—bright orange fiber towards shoulder area and another fiber that was fluorescent blue. The orange fiber was synthetic and on top of body, the other was underneath. Fiber does not belong to the victim's clothing.
Rocks piled on her. Area had been dug out. Dirt over it. Large rocks on body, one on hand. Keep animals from dragging body off. Way body is exposed, animal activity.
Soil samples, typical of wooded area, highly organic. Collected plants, green plant material, couldn't tell if tool used.

Meanwhile, despite a ton of debris scattered all around the roadside, surrounding the area—only three items were actually taken into evidence—and, they were all found in the immediate proximity of Hae's body.
ONE: Feathers—or a feather (referred to in both singular and plural in reports)—found two feet away from Hae's body on a log. There are no pictures of the feathers however, no descriptions, nothing… so, no idea if they were bird feathers, or from a down jacket.
TWO: A rope—or a section of clothes line—or a section of insulated wire (depending on which report you are reading)—found 5 inches from Hae's body, which was never tested for DNA, and has since gone missing from evidence….. which is insane, when you think the victim was STRANGLED…. so, it's conceivable it could have actually been the murder weapon—and, as noted in the autopsy report, there were marks on Hae's neck that were consistent with the killer either wearing gloves or using a ROPE.
THREE: A brandy bottle—found 8 inches from Hae's body, that contained human skin cells which were successfully retrieved from the neck of the bottle—BUT, never tested for DNA!!!!
Hmmm….. wonder why?
Well, by that time, the cops had already quizzed all of Adnan's friends about whether he drank, to which the majority replied no, and a few said he had had a drink on New Year's Eve recently, but that's it. So, it's highly unlikely Adnan would have been suddenly chugging down bottles of brandy in the woods as he's burying his ex-girlfriend's body….
So, hey, let's NOT test it, just in case somebody else's DNA shows up, and just confuses our nicely put together case, yeah?
According to reports around that time, this was pretty standard practice for Baltimore PD—don't send for DNA testing if you think the results will "complicate" the investigation…. i.e.: let the suspect you've fingered for the crime off the hook.
One piece of evidence that was tested for DNA though in September/October of 1999, was a shirt with a blood stain that was discovered in Hae's car—it came back as a match only for Hae's blood.
Oh, and get this…. the examiner noted in their report that the seal on the container that held Jay's blood sample was intact upon arrival at his office, but the seals on both Adnan's and Hae's had been broken…. So, had DNA testing actually been carried out on other evidence previous to the shirt, but was subsequently buried and never disclosed?
So, here's a summary of murder case fabrication 101, Baltimore PD style:
Pick your suspect, totally fabricate a time line to fit with your theory of how the murder went down, coerce witnesses into giving testimony backing that up, coach them into giving details that fit, get them to change their testimony time and time again as the pesky facts of what actually happened start contradicting your fabricated time line, remove any witness accounts or statements that conflict with your theory from public record, don't interview any witnesses you suspect may back up your suspect's testimony, don't bother interviewing any witnesses that could potentially provide an alibi for your suspect, and, pick and chose what evidence to DNA test (or which test results to disclose) in order to seal your fabricated murder case tightly closed.
Nice work guys!