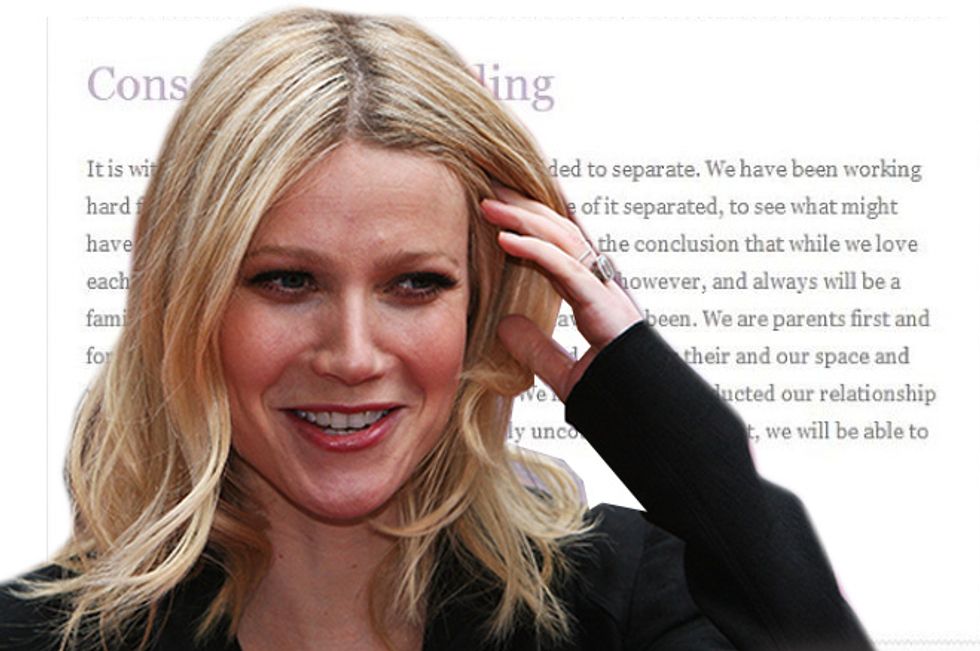 Gwyneth Paltrow and Chris Martin are a notoriously private couple so it was kind of a shock that they publicly announced their separation—even if it was via Gwynnie's website GOOP.
What wasn't shocking however was the lovey-dovey, new agey language the statement was written in—I mean, we all know Gwyneth LOVES that shit.....along with yoga, Organic everything, natural bush and Oprah Winfrey.
But, let's face it…. do a couple who are splitting up really still "love and respect" each other? Do we ever really believe that claptrap? I know I don't… but then I'm a bitter old cynic.
And with that in mind here's a stab at what I believe that statement (which you can read HERE) was like BEFORE it was carefully edited and finessed to meet the right tone.
Unedited GOOP announcement (probably):
It is with saddened hearts that my husband the selfish prick Chris Martin and I have decided to separate after trying to seem like a couple for the last hundred years, it feels like.

We do not like the D word as it makes the children cry and my mother will say 'I told you so!' which I am so totally sick of hearing. We have made up the term 'Conscious Uncoupling' and I think I might copyright it. It means that we are really really aware of what we're doing, unlike the rest of you who are not really present, if you know what I mean.

So okay, Conscious Uncoupling. It is all we can do to say each other's name  right now but watch this: Chris Martin, Chris Martin, Chris Martin. I win!

While we have tried everything to stay married, nothing worked but in a way, we are closer than we have ever been before. We can now speak our minds, and I really let that prick have it. I expect that we will only grow closer when we go public with our (alleged) past and current affairs.

Got that, Chris Martin, Rockstar Esquire? Past AND present. Namaste, motherfucker.