FILM
Brie Larson's directorial debut is a Lisa Frank fever dream that celebrates the magical thinking of every girl's childhood—as long as that girl is white, upper middle class, has two attentive parents, is educated, and fixates on rainbows.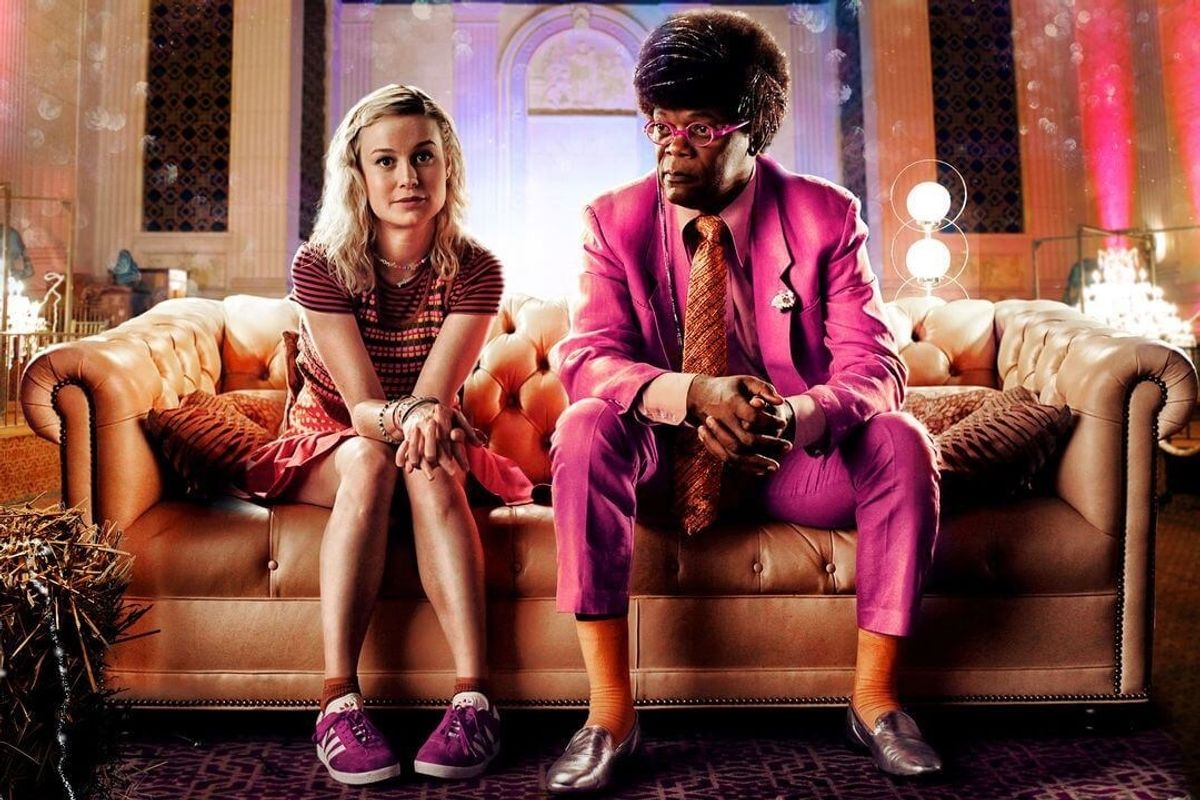 What's On Netflix
Conceptually, Unicorn Store is a colorful snapshot of the Millennial condition: Kit (Brie Larson) is a twenty-something-year-old art school flunkee who's stuck in the transitional period between watching infomercials in her parents' basement and discovering her capital-P Purpose in life.
But just when she's loosening her grip on her childhood dreams, she receives a mysterious, glitter-covered invitation to The Store, where The Salesman (Samuel L. Jackson) offers to make her fantasy come true: owning a unicorn.
In reality, the film functions more like an overlong character study than a feature. As Brie Larson's directorial debut, Unicorn Store is a Lisa Frank fever dream that celebrates the magical thinking of every girl's childhood—as long as that girl is white, upper middle class, has two attentive parents, is educated, and is inordinately fixated on rainbows and unicorns. But the film asks you to assume these characteristics are universal to girlhood. The overabundance of Kit's rainbow-colored clothing, Care Bears, as well as her references to being "all grown up now" creates a heavy-handed caricature of youth, which is perhaps designed to poke fun at its own naivety while also praising it. But it's still overkill that throws the film off balance.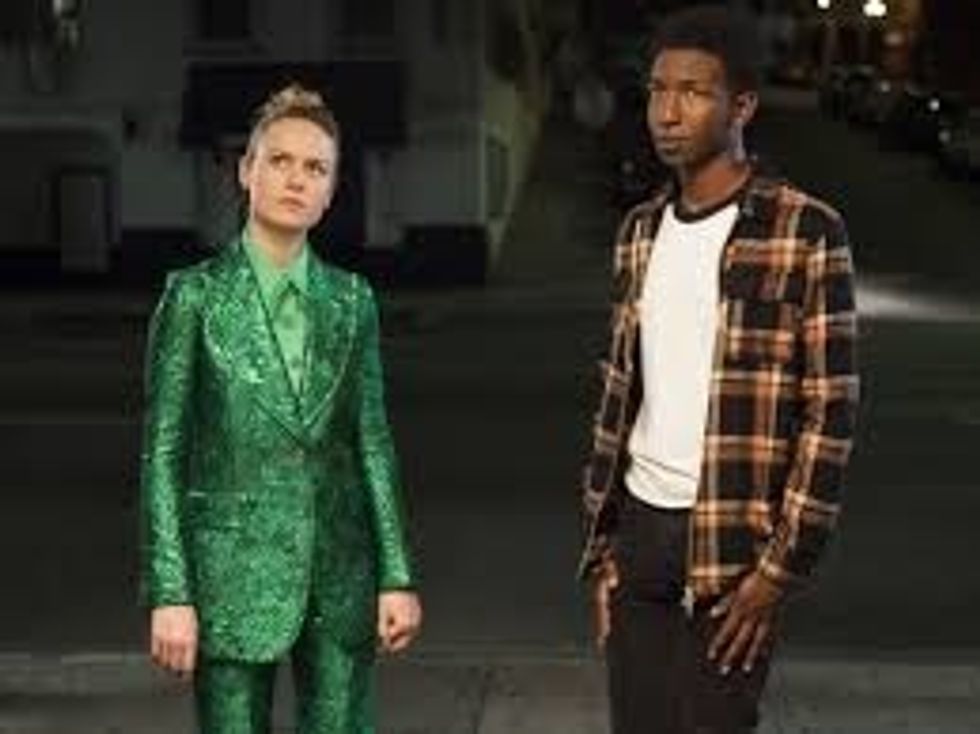 NhPR
The film is also the first feature screenplay by theater actor Samantha McIntyre, which is reflected in the film's weaknesses. While a number of screenwriters have found success in theater and vice versa (particularly in the last five years), theater is driven by character and not plot. Kit's strong voice is disproportionately relied on as the driving force of the film. What happens around her feels irrelevant, as each scene is more focused on showcasing her witty and irreverent sense of humor than the narrative arc.

For instance, in one moment with her parents (Joan Cusack and Bradley Whitford), who counsel troubled youth as painfully earnest life coaches, Kit's asked to contribute to their "truth circle." Instead of elaborating on the breadcrumbs of inner conflict hinted at throughout the movie (Kit believes no one can ever love her, says she has "famous temper tantrums," and "no wonder why [she] doesn't have a boyfriend'), Kit delivers a superficial monologue about never having a pet as a child. The reason she's fighting to get her life together is so she can experience the unconditional love that only a unicorn can give her.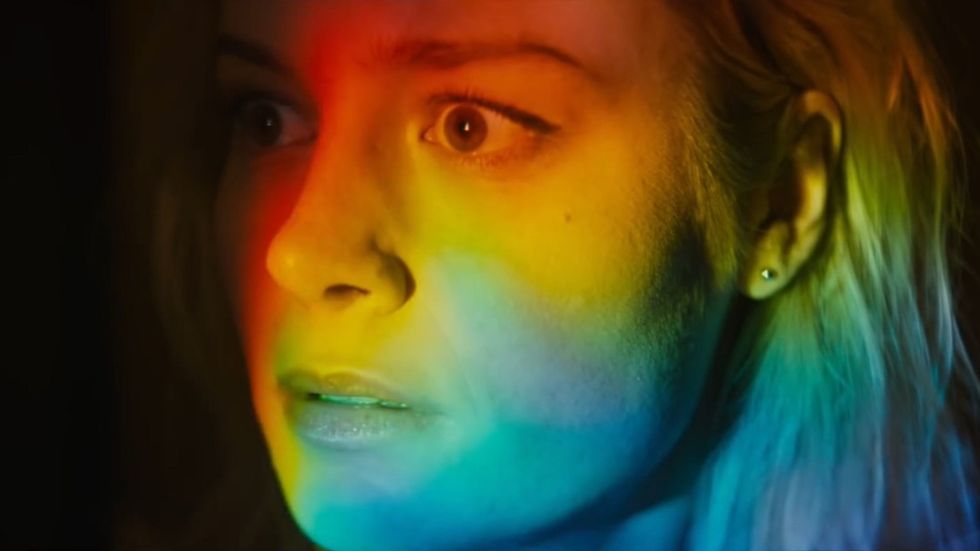 Netflix
As for the unicorn, its symbolism is ambitiously overblown, as it's built up to represent Kit's self-actualization, strong emotional connection, and letting go of childhood. As a director, Larson emphasizes the contrast between the whimsical freedom of childhood and the drab routine of adulthood with emphatic use of rainbow patterns that, as one stern businesswoman tells Kit, "reads a bit childish."

Ultimately, the film's point about being unafraid to grow up and staying true to oneself is trite. Despite Larson's energetic performance, the main character is naive. The characters are so devoid of genuine confrontation that they lack real dimension. One of Kit's concerns is that her boss has impure intentions when he offers to mentor her. She asks her friend, Virgil, "am I pretty enough to be sexually harassed?" It could be a pithy line as entry into a deeper conflict, but it lies there in dead air, as they move on to talk about chips.
While the cast is full of charismatic presences, from Cusack and Whitford's intense performances as concerned parents to Samuel L. Jackson's fervent energy while wearing a glitter-covered suit, Unicorn Store is an outdated ode to girlhood that doesn't trust its audience to understand nuance.
---
Meg Hanson is a Brooklyn-based writer, teacher, and jaywalker. Find Meg at her website and on Twitter @megsoyung.

---
POP⚡DUST | Read More...
Every Time Jameela Jamil Has Taken Down the Kardashians
Body Positivity: Seven Celebrities Who Think You're Hot Just the Way You Are