Top Stories
LIVE | This year's Unit J block party event promises to be bigger than ever.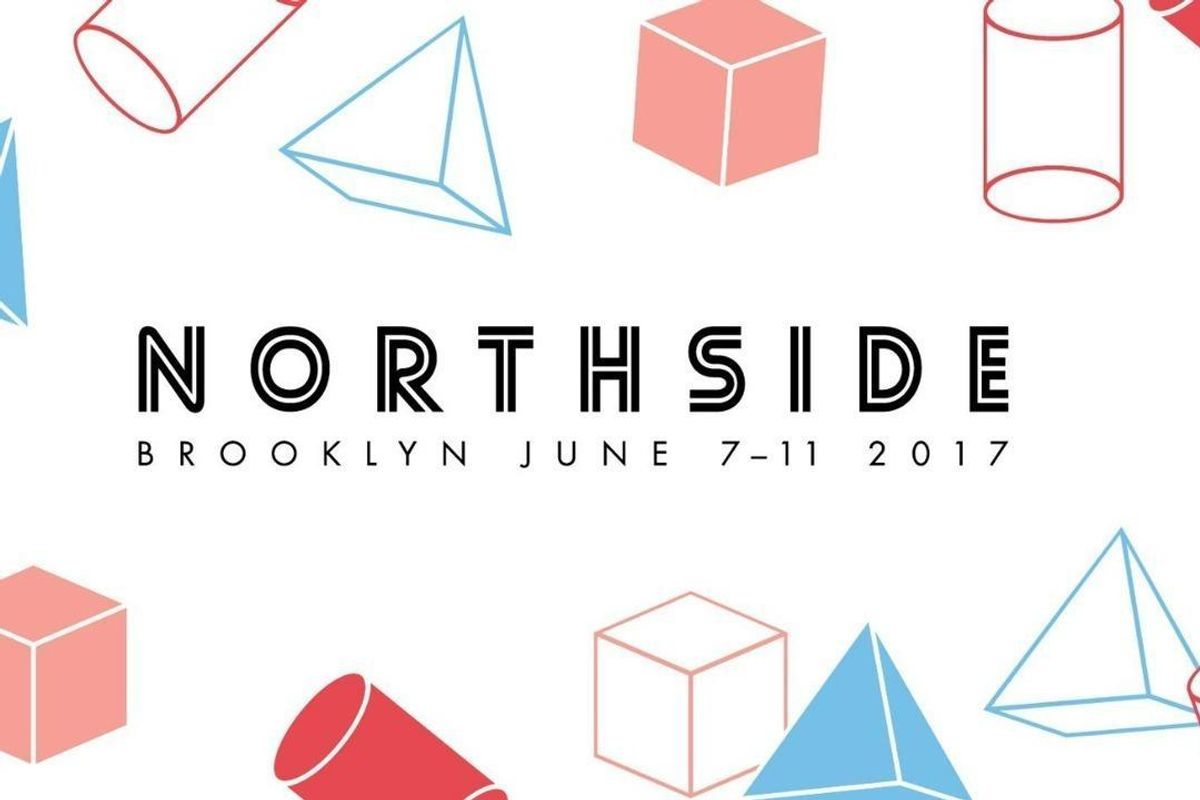 Unit J lineup includes Belle-Skinner, All Types of Kinds and Mizuna.
Tomorrow (June 7), the annual Northside Festival kicks off with a wide-ranging, genre-bending lineup. Now in its ninth year, the event promises major performances from such acts as Dirty Projectors, Miguel, Girlpool and many others. Unit J, a collaboration of six creatives who turned their Bushwick loft into a makeshift screening theatre and concert space, is also expected to be a must-see vision of the five-day festival, which also includes an innovation conference and has drawn 100,000 each and every year since its inception. "There's no place like Northside to develop your professional network and connect with colleagues who will transform your career or your business. Northside Innovation will feature talks on emerging tech, media innovations, the future of original video content, startup pitch competitions, talks on design, tactical workshops for entrepreneurs, and cultural discussions with Brooklyn influencers," reads the event's mission statement.
This year's keynote speakers and interviews include Rebecca and Uri Minkoff, Uber's Travis Kalanick, Samsung CMO Marc Mathieu, PayPal CEO Dan Schulman, Amazon CTO Werner Vogels, GE CMO Beth Comstock, Gretchen Rubin, and Debbie Millman, Ryan Leslie and Mondelez's B. Bonin Bough, New York Times' Seb Tomich. The general lineup also features Craig Leon and Martin Rev, Downtown Boys, Elvis Depressedly, Elysia Crampton, The Explosion, Foodman, Happyness, Hoops, The Hotelier and Jay Som, among many more.
Get more information about the festival here. Admission for the Unit J-hosted events (outlined below) run a meager $5. So, you have no reason not to enjoy the heat and some good tunes.
Check out an event teaser below:
Last summer, the record label extension of Unit J launched to much fanfare. "You'll feel an overwhelming amount of creative energy and support from the musicians. We're building a scene based on collaboration and community rather than cut-throat competition. We've pulled together our 10 favorite bands and 10 favorite short films and put them all on one bill. This is our (Unit J) family, one of the founder's Dru Cutler spoke to AXS.
Funny enough, Cutler had never met his five other collaborators before he moved into the loft. "My girlfriend moved to the Midwest, and I had only one week to find a new home. I stumbled across this empty warehouse that was looking for another roomie," he told Indie Band Guru. "We all moved in on day one and met each other. We were rolling the roommate dice, really. We had five dirty couches, a giant pile of unopened boxes and an LED TV sitting on the floor playing Game of Thrones on loop. Our hot water constantly turned off and strangers were regularly sleeping on our floor. It was a miserable place."
Check out this year's Unit J lineup below:

Lantern Hall to feature folk and acoustic-based acts.
5:00pm - Belle-Skinner
5:30pm - Niall Connolly
6:00pm - All Types of Kinds
7:00pm - Mizuna
8:00pm - B.R.Mackie
9:00pm - Maria Colores
10:00pm - Hayes Peebles
11:00pm - Megg Farrell & Friends
12:00am - Mama Juke
1:00am - Unit J family jam
Pine Box Rock Shop to feature rock acts
6:30pm - Dirty Bird
7:30pm - Ghostly Times
8:30pm - Gold Stars For Everyone
9:30pm - Inalukt
10:30pm -Dru Cutler Music
11:30pm - Echo Moth
12:30am -Tongues Unknown
Venues are located, as noted below:
Lantern Hall: 52 Harrison Place, Brooklyn, NY 1123
Pine Box Rock Shop: 12 Grattan St, Brooklyn, New York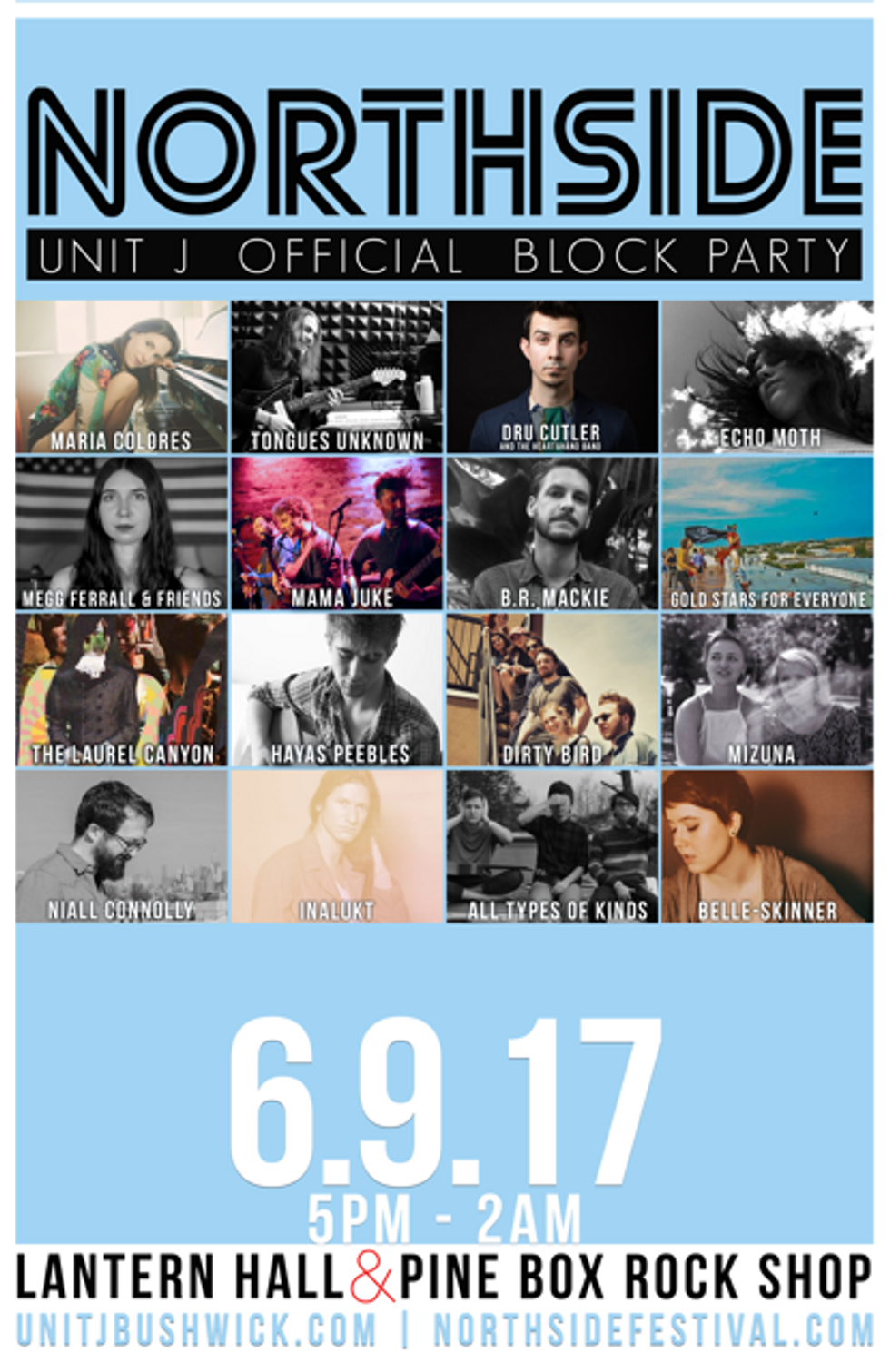 Unit J
---
READ MORE ABOUT MUSIC...
Stream Major Lazer's surprise EP 'Know No Better,' featuring Camila Cabello and others
LISTEN | Lorde gets lost in "Perfect Places" with new song
PREMIERE | Brit Daniels haunts with her new single, "Shadows"