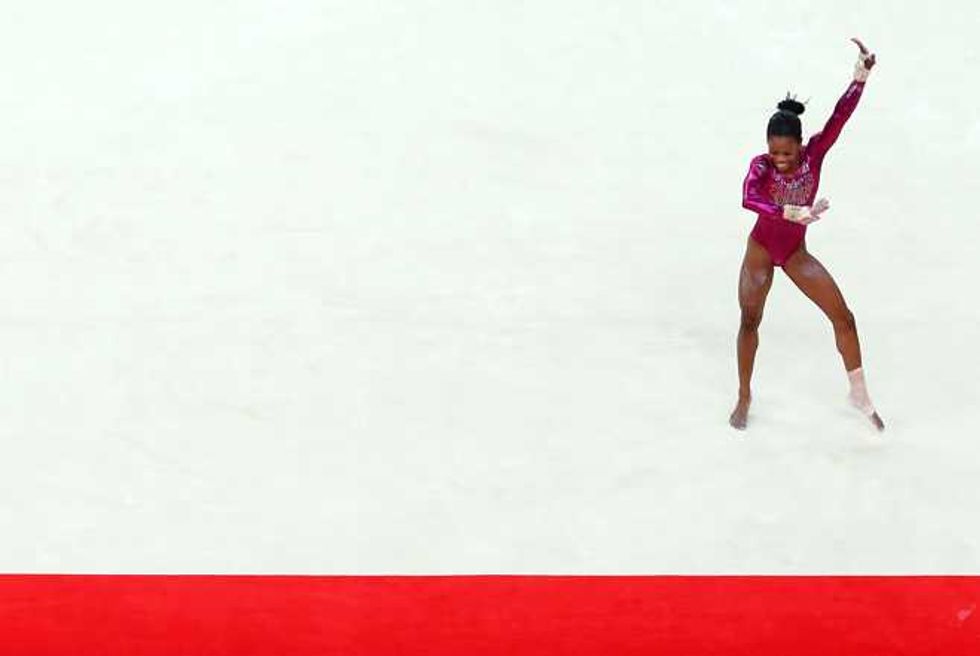 After spending much of Wednesday tweeting with Justin Bieber, Lady Gaga, and someone named Barack Obama in celebration of the U.S. women's gymnastics team gold, Gabby Douglas returned to the gym on Thursday night to add the title of women's all-around champion to her growing resume. By winning the premier solo event, the 16-year-old became the first African-American woman to win all-around gold and the third consecutive American to take home the title, following Nastia Liukin in 2008 and Carly Patterson in 2004.
Maintaining a lead throughout all of the events, Douglas finished before Russia's Viktoria Komova and Aliya Mustafina. Mustafina edged out Gabby's teammate Aly Raisman, whose parents are likely working out their feelings about the unexpected loss in a North Greenwich parking lot, before sending the footage to programmers at TLC, Lifetime, and Bravo.
While much of the country appears to be taken with the 4'11 champion nicknamed "Flying Squirrel," the music world is particularly smitten (see: Gabby and Nicki Minaj's sweet exchange from last night). In an interview before competition began, Douglas revealed Beyoncé was her favorite artist, applauding the singer for her fierceness on stage—a quality she's clearly adopted for the gym. Along with an appreciation for The Queen—the unifying link that bonds us all—Douglas performed her winning floor routine to "We No Speak Americano," as in that mind-numbing techno jam by Yolanda Be Cool & DCUP that you haven't been able to get out of your head since 2010.
Perhaps more important than the medal itself is connecting with the Queen. After Douglas was honored with first place on Thursday, Beyoncé took to her site to congratulate her amazing accomplishment with seemingly genuine awe at her abilities ("Wow"). Fairly expected, with this being the first "social media games," and Bey's proven savvy and desire to be in the digital conversation, but still enough of a thrill that Gabby could talk about nothing else until the end of time and we wouldn't think twice.
Thus begins the window for Gabby Douglas and Fab Five-related programming; it's a small one, but it is vast. We previously suggested Douglas and her teammates release a single, appeasing those looking for a girl group and willing to settle for young women who can distract from any vocal shortcomings with insane flexibility. As for Gabby, "Teach Me How to Douglas" seems like an obvious choice, but we welcome you to share any of your ideas in the comments below.