usher nude selfie accidentally reveals all
The Usher nude selfie that he posted today on Snapchat, shows just a little bit more than he intended it to we think.
Let's just say, Oh My God….
Size really does matter.
Oh come on!! Get your minds out of the gutter!!
When we talk about size mattering, we're talking about the size of the emoji you pick to "cover-up" your dick in the totally nude selfie you post on Snapchat.
Because, as you can see below, Ush picked an emoji that was just a teeny tiny little too small.
Which is definitely something that can't be said about the junk it was supposed to be covering.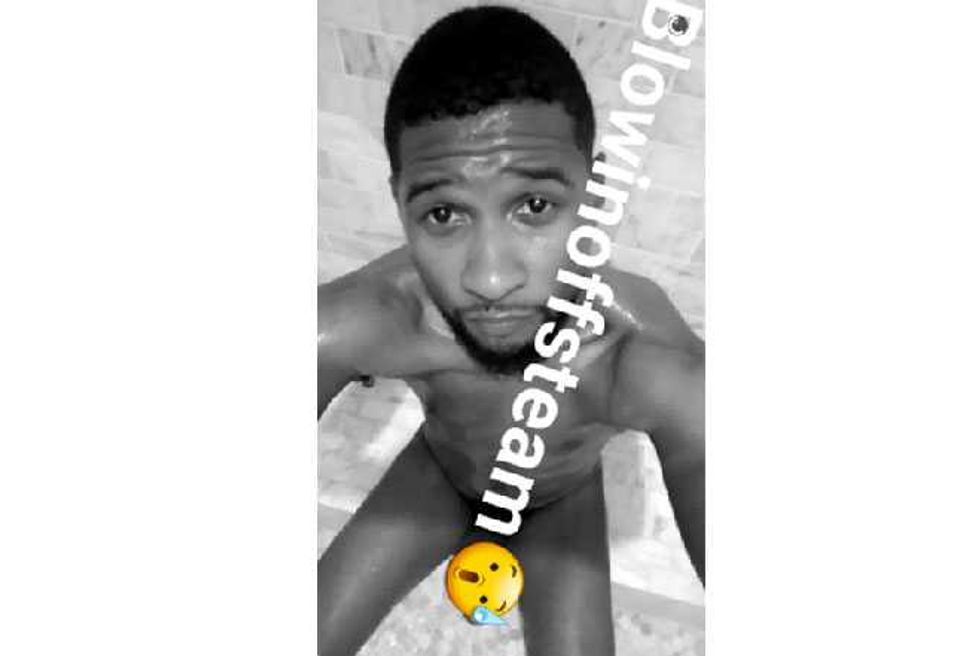 The Usher nude selfie came at the end (no pun intended) of a series of Snapchats (that didn't include his dick).
The previous pics were basically Usher giving the world a tour of his home.
Kicking off in the living room, he then progressed to the bedroom, onto the bathroom.
Then into the steam room, to "blow off some steam" and create some serious thirst all around the interweb.
And, once that was done, he went and brushed his teeth.
Because, he's Usher Terry Raymond IV bitches, and that's how he rolls.
Meanwhile, we're clearly going to have to make an addition to our Biggest Dicks in Hollywood gallery.
For more entertainment, music and pop culture updates and news, follow Max Page on Twitter
15 Celebs Who CLEARLY Have No Problem With Nudity As Evidenced By These Naked Pics
Justin Bieber Is Yummy, Too Sexy For His Shirt
The Most Inappropriate, Worst, And Downright Dreadful Selfies
Dude Accidentally Sexts Naked Selfies To HR Manager Who Just Offered Him A Job
Kim Kardashian Feeds Selfie Obsession With Quickie Airplane Toilet Photo Shoot
More People Have Died Taking Selfies Than In Shark Attacks This Year