jax taylor stealing sunglasses
Vanderpump Rules' resident stud / villain, Jax Taylor has been caught on camera stealing a pair of glasses from a Sunglass Hut.
Jax, who has a long history of lying and cheating, and if you have ever watched him will know is the very definition of sociopath**, was arrested on Friday for allegedly stealing a pair of $300 sunglasses in Honolulu, Hawaii.
PumpRules—Sex And Drugs And Getting Jax'd—Oh My!
TMZ has the security footage which is pretty damning—he is seen selecting the sunglasses, admiring himself out in the mirror (of course), then passing behind the sales terminal and kinda sticking a foot out (checking for an alarm perhaps?) before scooting out of sight.
According to TMZ he was arrested at a hotel a block away and charged with a felony, because $300 is the minimum amount for felony theft in Hawaii.
Vanderpump Rules Cast Makes HOW MUCH An Episode???
Part time model and full time bartender at Sur, Jax ("call me Jax the name I selected for myself") has been posting on Instagram this week from the island where he was celebrating his 36th birthday.
Jax was ringing in another year with his Vanderpump Rules castmates and new girlfriend Brittany Cartwright (has she never seen the show?).
Vanderpump Rules Star Stassi Schroeder—Yes, I Have A Sex Tape!
The Bravo cameras were also in attendance so it will be interesting to see if the aftermath of his arrest is alluded to in the upcoming season four .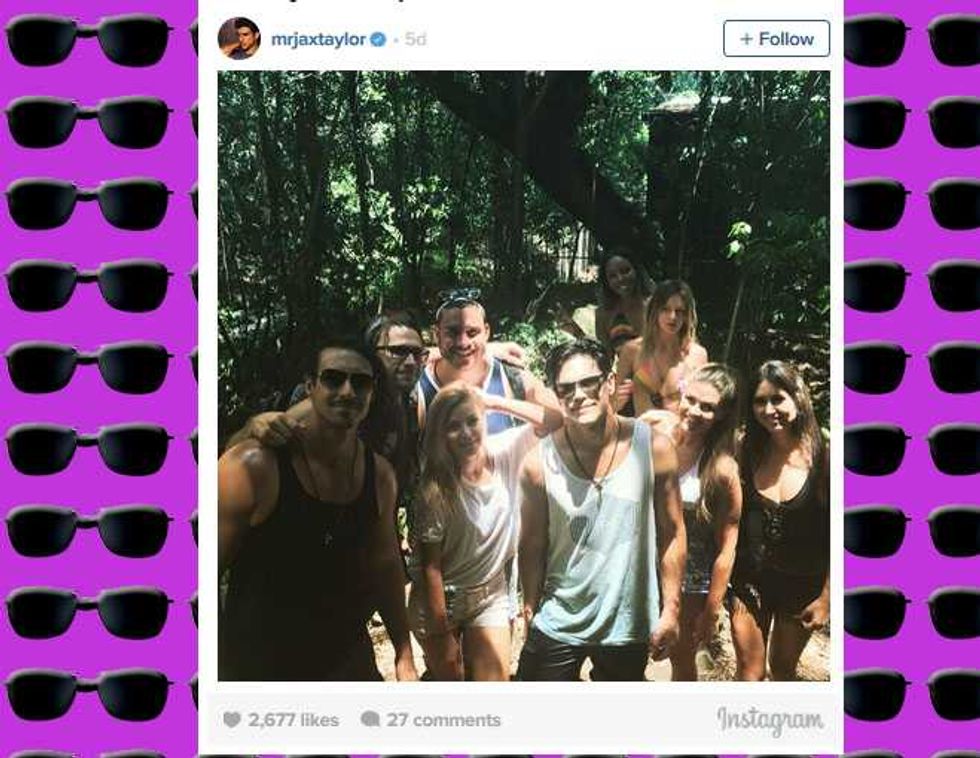 Jax and the Vanderpump gang.
**Not wanting to throw the sociopath word out there lightly, we took an online test on his behalf and the results were conclusive—"You are (scarily) an out and out sociopath, get a lot of therapy and quick!"