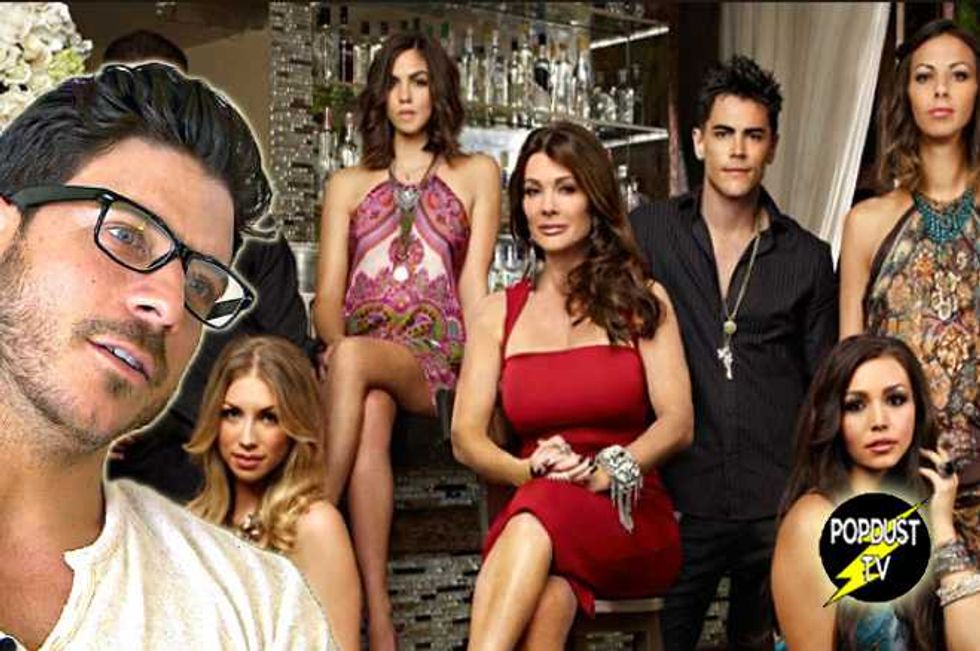 As we saw on last week's Vanderpump Rules, Jax Taylor is getting a nose job because "he has a deviated septum", which really means "my nose is huge and I'm a girl".
Prior to surgery, Jax meets up with his two best buds, Tom Sandoval and Tom Schwartz. They pour themselves beers out of brown bags outside of an eyebrow threading studio. They're pre-gaming the pain, if you will. Despite all the insanity that went down last season between Tom and Jax, they seem to have really put it behind them and can support one another during the tough times, like getting their eyebrows waxed.
Only in LA, people. Only in LA.
As Popdust previously reported, last week, Kristen Doute went over to ex-boyfriend Tom's apartment to pick up the cable box. She cried for the entire visit and we're pretty sure she had her makeup done, but Tom was more concerned that he was losing shows on the DVR. His new girlfriend, Ariana, was there to watch the shit show go down, but kept her mouth shut the entire time.
Stassi Schroeder made an appearance back at her old stomping grounds, SUR. She claims she was there to get some cheese balls, but made sure she talked some shit before she left.
Stassi questioned how she is okay with her best friend, Scheana Marie, being friends with Kristen. Ariana says she doesn't let it bother her because Kristen isn't worth the time of day. Stassi is mind blown by her logic. If that was her, she'd most definitely just light them all on fire.
Meanwhile, as you may recall, Katie Maloney has been on her hands and knees begging Lisa Vanderpump to hire her boyfriend, Tom. She was against it for so long because he was conveniently involved in many of the brawls that have gone down with the SUR gang. However, she gave in and offered the resident pretty boy a job. Schwartz, in turn, had a panic attack during his shift and walked out. Did we mention it was a bartending gig at a gay bar……
Stassi and Katie met up for some cocktails and shit talking. Katie is pissed at Schwartz for making her look like an idiot after he walked out on his shift. Stassi consoles her by saying how successful her boyfriend is. Comforting. Katie informs her that Jax won't be in attendance because he got a nose job. Naturally, Stassi was thrilled at this news and called him a "woman". Mind you, this is coming from the chick who got a new chin.
Jax finally had his surgery and Nurse Tom was there to help. Jax was drugged out post-surgery beyond belief. Even in that state of mind, he tried hooking up with his nurse. Shocking, right? The whole gang, including Lisa, stopped by to check in on him. They discussed their upcoming plans to attend an OK! Magazine party. Eventually, they all peaced out to go home and get ready, while Jax ate a jelly donut alone as blood streamed down his face.
Schwartz sat down with Lisa to discuss what happened during his shift. He tells Lisa how embarrassed he is and sorry for being irresponsible, but she wasn't having it. She gave him a chance and he fucked it up. Only the strong survive in the world of gay bars, I suppose.
James, the annoying British kid, came back again begging for his job. Lisa fired him a few weeks back for being involved in the fight with Tom and Kristen. Last week he read her the corniest letter in an attempt to win his job back and Lisa said she'd think about it. While anyone with two brain cells would tell this loser to kick rocks, she gave him another chance because they're desperate for bussers. Welcome back, buddy. Make sure you take a #BeamerSelfie to celebrate.
Later, the entire crew, including Stassi, were at the OK! Magazine party. Originally, the group was separated at two different tables. Stassi's crew, which included Katie and Schwartz, played a game that made the loser go sit with the other table. Stassi lost, so off she went to hang with the wolves. Stassi sat down next to Scheana, which was so incredibly awkward. Stassi claims she hasn't seen or spoken to Kristen since last year after she infamously slept with Jax. Kristen's attempt at being calm, cool, and collected fell short when she asked Stassi if she's spoken to Jax after his nose job. Good one, moron.
Vanderpump Rules airs Mondays at 9pm on Bravo.