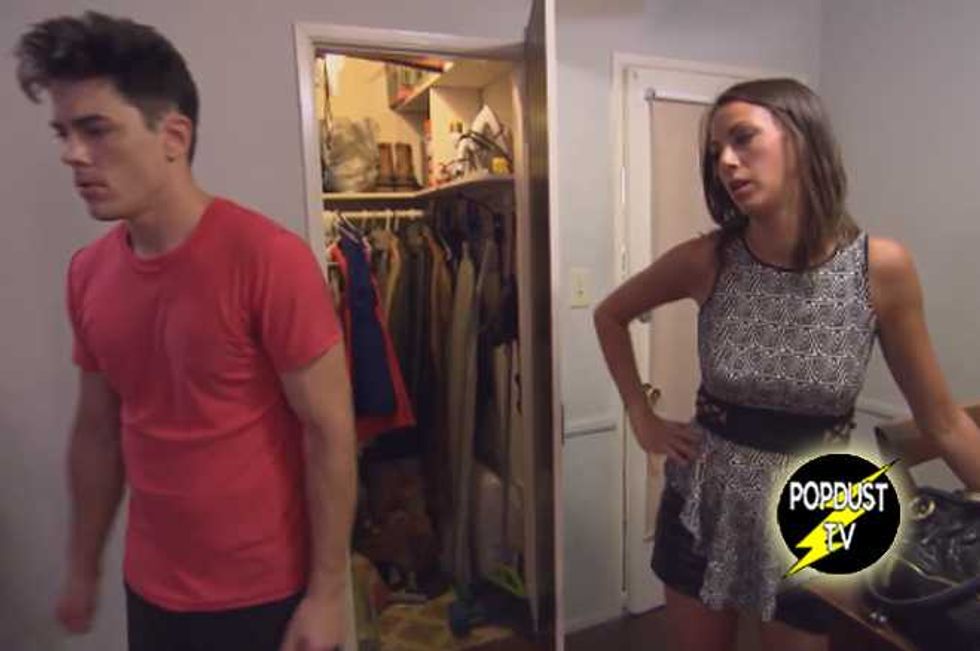 On last week's Vanderpump Rules, Lisa Vanderpump went on a firing/suspension spree after a bar brawl broke out at Scheana Marie's birthday party. She suspended Tom Sandoval and Kristen Doute for being involved in the shenanigans, but fired James Kennedy for starting the madness. Flash forward to this week:
It was finally time for the opening of Lisa's new Hollywood hotspot, Pump. Although she needed all hands on deck for the kickoff party, she still needed her staff to hold down the fort at SUR. James, despite Lisa sending him and his size 23 skinny jeans packing, decided to show up to work anyway. Because that's what normal people do when they're fired, right?
Peter Madrigal, the totally undercover hottie manager, spotted the moron in the restaurant. He and James went outside so Peter could wrap his head around why the hell he showed up thinking he was still employed. James got all dramatic and whiny while trying to convince Peter that he doesn't like him because he dates Kristen. Or perhaps it's because you're just really fucking annoying?
A few days later, #BeamerSelfie boy returned with a letter for Lisa. He begged and pleaded to speak to Lisa for a few minutes and finally she agreed. He read aloud a letter to her like it was a scene from the Notebook. It was so cheesy I could have barfed all over his chunky knit Jax-wannabe sweater. But, hey, it worked. The Queen Bee said she'll think it over.
Tom Schwartz made his bartending debut at the Pump party. As we know, he's been walking a very fine line having been involved in every fight that has gone down in the history of SUR. He begged Lisa for the job because he needs more of a stable income in order to marry his lady love, Katie Maloney. He told Stassi Schroeder that he didn't know how to make Pump's signature drink and next week he walks out of one of his shifts. So, when will he be receiving his Employee of the Month plaque?
Stassi has made her triumphant return back to LA and the life of SUR. She made an appearance at the Pump grand opening, much to the dismay of Scheana. Stassi and Scheana have a very on/off relationship. One minute they're bridesmaids in each other's weddings and the next they are shit talking one another on Twitter. Scheana can't really get off the fact that Stassi doesn't give a flying fuck about being her friend. Retweet.
Speaking of Stassi, Jax Taylor got wind that she was back in town. Jax says he was thinking about heading over to the Pump party to show his face and say hello to his old love. Her pal Kristina Kelly, Jax's SUR co-worker, bluntly told him she can't fucking stand him. He tells her that they're fine and wants to check in on her family and the dog they once shared. Sorry, buddy. The Stassi ship has sailed.
Kristen decided she needed to meet with Tom to get the rest of her belongings and find some closure. She showed up to Tom's apartment that so desperately needs a maid. Perhaps he could hire Kristen? Ariana is there to kick back and watch the show, which pissed Kristen off to no end. She asked Tom to give back the cable box so she could return it. Tom says, "I know, I just had stuff on the DVR that I really wanted to keep". Absolutely epic response. Hats off to you, Sandoval.
Next week's previews show yet another screaming match. Sleeping with everyone can be really exhausting, huh?
Vanderpump Rules airs every Monday at 9pm on Bravo!