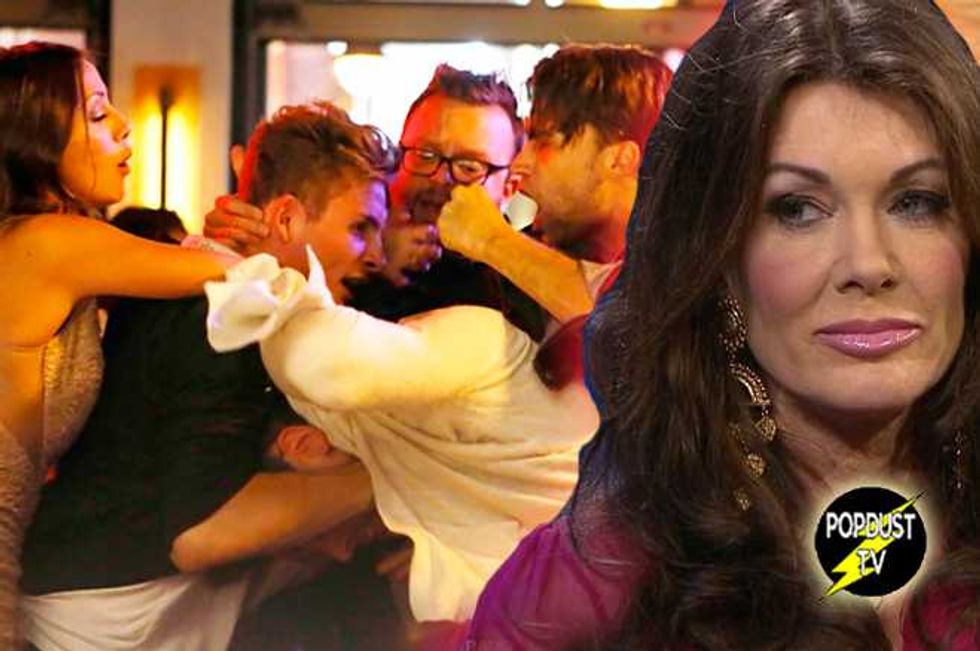 The Vanderpump Rules drama picked up exactly where it left off from last week—mid brawl.
Tom Sandoval took a swing at his ex's new boyfriend, James Kennedy, for telling him to take a "Honda Civic selfie"... Not kidding.
Tom Schwartz stepped in to help his friend and stop the madness, but somehow ended up making it a tad worse—and then, in typical Scheana Marie birthday fashion, she managed to not only get injured, but cry at her own party.
The next day, Sandoval, and his bloody and bruised face, had to discuss all the cheating rumors that are swirling, with his girlfriend, Ariana Madix, as he applied concealer like a drag queen. Sansoval swore blind he did not cheat on her and Ariana seemed to believe him. Mind you, it's worth noting that these rumors are all coming from Tom's psychopathic ex-girlfriend Kristen Doute, who couldn't be more desperate or jealous if she tried. Side note: Tom sent an EPIC video message apologizing to Scheana for the party fight, sobbing like a 4-year-old girl that just fell off her bike.
Meanwhile, Tom Schwartz had to cover his bases and speak to Queen Lisa Vanderpump about his part in the Scheana party brawl. You may remember, Schwartz had a job lined up to join the gang at SUR last year, but was ultimately let go after getting involved in another fistfight at the restaurant. However, he was determined to prove to Lisa that he was simply breaking up the fight this time around, and defending his friend. In Tom's defense, anyone who takes a Beamer selfie deserves a swing to the face. James, we're talking to you, buddy.
SUR's resident playboy Jax Taylor decided to remove the infamous Stassi tattoo he got last season when he was attempting to win back Shroeder back. But wait, it gets better. He also had ANOTHER girl's name tattooed on the other arm. Jax made it very clear that he has his eyes set on not one, but two girls this season, so he thought it made total sense to ink another chick's name on his other arm. He covered up the Stassi tattoo with a black rose (kind of fitting, really) and kept the Carmen tattoo for all of his new lucky ladies to see. How many brain cells do you think he has?
Meanwhile, Stassi is back in Los Angeles and crashing on Katie Maloney's couch. She, along with Katie and Kristina Kelly, went apartment hunting to find a new pad for her and her boyfriend. However, the girls spent more time discussing Stassi's awesome sex life and Katie's kind of strange one…..
Jax decided that he needed to make a decision between the two girls he is now seeing. While having a conversation with Tom (sort of ironic given he fucked his girlfriend six months prior, eh?) he weighed the pros and cons of his current hook ups, tattoo immortalized Carmen, and Tiffany. Jax tried to convince Tom that he simply doesn't want to lead both girls on because it isn't the right thing to do---AKA they both threatened to chop his dick off if he doesn't make a choice.
Jax ultimately decided that he wanted to be with Tiffany, so the breakup with Carmen was inevitable (cue yet another ink cover-up session). He met Carmen at a pizza shop on Hollywood Blvd because he didn't feel like wining and dining someone he's about to dump. He's such a catch, right girls? Naturally, Carmen didn't take the breakup well. Jax pulled the "you deserve so much better" card, which really means, "someone's doing it better, babydoll."
Lisa was fed up with the animals that work in her restaurant and held a mandatory meeting to discuss why they are all such hot messes. Naturally, they all had an excuse for the shit show that went down at Scheana's party. Tom and Kristen were suspended, while James was fired.
Moral of the story—Lisa will never give a flying fuck about who cheats on who.
All in all, Jax has half of Los Angeles' women's names tatted on his arm and 1/3 of SUR's staff was fired for fighting about someone taking selfies with their BMW.
Yup. The chaos continues every Monday at 9pm on Bravo.