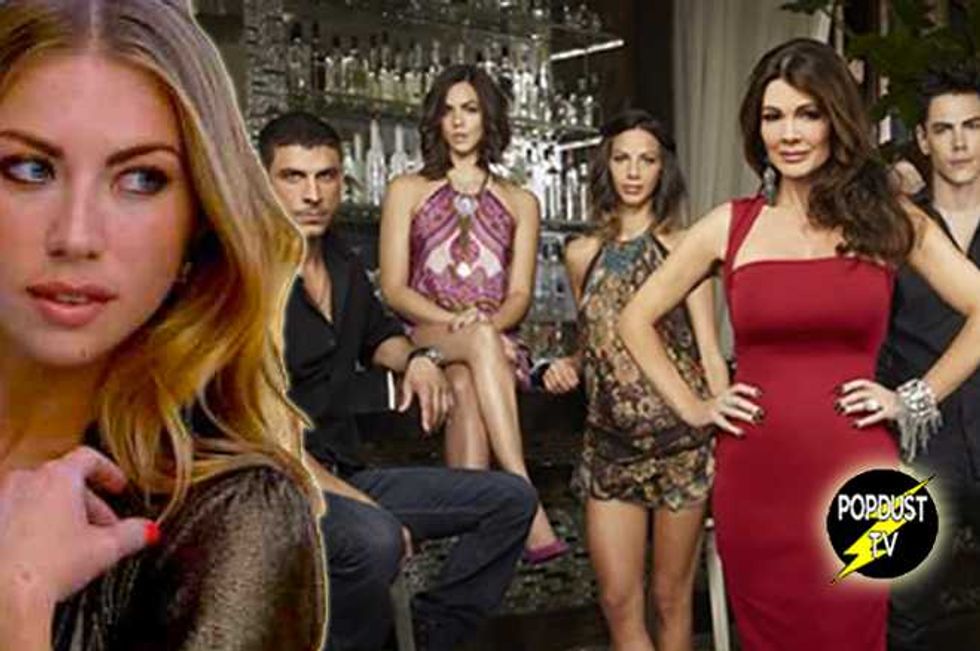 The drama is back and better than ever! The third season of Vanderpump Rules premiered Monday night and gave us nothing short of the bat shit insanity that we know, love, and so desperately crave to make us all feel a tad more normal, right?
Before we dive into what the gang is up to now, lets recap the absurdity that went down last season. Jax Taylor, SUR's resident playboy, infamously slept with Kristen Doute while he was trying to win back his ex, Stassi Schroeder.
As we all know, Kristen was Stassi's best friend at the time.  To make the situation even more fucked up, Kristen's boyfriend was Jax's long time best friend, Tom Sandoval. I mean, can you even write this nonsense? Long story short, Stassi found out and made their lives a living hell—can ya blame her? Meanwhile, Tom was hooking up with Ariana, another bartender at SUR.  Do you think this shit goes down at Applebees?
Flash forward a few months and here we are. The entire crew is back. Yes, the entire group! The season kicked off where this shitshow all began—SUR. Tom and Ariana are still dating and they look happier than ever. Kristen began hooking up with a 22-year-old British bus boy, which is an obvious attempt at pissing Tom off. However, much to Kristen's dismay, it isn't working. Kristen started a rumor that Tom cheated on Ariana in Miami. Being the psychopath she is, she trolled Instagram to find "evidence" and reached out to the supposed girl he slept with. According to Tom it never happened and Ariana couldn't be the least bit phased.
Meanwhile, after the craziness that went down last season, Stassi chose to remove herself from the toxicity and start anew. She began dating a radio host and moved to New York City. Everyone thought it was for good, but let's remember we're watching a Bravo show. AKA—the bitch is back!
Stassi returned to her old LA stomping grounds with a brand new attitude. She revealed that she no longer speaks to most of the cast, except Katie Maloney and the reigning Queen Lisa Vanderpump. Ms. Vanderpump asked Stassi to sit down upon her return to the City of Angels to discuss her abrupt exit from SUR. Lisa felt that Stassi simply left with no explanation. Her best friend slept with her ex boyfriend. We'd high tail it out of there too, Vanderpump.
Jax had a few months to reflect on his promiscuity and he decided that he is, in fact, remorseful for what went down between him and Kristen last season.  Can you smell the bullshit? Anyways, he has spent his time convincing himself that he has nasal issues and can't breathe. It was only a matter of time until one of these bimbos fell victim to Hollywood's biggest trend: telling yourself you have a deviated septum to get a nose job. In a shocking turn of events, he's now dating two women and thinks it'll work in his favor.
Meanwhile, it's Scheana Marie's birthday and she invited most of the SUR staff to attend the shindig. Katie declined the offer because she's a proud member of #TeamStassi, but everyone else was in attendance. Jax brought along lady #1 to the bash, while Tom and Ariana showed up arm in arm. Kristen was there with her DJ boytoy, but couldn't seem to let her Miami cheating rumor take a seat for the night. It is clear as day how jealous Kristen is about their relationship. Tom confronted Kristen at the party and all hell broke lose. Kristen's boyfriend, James, who could be blown away with one gust of wind, decided to take a swing at Tom and the brawl began.
Ladies and gents, buckle up. It's gonna be a bumpy ride.