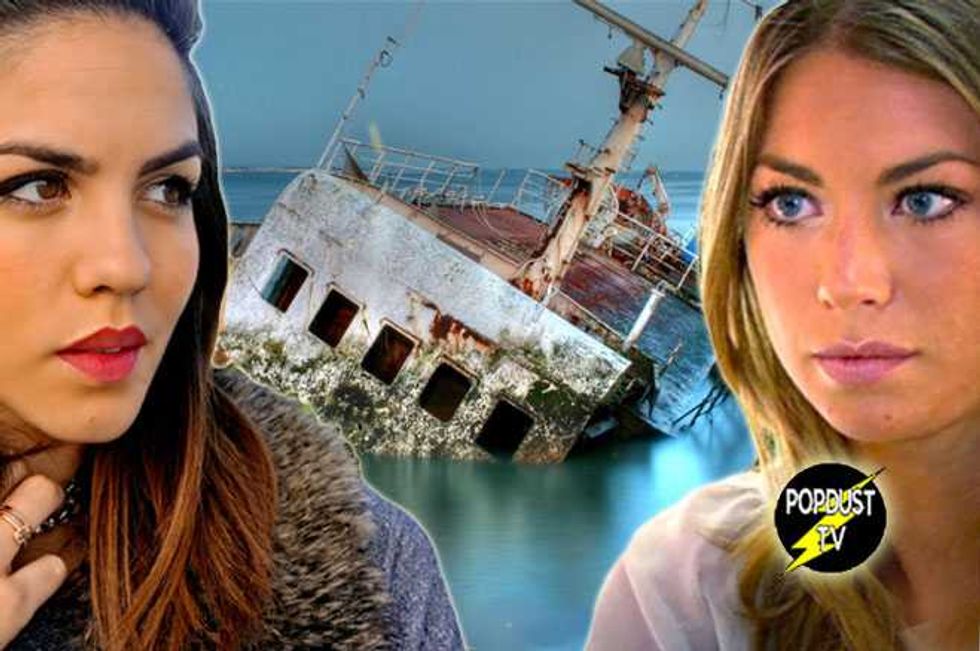 This week's Vanderpump Rules kicked off with Stassi Schroeder holding down the fort in LA while the rest of the gang were partying it up in Miami.
However, much to her dismay, they were all due to arrive back in town, just as Shroeder gave her pal and only remaining #TeamStassi member, Kristina, a ride to SUR.
As Popdust previously reported, Stassi has been majorly pissed at Katie Maloney for going to Florida with the rest of the group. Stassi thought it was a betrayal for her to hang out with them, while Katie saw it as a good step for improving the relationship with her boyfriend.
On their way to SUR, Kristina told Stassi she understood why she was mad, but didn't think that Katie had done anything wrong. Was she seriously, actually disagreeing with Stassi? Did she want to die a slow and painful death?
Meanwhile, inside the shit show that is SUR, Lisa Vanderpump was chatting with Jax Taylor and Katie. Katie told Lisa about how Stassi still wouldn't speak to her. Queen V advised Katie to stand her ground, because she did nothing wrong. Oh, and Jax admitted he would give his left nut to be back with Stassi…
Peter Madrigal had his sights set on the new girl, Vail. They sat out back and talked while on break. Peter flirted with her no end and Vail did it right back at him. They discussed what went down in Miami, and Vail denied having hooked up with Jax—but even a deaf, dumb and blind person could confirm that it happened. Good thing everyone at SUR doesn't mind sloppy seconds—cause Peter was going in for the kill.
Kristen Doute, the certified lunatic, was hanging out with her boyfriend and Scheana Marie. Scheana discussed the stress of organizing her wedding seating chart. Oh my God, can anyone say #FirstWorldProblems?!!
Jax decided to dump his latest girlfriend, so naturally, he was now trying to get his other ex-girlfriend, Carmen, to be his date to Scheana's wedding. Scheana asked Kristen about her conversation with Tom Sandoval in Miami and Kristen deviously smiled like the bat shit crazy bitch that she is. James, her pre-pubescent boyfriend, was annoyed that Kristen just refuses to shut the fuck up about Tom. And to be honest, I would be too.
Jax met up with Carmen, because, let's be honest, basically he was looking for some ass. Sorry, just an assumption. Anywho, he basically begged her to come to the wedding with him. She looked at him like he had 17 heads, yet wanted to bang him at the same time. He told her he was sorry for the way things ended between them and for breaking up with her at a pizza shop.
Freakin' classic. This dude is a catch, ladies.
Kristen and her friend, Rachael, went for a hike. Of course, she did nothing but talk about Tom. For some odd reason, she was borderline obsessed with this random Miami chick that was claiming to have banged Tom a few months back. This random chick was supposedly planning to come to Los Angeles to confront Tom. Kristen seemed as excited as a little kid at Christmas.
Why you ask? Well, if the rumor was true, she was hoping Ariana would break up with Tom and they would be able to get back together. Seems totally logical and level-headed—and not psychotic at all—right?
Peter finally found the balls to ask Vail out. It obviously wasn't too clear though because she thought it was a coffee date between friends kinda deal. The two met around 5pm. She was ready to order tea, while he was ready to slug a bottle of wine. Their "date" was quite possibly the most awkward thing I've ever witnessed. Peter creepily stared at her the entire time. She thought about telling him she was a lesbian. Sorry, Peter, I think you're gonna have to take the L on this one.
Leaving the best drama till last—Stassi and Katie finally met up to discuss the Miami situation. Stassi basically felt that Katie betrayed her by going behind her back and hanging out with the crew. Katie tried to explain that she simply went to make things better between her and boyfriend, Tom Schwartz.
Katie said that she felt like she had been a loyal friend to Stassi through everything. Stassi acted like a little bitch who thinks the entire world revolves around her feelings. Katie stood her ground though, as she should. She basically told Stassi to go fuck herself and enjoy having no friends.
Kudos to you, Katie!
Next week, the random whack job Miami chick shows up at SUR—This show is a train wreck—a sad, yet SO AMAZING train wreck.
Check out Popdust's gallery of Scheana's Miami Bachelorette party photos—and tune in to Bravo every Monday at 9pm to catch all new episodes of Vanderpump Rules